Pottermore's Guide to Movie-Making: Shadowing David Yates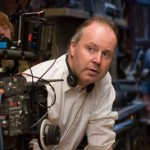 May 31, 2016
This week, Pottermore gave us a look inside what David Yates actually does as Director of Fantastic Beasts and Where to Find Them. Apparently it's not all yelling 'Cut!' and 'Action!' – at least not for David Yates.
A team of Assistant Directors ensures filming runs as smoothly as possible, and according to Pottermore, most of their jobs involve adjusting leads, moving extras and actors around, preparing props and muttering instructions into mics. This team is led by first Assistant Director (AD) Josh Robertson, who usually does all the yelling, cutting and hushing:
"Josh and the other 'ADs' do a lot of yelling and a lot of shushing. Volume control is one of their principle duties. And when you consider that a mistimed cough could ruin a scene and cost thousands to reshoot, it's very important."

…

"There are four ADs on set (or, in movie speak, 'on the floor') and they all have earpiece microphones that make everything they say sound urgent. On Fantastic Beasts, Josh is joined by Tom Brewster, Danni Lizaitis and Katherine Hingst as second, third and fourth AD. Their names will appear right near the top of the end credits of the film when it's out – you'll spot them."

"To support [David's] process, the ADs fan out, assume positions at various spots on set and keep that area clean, clear, quiet and calm during and between scenes. They are the purveyors of smooth operation, the enablers of great direction."
David Yates adjusts cameras to get the perfect shot, gives quiet directions to actors and monitors each shot and how the action plays out on screen. His gentle manner is something Katherine Waterston (who will portray Tina Goldstein in Fantastic Beasts) previously shared insight into David's inspired style of directing:
'He has a shorthand and a comfort with the world. He's not precious with it, he understands what it needs and what it doesn't need and there's something really comforting in that.'

 'When we're incorporating things that aren't actually there, to look at David and know he can see the world is… everything,'
The Pottermore Correspondent adds:
"He is both obsessively detailed-oriented and able to see the whole project as if from above. After directing the final four Harry Potter films, this is his fifth venture into J.K. Rowling's imagination and he knows the territory well. He just needs a dependable crew to clear his path for him"
Read the full piece here, and Pottermore's interview with David Yates here!