Behind the Scenes of the Fantastic Beasts Q&A (From London to SDCC)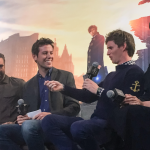 Jul 27, 2016
With the heavily anticipated and exciting launch of 'Fantastic Beasts and Where to Find Them' due to hit screens this November, Leaky was not only present at the San Diago Comic-Con event, but also lucky enough to get some behind the scenes action from our two representatives watching the live cast interviews unfold, from the Great Hall at Leavesden Studios in London!
Prior to the Live interviews commencing at Comic-Con, across the pond in London, we eagerly awaited the main event of the evening and took time to appreciate the Harry Potter Studios in all it's glory! From famous sets to beautifully executed props with a magical aesthetic, the evening consisted of everything J.K. as we able to indulge in ultimate wizarding fan entertainment!
After a fantastic tour, fans were guided to a private screening, showing us the newly released trailer of 'Fantastic Beasts'. Watch the trailer here! (If you havent't seen it already–it's amazing!)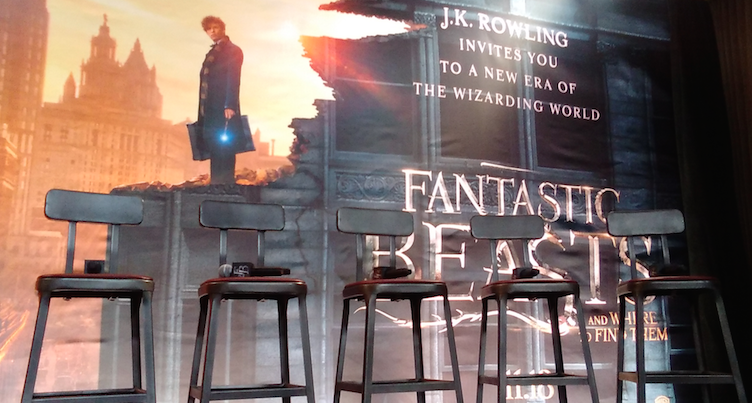 Finally the Great Hall doors were opened, and along with some limited edition, 'Newt Scamander' wands gifted by Warner Bros, the audience was seated ready to go live with everyone at the SDCC exclusive event! The interaction with the cast was brilliant, with Ezra Miller and Dan Fogler receiving a particularly cheerful response from our London audience as they made the interview even more fun amongst their talented co-stars.
As a perfect round off to the already magical evening at the Warner Bros Studios, we were given a glimpse at the extraordinary 1920's costumes used in the movie. The wizarding world felt very much present as fans took a good look at the very individual looks presented, but they definitely emitted something fresh and original to keep everyone on their toes for the latest Rowling installment!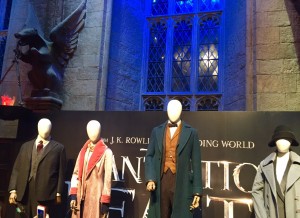 Over in San Diego, Carianne and Tabitha met up with Warner Bros to take seats across from the Fantastic Beasts cast, as everyone prepared for a live Q&A with the cast of one of the most anticipated films of the year. Carianne, a proud Hufflepuff (just like Newt!) from San Diego, and Tabitha a proud Gryffindor, with a lot of Hufflepuff qualities mixed in, wrote about their experience at the events unfolding at SDCC 2016.
Carianne described what it was like behind the scenes, saying:
Being in the room in San Diego during the livestream was an incredible experience. The Fantastic Beasts group was so close to me that I couldn't even fit them all in one picture! When they entered the room, the cast was buzzing with excitement over how well their Hall H presentation had gone (that room holds 6,500 people, so it's a pretty big deal). Their energy was electrifying and contagious and an absolute joy to watch!
Then the host announced "2 minutes till live!" and the room suddenly became still and silent with anticipation. To lighten things up again, Ezra Miller started cracking jokes, such as giving us signals to follow during the live stream: He said if he tugged his ear we were supposed to laugh, and if he scratched his nose we were supposed to cheer! He was kidding, of course, but he got everyone laughing and really livened the room up again. He was such a riot! (Ezra also made a few hilarious quips after the Leavesden host said she wanted to "Take an Ezra Miller home," but those might be the kind of things he would rather I did not share with the internet.)
After the livestream, they stood on the stage talking to each other for a few moments, looking just like a group of friends rather than co-movie-stars. It was clear that this cast really gets along well with each other. Their was a friendly and supportive demeanor among all of them. It honestly just made me even MORE excited for the film to come out! November can't come soon enough 🙂
As the even ended, a few of the cast members gave a little bit of attention afterward to the fans that were in the room. They didn't have a lot of time (as they were running late to make it to their next event), but just a "thank you for your question!", a high-five, or a quick photo went a long way. They were in no way obligated to do any of those things — they just did it because they are nice. My only regret is that I couldn't spend more time talking with them! Maybe someday… 🙂
Tabitha wrote about her experience and the atmosphere in the hall: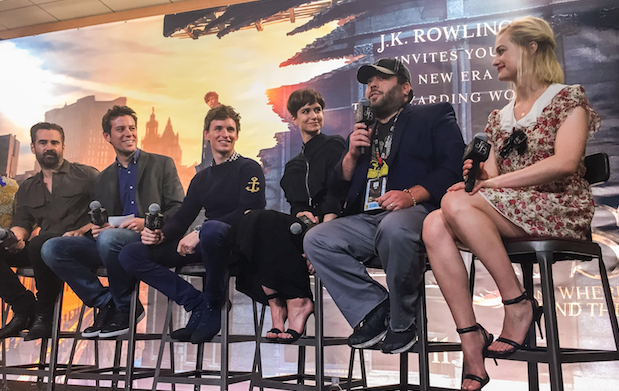 Thank you to Georgia, Gemma, Tabitha and Carianne for attending the Fantastic Beasts Live Q&A events both in London and SDCC 2016. The video of the event can be seen here.