Evanna Lynch thinks J.K. Rowling is Secretly in Contact with Wizards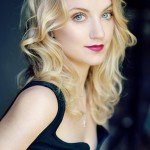 Dec 06, 2016
In a recent interview with Entertainment Weekly's Binge podcast, Evanna Lynch ponders the possibility that J.K. Rowling is actually a muggle trusted with wizard secrets.
The episode covered Harry Potter and the Deathly Hallows: Part 2:
"Every now and then I'll just be like, 'Is this all an elaborate cover up and the wizards are howling with laughter at how we've accepted this?'"

"I start to get paranoid. 'Is J.K. Rowling the only Muggle in the world who knows about the secrets and she's somehow been entrusted?' It's almost like it reinforces the barrier between us and them if there's one magical Muggle who's making it seem like it's a fantasy world and what if it isn't? What if she's covering it up? That would make me crazy!"
She also speaks about her connection to Luna:
 "It was more than just a job to me. It was so precious," she says. "She's such an important person to me. She's helped me through so much that I felt I just wanted to protect her spirit and preserve her spirit. There are so many actors, and not that this is a bad thing, but it will just be an email sent to their inbox and they'll be like, 'Okay, I'll try on this person for today,' and for me it was just so much more."

"She was completely authentic and herself, and her own self was so weird and so odd to everyone else and made everyone uncomfortable, but she just wore her oddness with so much self acceptance and grace," Lynch details. "I felt like an odd teenager growing up and I felt like there were a lot of [things] about myself that I wanted to hide, that I wasn't comfortable with, and every time I would read Luna, I would just feel this enormous relief."

"Here was someone who was so much more odd than I, but who didn't question it, who just accepted it about herself, and the way she did it, it made it that however she was, was perfect."
Evanna also gives her thoughts on Fantastic Beasts and Where to Find Them (obviously she loves it!), and reemphasises Luna's connections to the story.
Listen to the full podcast here or below – it's pretty nostalgic and we loved going back to full Potter in the aftermath of the release of Fantastic Beasts and the announcement of Cursed Child's plans to move to Broadway!