Paul Thornley On Playing Ron Weasley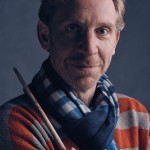 Dec 11, 2016
Paul Thornley is nominated for Best Supporting Actor in a play, for his role as Ron Weasley in Harry Potter and the Cursed Child, by the 17th Annual WhatsOnStage Awards. While at the launch, he spoke to WhatsOnStage about portraying such a well-loved character in Harry Potter and the Cursed Child.
While it could have been a daunting task, Thornley said:
"Lots of people think the character is amazing, so it's like shooting fish in a barrel…A lot of my job is done before I've even walked on the stage."
Ron Weasley is most certainly amazing, and whether Thornley acknowledges it or not, it's an impressive feat to be so well-received in the role and to be recognized for it.
Thornley isn't the only one up for an award, however. Harry Potter and the Cursed Child led the WhatsOnStage shortlist with 11 nominations. It's no wonder, then, that fans are willing to travel from far and wide to experience this one-of-a-kind foray into the wizarding world.
Considering their commitment, Thornley spoke about a potentially-disastrous situation for fans at a recent showing:
"We had a powercut last Friday and there was talk of us having to cancel the show, which would have been a nightmare. You can't say to people: 'you can have another ticket, but in three years time.'"
Indeed. Hopefully there's a contingency plan in place for such an event or cursed be the powers in charge of that announcement.
In the meantime, for other Harry Potter and the Cursed Child award news, read this Leaky Cauldron article and find the full WhatsOnStage interview here. We'll keep you updated when award results are in!