Cursed Child's Sonia Friedman Nominated for Producer of the Year!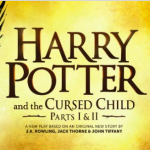 Dec 22, 2016
For the third time in a row, Cursed Child's Sonia Friedman is up for producer of the year at The Stage awards.
The Harry Potter and the Cursed Child producer won the award in 2015 and 2016, and could win again next year! Friedman is also known for Dreamgirls, Funny Girl and 1984, and continues to produce the extraordinary Harry Potter play.
The BBC reports comments made on the shortlist from Alistair Smith, print editor of The Stage and judging panel chair:
"Our exceptional shortlist this year is a blend of big and small, established and new. 
"The Stage Awards are the only theatre awards that celebrate the whole stunning spectrum of theatre, encompassing London, regional, fringe and international work."
Other nominees include Kenny wax (producer of The Play That Goes Wrong), and Fiery Angel, the production team behind the Kenneth Branagh Theatre Company West End season.
In March, we reported on Sonia Friedman's conversation with BBC Radio 4 on how the idea of Cursed Child came to be, and what it was like working with J.K. Rowling. In this discussion, Friedman spoke about the beginning of her career, and what work on London's West End is like compared to Broadway. Listen to the interview here for more on Friedman's achievements and involvement in the play.
Friedman also recently commented on the possibility of Cursed Child travelling further overseas – it's already coming to Broadway in 2018!:
"There's always been this sense that there has to be a song in order for a show to work in Germany or in Japan or in a foreign language, but now people are wrapping their heads around the fact that it doesn't have to be a musical in order for it to be universal. It's a huge pleasure for us that we've created a piece of theater that can have universal appeal but doesn't rely on an aria."
Winners of the various The Stage awards will be announced in a London ceremony on January 27th, at Theatre Royal Drury Lane. Read more here.