'Cursed Child' Producer Named #1 on Stage 100 List!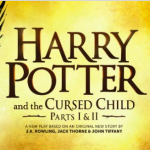 Jan 05, 2017
The producer of Harry Potter and the Cursed Child, Sonia Friedman, has been named the most influential person in the London theater community for 2017 by The Stage magazine, a British publication devoted to the performing arts. Friedman is number one atop the magazine's annual "Stage 100", a list of the most prominent people in the theater industry.
Cursed Child, which opened to rave reviews at the Palace Theater in London in June and propelled its script book to the top of numerous 2016 book lists (see a Leaky report on this here) caps off a year in which Friedman is being called a "phenomenon and now the undisputed Queen of Theatreland" by The Stage. In addition to bringing one of history's most popular book series to the stage, Friedman also produced Nice Fish with Mark Rylance, Dreamgirls at the Savoy Theater, as well as the long running Book of Mormon at the Prince of Wales Theater. As a result of these wildly successful productions, Friedman has been nominated for 2017 Stage Awards Producer of the Year. You can read more about Leaky's coverage of this honor here.
#CursedChild producer Sonia Friedman (@SFP_London) tops #TheStage100 list! https://t.co/PAfIaYitAE

— Harry Potter Play (@HPPlayLDN) January 5, 2017
Friedman, of Sonia Friedman Productions (SFP)  is only the second woman to lead the Stage 100 list since it was first published in 1997. She had this to say about the commendation:
"This is an amazing recognition of the extraordinary people I have been privileged to work with over the year, and also of my sensational team at SFP who helped me produce / co produce and develop over 20 shows in 2016 and who are already preparing for an even busier 2017. I am very grateful to The Stage for this honour and feel extremely lucky to do a job I love so much and to have had such a stimulating and creatively diverse year. Thank you!"
She also told The Telegraph about Cursed Child:
"Harry Potter was one of the highlights of my life and career, but every year to me has felt extraordinary."
The print editor of The Stage, Alistair Smith said about the wildly talented producer:
"Sonia Friedman has enjoyed a number of notable hits in recent years–but in 2016, she went stratospheric. Harry Potter and the Cursed Child was always likely to be a licence to print money. What has made it really special was that Friedman and her fellow creatives resisted the temptation to treat the production as a cash cow and created something truly magical, original and – above all – theatrical."
A number of other individuals involved in Cursed Child are also on the list this year including:
John Tiffany, Director at #15
Noma Dumezweni, Hermione at #22
Jack Thorne, Writer at #50
Gareth Fry, Sound Designer at #92
Congratulations @SFP_London, @johntiffany, @jackthorne, @MissDumezweni and @garethfrysound who all made it into #TheStage100! #CursedChild https://t.co/3snVOTutgI

— Harry Potter Play (@HPPlayLDN) January 5, 2017
Harry Potter actor Kenneth Branagh, who played Professor Gilderoy Lockhart in Chamber of Secrets comes in at number 18 on the list this year for his work at the Garrick Theater in London. See more about the "Kenneth Branagh Theatre Company here.
Join us in congratulating all members of the Potter community on their recognition on this list! The entire Stage 100 list can be viewed here.