Production Designer Stuart Craig Up For Art Directors Guild Award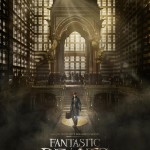 Jan 11, 2017
Stuart Craig is nominated for his amazing contributions to Fantastic Beasts and Where to Find Them by the Art Directors Guild, which sponsors the 21st annual Excellence in Production Design Awards. His recognition comes as no surprise, though, considering his history with the wizarding franchise and the award-winning quality of his work.
Craig, who has been nominated for 10 Academy Awards with three wins, brought his incredible skills in production design to all eight Harry Potter films. Being no stranger to the challenge of bringing J.K. Rowling's magical world to the screen, he was naturally sought out for Fantastic Beasts. His familiarity did not automatically make the task an easy one, however.
He told the Los Angeles Times:
"The strange and interesting thing about 'Harry Potter,' those films, those kids are contemporary…They are about modern kids in jeans and T-shirts. 'Fantastic Beasts' is set in 1926, but it feels like a contemporary film and the 'Harry Potter' films feel like a period film because of the architectural start — it all feels kind of switched. What was intriguing, fascinating was how to do it."
Though it took some work to nail down the details, Craig found the perfect balance between the contrasting period costuming and the bustling modernity of 1926 New York. But his work didn't end there. He then had to go above and beyond standard production design to infuse the set with magic. There, he already held the key, for he solved that part of the puzzle long ago.
Leaky previously reported on a recent interview with Deadline in which Craig said:
"We learned on the Potter films that the magic works really well when it's born out of something that seems completely real; something you accept and believe."
Getting the viewers to believe in the existence of another reality, another world, that would seem to be a huge obstacle–if he had not already done it successfully before. Craig elaborated on his plan for the production design in an in-depth interview with Pottermore, covered by Leaky:
"For this film, you start on essentially the same premise as the Potters: the magical world hidden from the Muggle world; invisible, one from the other. It is the same premise but wonderfully different. For a student of architecture, which I am, it's just fantastic to build a section of New York in this slightly romantic, exaggerated way."
Giving the set a romantic nuance was an inspired approach, and when that magic is what you seek, look no further than Italy. There you find a grand mix of old world and new, sometimes surprised by an unexpected other world that defies both. It's a place filled with historic structures, classical architecture, incomparably beautiful art, and mythology. Craig incorporated these into the creation of MACUSA, in particular.
According to Wizards and What Not, he described his concept for the building:
"Realizing it was this great cathedral of light made me think of Sienna Cathedral in Italy where the interior is banded in light and dark color. Horizontal bands of marble in two contrasting colors. That seemed like a very good idea for this secular, magical cathedral we had built."
Craig created a world fans would want to enter over and over again, and the film's success is a testament to his masterful production design, well worthy of the resulting nomination. Fantastic Beasts does face competition in the Fantasy Film category, however. Other contenders are: Arrival, Doctor Strange, Passengers, and Rogue One: A Star Wars Story.
We'll find out who charmed the Art Directors Guild the most February 11th at the Ray Dolby Ballroom in Los Angeles. To read the full Wizards and What Not coverage of Craig's nomination and Los Angeles Times interview, click here.