Pottermore Interview Dan Fogler and Production Designer Stuart Craig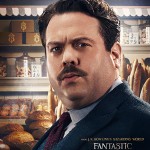 Oct 20, 2016
LEAKY IS LOOKING FOR WRITERS/EDITORS – MORE DETAILS AT END OF ARTICLE
As part of their Fantastic Beasts Interviews, Pottermore has interviewed resident no-maj Dan Fogler, and the legendary Production Designer, Stuart Craig!
Dan Fogler plays no-maj Jacob Kowalski – the guy who accidentally switches cases with Newt, gets attacked by a beastie he accidentally releases and is consequentially wrapped up in a mission to capture the escapees.
We know from our own set visit that Dan knows an awful lot about his character, not by incessantly questioning J.K. Rowling as we would like to do, but by persistently observing how Jacob has been created within the script and in his costume, and by contemplating his rocky history. Though he thought it was a 'long shot' that he would get the part, he made a huge effort for his audition, and thankfully it paid off!:
'I put a little costume together, made of what I thought Jacob would wear. You know, suspenders and cut-off hobo gloves and a patchy newsboy cap…' – Dan chortles heartily at the memory – 'I was very furry and shaggy. So, I went in and I felt really good about the audition. I flew out to the UK and did a screen test, but then my agent told me, "Well they're going to look at a bunch of people." You know, "Next time champ, don't worry about it!" I had heard about a few people auditioning [for the part of Jacob], so I put it out of my mind.'
He later says that though he'd come dressed as a newsboy, costume designer Colleen Atwood had put together something 'close to a [Charlie] Chaplin suit' which allowed him to get an even better understanding of Jacob.
At the global fan event last week, some viewers expressed concern that not all the stars would want to be involved in five films, but Dan seems to express otherwise to Pottermore:
'If the Harry Potter universe calls, you don't hesitate […] If you have an opportunity to be a part of it, you jump on, hold on and stay on for as long as you can'
He constantly seems astounded at the level of involvement fans have with the series, and the position he's found himself in at the centre of it all. At Comic-Con 2016, Dan said that it was only last year he'd been at the event of his own accord, selling his own comic books, when his phone rang:
'I just felt very low, in throngs of costumed people pulling towards me. I was making my way upstream like a lone salmon,' he says. 

'I got the call and they were like, "Hey, you've got the part." It was amazing. It was life-changing right then and there. A bolt of lightning. It was just incredible, like everything that came before had been a dream.'
Pottermore reminds us of Dan's position at Comic-Con 2016 – he not only gave autographs, but was part of a live Q&A with the cast!
However, Dan's no stranger to success. He won a Tony for The 25th Annual Putnam County Spelling Bee in 2005, has worked alongside huge names, and is even in a comedy rock band (2nd Rate).
He says to Pottermore of his career:
'You know what's been interesting about my career?' he says. 'It's been this slow rise with long plateaus. I've had time to taste fame but I definitely lean towards being the kind of actor where I'm happy to be able to walk down the street and go to the corner store and not get hassled. I don't know what it'll be like when the movie comes out. All I know is that I will try to be myself. I'll probably just hunker down with my family and do some baking.'
He's loving the creativity of the cast and the fluidity of the script – he tells Pottermore working on the film has been 'delicious', and describes the process of filmmaking as magical, saying 'In every scene there was a nugget of real magic'.
Read the original, full interview with Dan over at Pottermore here!
Unlike Dan, Stuart Craig is no stranger to these films: he worked as Production Designer on all eight Harry Potter films, is renowned in the film industry for his extraordinary work (take a look at the Warner Bros. Studio Tour!) and has worked on films such as The Elephant Man, Dangerous Liaisons, The English Patient and Gandhi. We're not sure he can be classed as a muggle/no-maj – he's basically a film wizard.
He recollects the day he was called to meet Christopher Columbus back in 2000, and the delight he's felt at being able to return to this world, but set on an entirely new backdrop:
'For this film, you start on essentially the same premise as the Potters: the magical world hidden from the Muggle world; invisible, one from the other. It is the same premise but wonderfully different. For a student of architecture, which I am, it's just fantastic to build a section of New York in this slightly romantic, exaggerated way.'
Pottermore expands on his Stuart's interest in architecture, his history of sketching and design, and his link to the fantastic concept artists involved with the series. Stuart is ever-grateful for the fabulous artists he works with:
'The key these days is that all films have concept illustrators. In our case, the fact that we are working with some very fine artists is really significant. I mean, some of these guys draw like Leonardo, or Raphael. They are superbly gifted illustrators and that's the key to achieving the detail and the scale, from a tiny creature to a soaring piece of architecture. We were very fortunate to recruit them and it's paid off, as you can see from the pictures behind you,' Stuart says, with a grand sweep of his arm.
The Pottermore Correspondent gives us a sense of what we could be expecting from 'behind the scenes' books in the line up, most of them for release at the same day as the film next month (see them all here):
'On one wall, there's the exterior and the basement of the MACUSA building, the interior of The Blind Pig speakeasy and the outside of New York apartment blocks. On another, there are mugshots of every beast that appears in the film."
They later say, of Stuart Craig:
 "It's like peeking into J.K. Rowling's imagination with a very experienced tour guide."
Stuart expresses a similar approach to dealing with the pressure of these films as Yates and Redmayne have previously – viewing this new territory as a challenge which promises different, new and exciting creations can be terrifying, they all seem to say, but Craig also said this prospect 'surprises and delights' him:
'The thing that surprises and delights me is the variety. I never, ever feel trapped. There's always something fresh and new and challenging. It's certainly kept me professionally content… Well, not content exactly – I was worried a lot of the time, staring at a blank sheet of paper thinking, "What the hell am I going to do with this?" That sort of fear never leaves you. But it has been very sustaining. J.K. Rowling's constant achievement has been to make each new book significantly different. Underwater, or whatever it was, she certainly kept us challenged.'
He enjoys the creative control he gets over the series as a fantasy film: having to build places like New York, creatures like the Thunderbird and spells like the patronus ground up is entirely different to shooting on location, and Stuart's glad he gets to build so many elements in this world:
"I like to build; I like the control it gives you when everything is of your choosing. On a location film, that isn't so. Locations are full of stuff you really would rather wasn't there. So, in that sense, J.K. Rowling's fantasy is a gift. A fantastic gift."
We couldn't agree with him more! Read the full interview with Stuart Craig here, and don't forget to pre-book your tickets to see Fantastic Beasts – it's out in less than a month on November 18th!
---
NOTE TO READERS:
The Leaky Cauldron is searching for intern writers! If you'd like to take a glimpse at what it's like to share Potter news to a global audience, write about Cursed Child and Fantastic Beasts news and develop your writing and teamwork skills, please write a sample news article and a cover letter, and send it to [email protected]  
Please note: this position takes up around 5 hours a week and is voluntary, but you get to be a part of a #1 Harry Potter fansite, with a long history and an exciting future ahead – so many new stories are just around the corner!
We are also looking for volunteer editors. This position involves working with other editors and overseeing a team of around 15-20 writers to ensure Leaky is posting news promptly and updating social media where appropriate.
We'd love to hear from you and get more people on board, so please send in your applications by Saturday November 5th.