The Leaky Cauldron Attends Global 'Fantastic Beasts' Q&A Event, Featuring Cast & J.K. Rowling!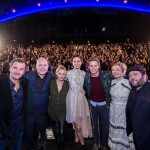 Oct 14, 2016
Yesterday evening, Warner Bros. hosted a global event from Leicester Square Empire Cineworld IMAX in London. Leaky was lucky enough to be invited to the exclusive Q&A with the cast, and boy were we in for a surprise (well… multiple surprises!).
We showed up an hour before doors opened. Excitable fans gathered in several queues – for an unquestionably popular event! There was a great atmosphere surrounding us as everyone eagerly awaited the opening of the IMAX cinema doors. We spotted a fabulous Bellatrix Lestrange, a beautiful Queenie cosplay, an impressive Percival Graves and a few great Newt Scamanders dotted around – one Newt even had an intricately decorated hand-made Fawkes on their shoulder, amazing work!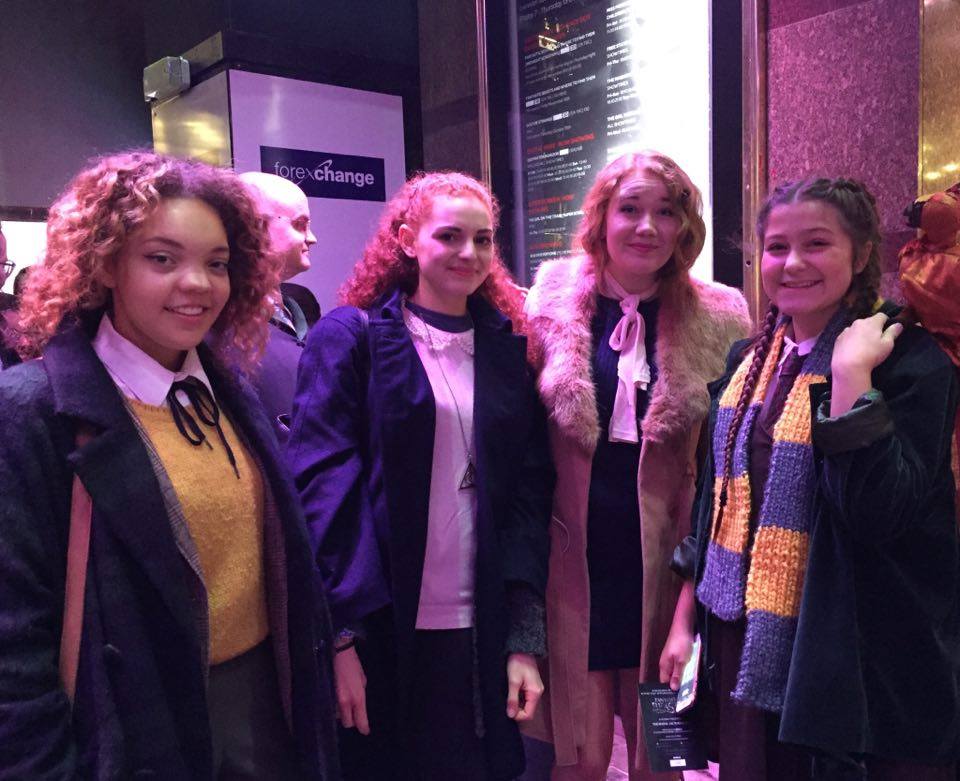 At 7:30pm we were let into the cinema, greeted by our lovely host, given a wonderfully decorative ticket and led up the stairs (surrounded by Fantastic Beasts posters, of course) to a scene of briefcases in front of a Fantastic Beasts display. The excitement at this point was unreal.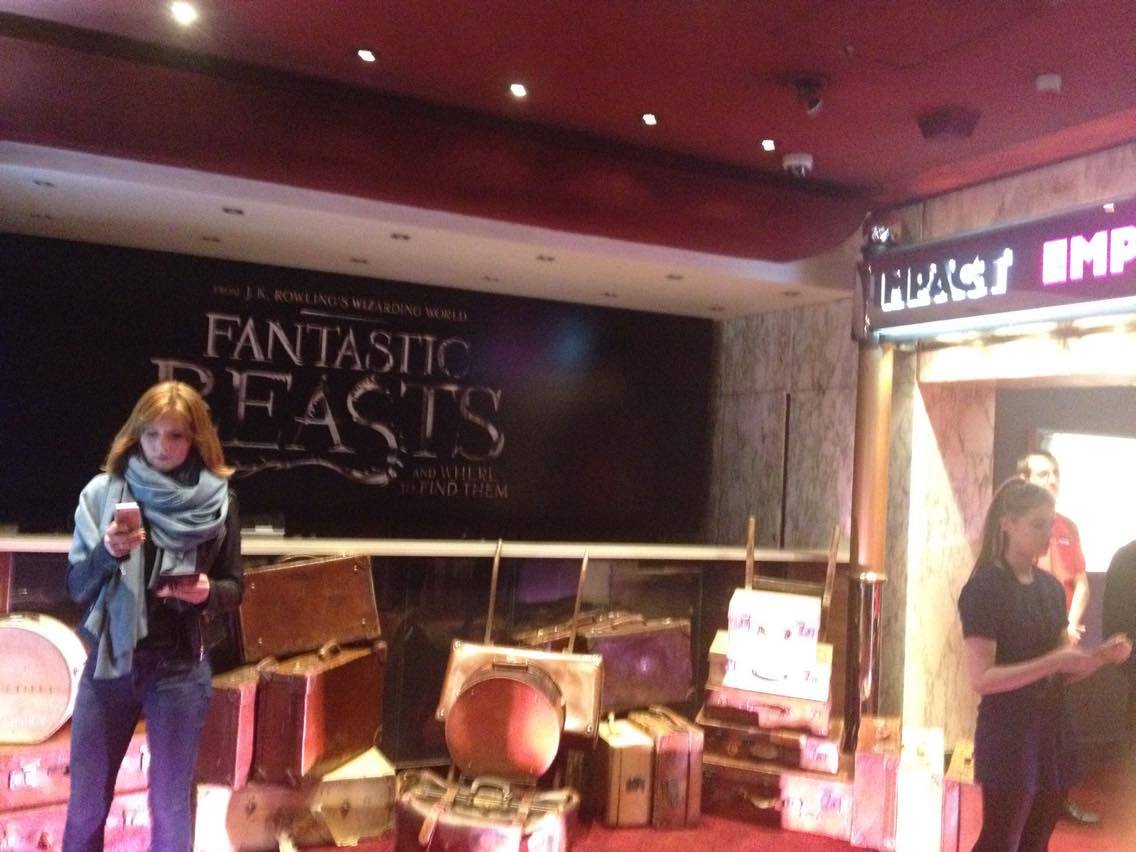 Turning a corner, an illustrious red carpet greeted us. Fantastic Beasts decor covered the right wall, the press were lurking behind golden barriers and suddenly Dan Fogler – the boisterous No-Maj Jacob – was greeting us as we (feeling slightly awe-struck) snuck into the room bustling with energy only Potter fans can create.
'Oh HEY there!' he grinned, opening his arms up to welcome us and ask how we were like we were old friends. He was halfway through an interview, but Dan somehow manages to speak to the whole room at once – he's got a great character, and extremely warm presence amongst fans (as we found in our interview with him on set last December!).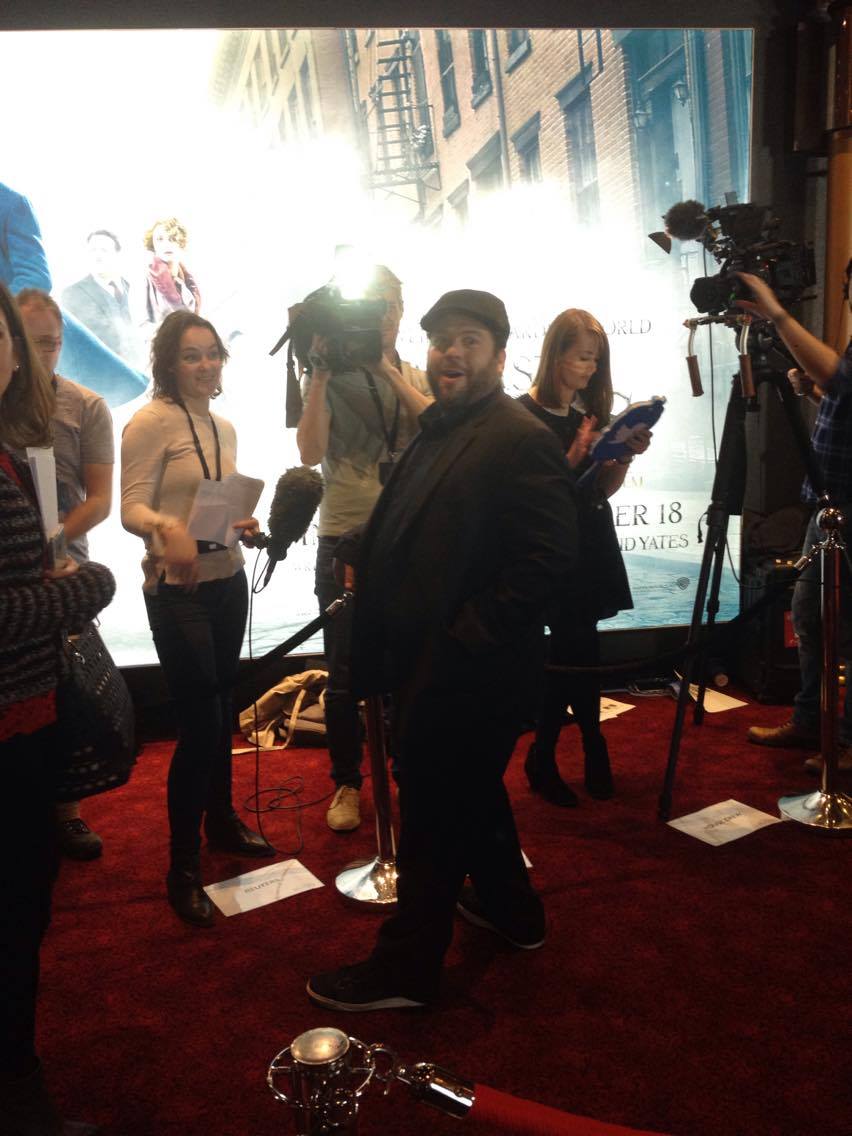 Onward to the wand booths, decorated with MACUSA (slightly Sirius Black / Ministry of Magic / Azkaban-esque) WANTED posters, featuring Newt, Tina, Queenie and Jacob. At the booth we collected a Newt Scamander wand. It's beautifully made. Much more sleeker and lighter than most other wands, scratched and inscribed, with exposed unicorn hair at the end. It's beautiful, and one of our favourites. It certainly suits Eddie Redmayne and he told us he absolutely loves it!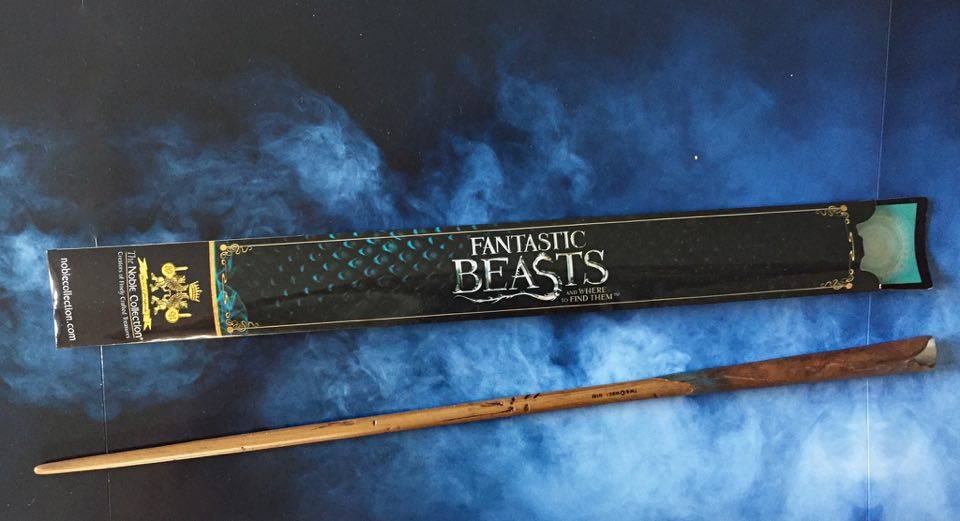 A few spell-casting booths were set up to the side of the entrance hall, which were a lot of fun – we agree with Katherine Waterston in her comments from Comic-Con – there's a surprising amount of skill involved in effective spell casting, we certainly need to attend more duelling classes!
Eddie, Alison, Katherine and Dan's costumes were on display at the event, moved from where they were on show at the Studio Tour during Comic-Con. They are astoundingly beautiful, and seeing them in person really makes you appreciate just how much work goes into these films.
Katherine Waterston said during the Q&A that she felt the cast were almost spoiled with how the crew handled their characters – everything is personalised to the actors: the wands, the costumes, even the lines in some cases! There's a lot of creativity on set, and the cast and crew work hard to make the films show as much of this as possible.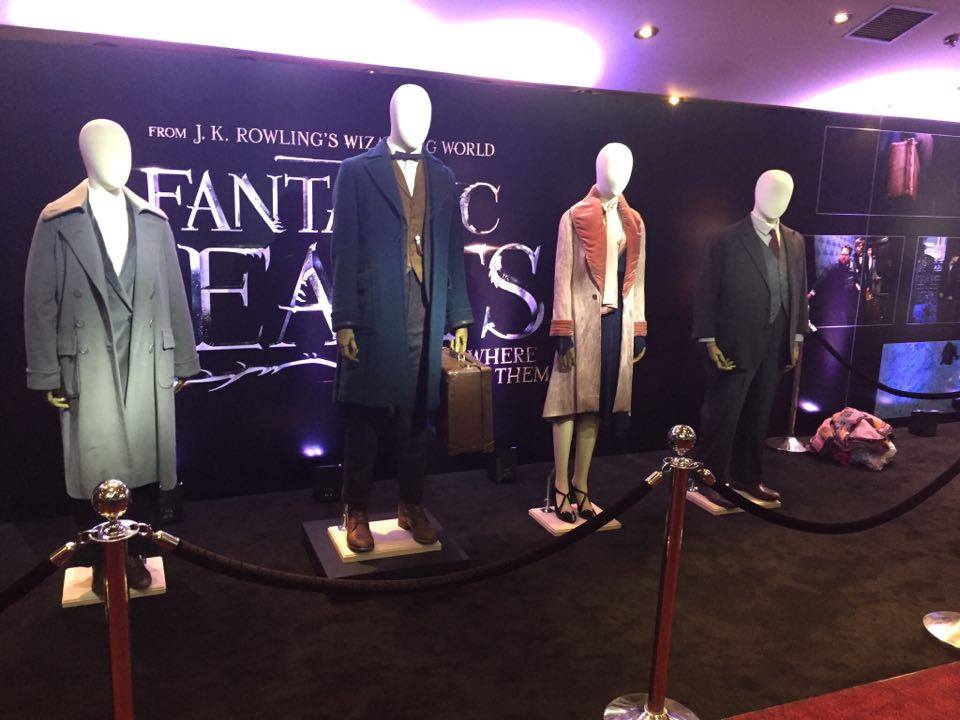 We made our way back to the red carpet, and there he was – Eddie Redmayne. Hands in his pockets, smiling at cameras and chatting quietly to the press, he couldn't be a better Newt Scamander. He's got the idealist shy, polite, endearing Britishness down to a T without even being in character. He spots his fellow cast mates Alison Sudol and Katherine Waterson and gives them a wave, then runs up to David Yates to give him a hug and welcome him to the event. We loved every second.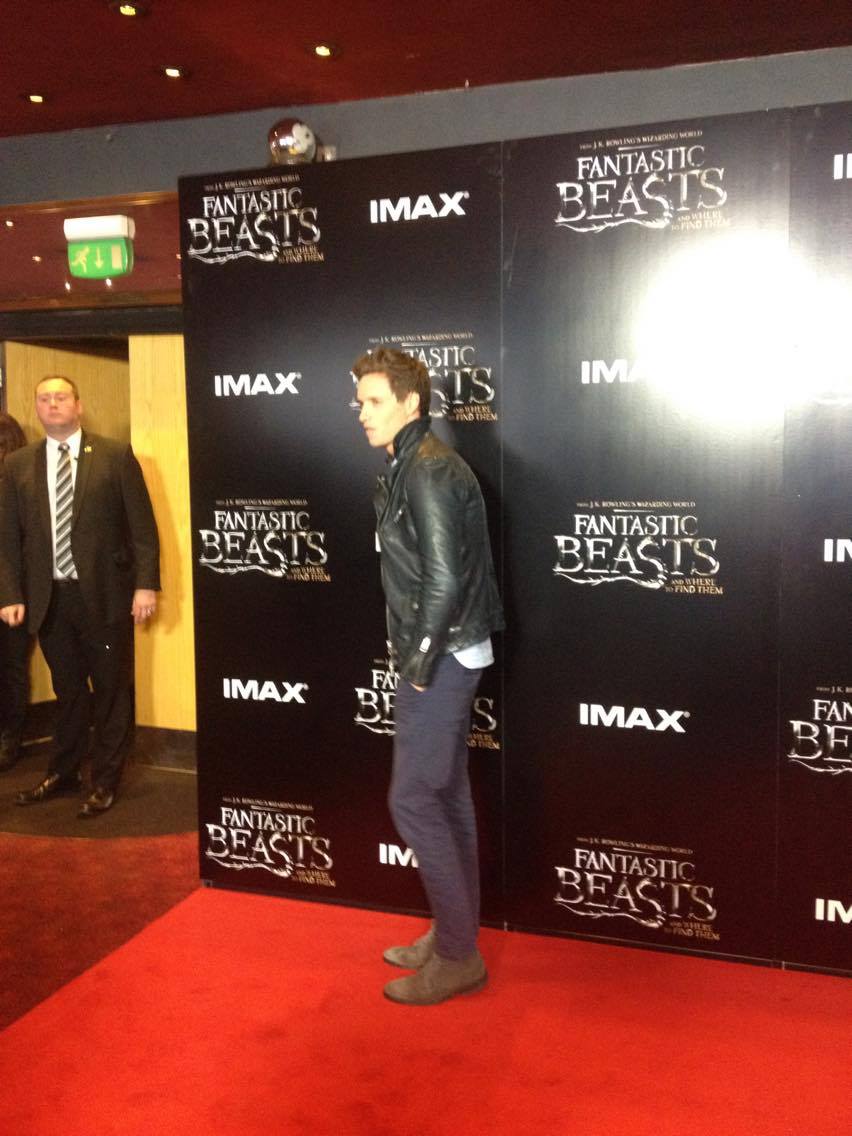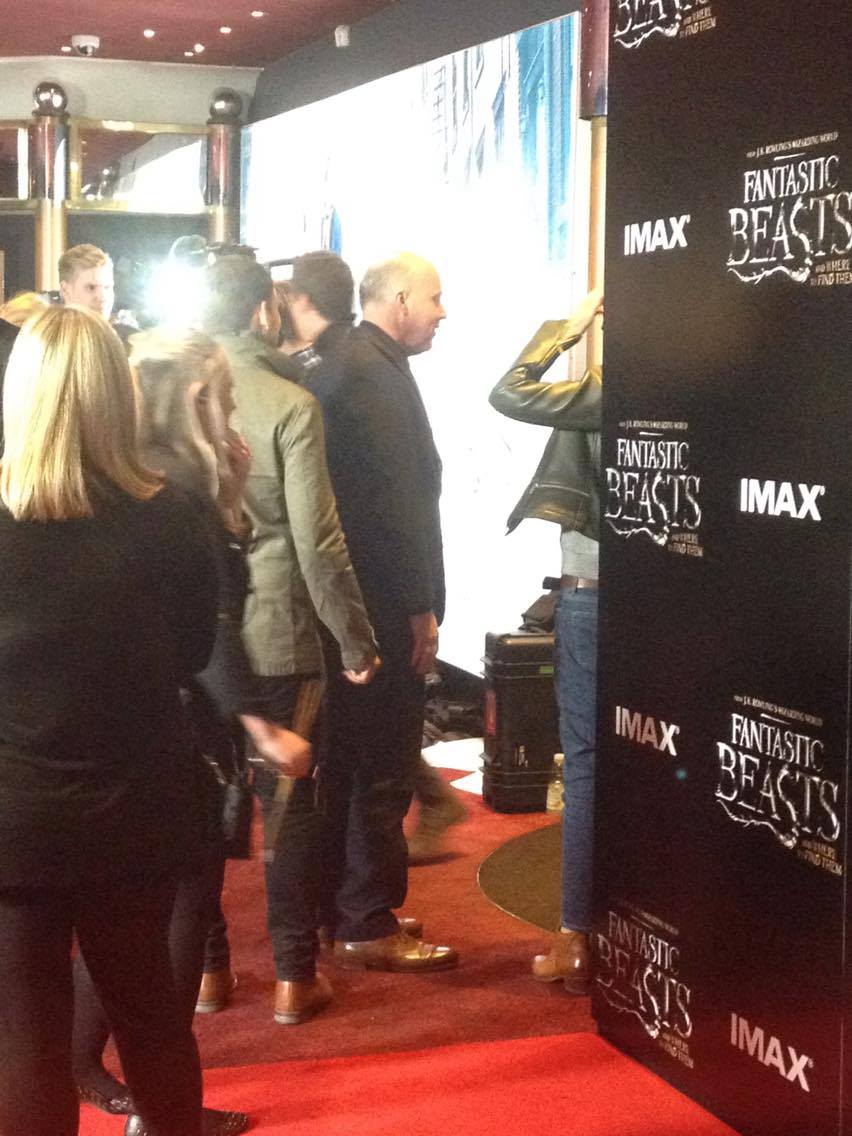 The doors to the theatre opened, and fans poured inside. We opted for seats fairly near to the front of the theatre (Fantastic Beasts popcorn!), where 7 seats were set up on a dimly lit stage. We counted: Dan, Eddie, Katherine, Alison, David, David, Host…Who's the surprise guest we were promised?!
'Do you think she'd be here?' we asked each other: we dared to hope, bubbling with excitement.
Our pre-show host led two competitions: two trivia questions, each with the promise of winning 2 tickets to the premiere.
Leaky tried – we were close, the host stared at us, we even had the answer – '1926!' we whispered to each other, as he asked what year the film is set,  'It's 1926!'
The premiere tickets were won by a lucky fan who will get to see the film before any of us, and walk the red carpet with the stars – wow!
The second competition gave those who had dressed up a chance to win a deluxe Harry Potter movie box set. A Tina cosplayer won, and walked around with their boxset looking extremely chuffed – we can't blame them!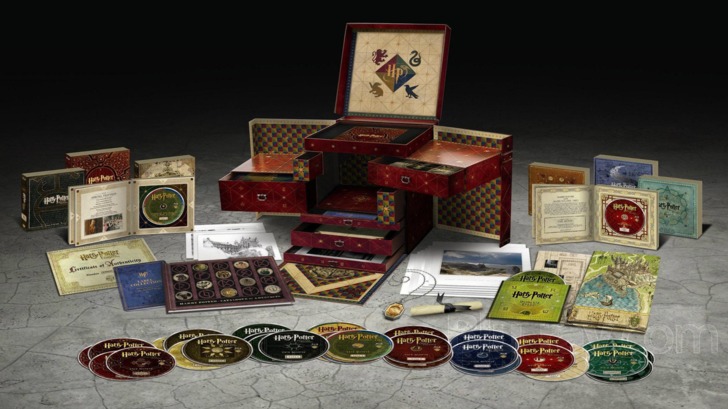 We were given information for posting to social media (Leaky had been live-tweeting the evening anyway – we like keeping you all in the loop!), and shown the newest posters for the movie on the IMAX screen: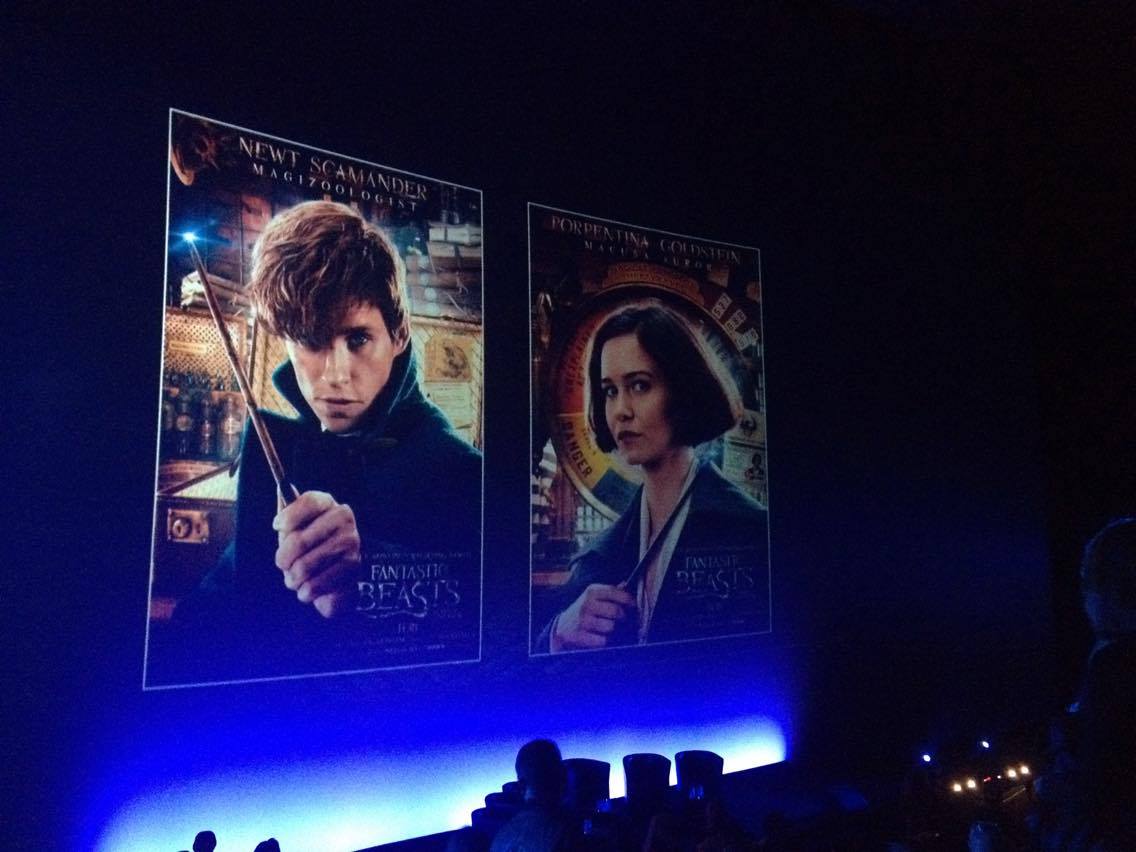 Edith Bowman made her way on stage, visibly ecstatic with nerves and excitement as she prepared herself and the crowd for going live. She pondered who she'd be sitting next to, introduced us to the floor manager as the calls came:
'90 SECONDS UNTIL LIVE!'
'If you need the toilet, it's too late now!' Edith exclaimed, we laughed, then prepared to go wild as the live-stream started.
Here is where we met the world for the live-stream broadcast on the Fantastic Beasts Facebook page (below). The cast, along with Yates and Heyman, joined Edith, whilst Collin Farrell and Jon Voight joined hosts in LA. Cinemas worldwide were involved in the Q&A, and competed for being the most excited crowds. With the cast sitting in front of us, it was hard not to feel like we were winning.
The Fantastic Beasts Global Q&A event kicked off with a new Fantastic Beasts feature, which included new content:
Pottermore wrote about 8 pieces of new information to note about the feature. The Hogwarts Express and sound bites from the Harry Potter films made sure fans knew that this new series was linked to Harry Potter. J.K. Rowling narrated that it would be connected to Potter in ways fans never expected. This includes Grindlewald and Graves's knowledge of the Deathly Hallows. Pottermore discussed this, saying:
We gasped with a combined state of shock and joy when we heard the name 'Grindelwald' from the previous Fantastic Beasts trailer. Now, here he is mentioned again in a wizarding newspaper called The New York Ghost. (Nice name!)

So as J.K. Rowling herself says, 'there are connections to the Potter books that I think people will find surprising'. Seconds later, the featurette completely knocks us for six, thanks to this familiar symbol. The sign, originally introduced to us in Harry Potter and the Deathly Hallows, is the official symbol of the three combined magical objects that enable a person to become 'the Master of Death'. Oooh. We know Grindelwald has had dealings with the Elder Wand, so who is twirling around the Hallows sign?

In addition to the symbol, do we encounter a Deathly Hallow itself? This shot looks an awfully lot like someone's enjoying a healthy snack under an Invisibility Cloak – unless that apple we see really was just eating itself.
Pottermore talks more about Graves, Mary Lou of the Second Salemers snapping a wand, and more, which can be read here.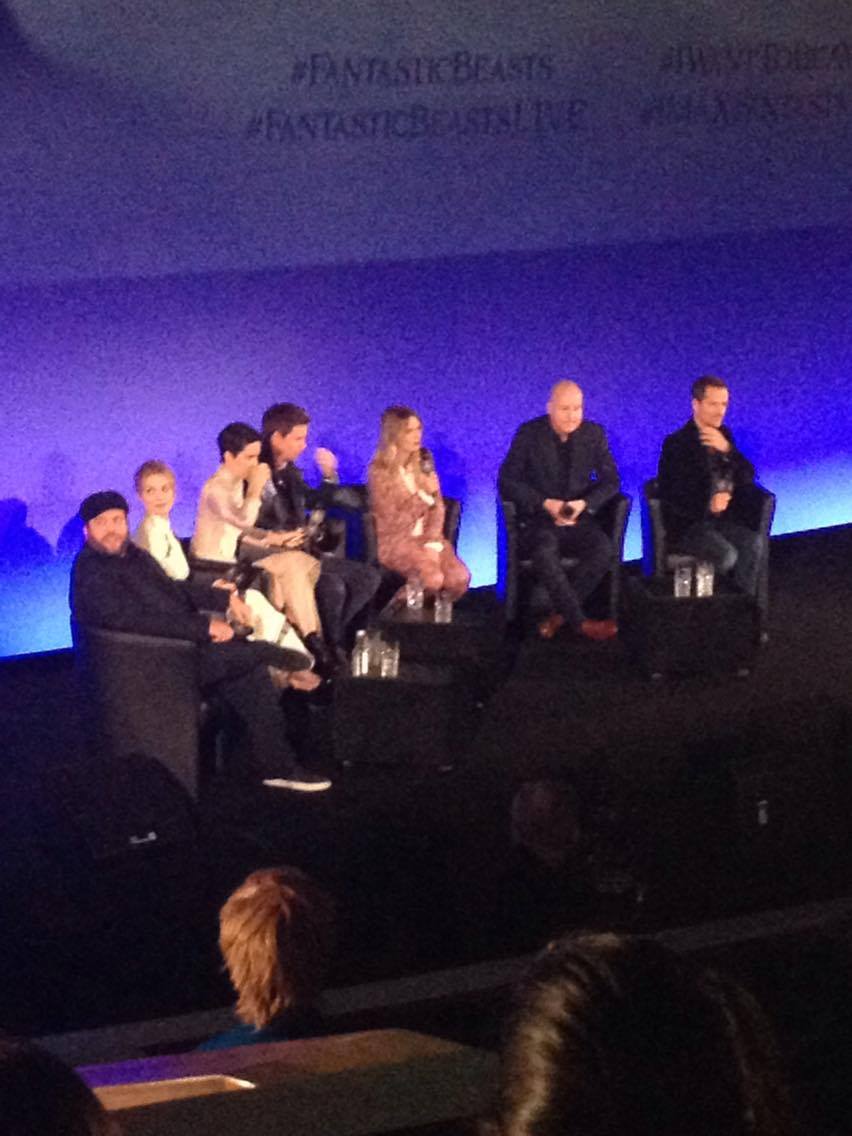 Alison Sudol called her character, Queenie Goldstein, a 'magical empath', saying she felt a deep connection to this as the fan's magic and excitement in the room was impacting her as she spoke.
Dan Fogler commented on the ceiling first, saying it was 'just like the inside of an occamy nest', then addressed being the No-Maj in the room, saying:
'I'm so much like Jacob… the way he's being introduced to this amazing magical world, and he's in awe of it!' He laughs. He related Jacob's great grandfather being a baker to his own great great grandfather being a baker.
Farrell and Jon Voight had great chemistry over in LA, joking to each other whilst the cast in Leceister Square laughed with them – there seemed to be many an inside joke, and we loved seeing evidence of a close-knit cast who develop over the course of the films.
Collin Farrell gave more information on his character during the Q&A. In addition to his narration in the feature talking about seeing visions of immense power, Farrell also talks about his character's views on no-maj/wizard superiority–a notion that carries into Voldemort's uprising.
'She has a boundless imagination, but she's the most generous of collaborators', David Heyman says of J.K. Rowing, and yates says she's 'like the Queen' to those on set – we agree!
The cast were then asked about their thoughts on David Yates, expanding on Pottermore's interviews. Each explained his passion for creativity in the cast, Eddie mentioned the way Yates would encourage everyone on set to bring their own thoughts on characters and plot to the table, allowing them to immerse themselves in the story in whatever way they needed. Eddie, for example, spoke to zoologists (not magical ones, he's the first of those!) and visited zoos.
Alison Sudol also explained how comfortable David made them feel when first making their way onto the extraordinary sets. He gathered them up, told them stories about their characters and where they were, and made the process not only easy, but enjoyable:
'One thing I really loved about you David is your storytelling ability, in that we would start a scene and – if you're not familiar with how movies are made, sometimes they're made out of order so you're not necessarily filming one thing after the next – we'd come in and all of us are in awe of these huge incredible sets. Everything is so big, and magnificent, we're all a little bit wide eyed, like "Oh my goodness!".

Then David would gather us together and he would tell us about what we were feeling and the story in this moment and all the things that we couldn't necessarily see yet, and he'd tell us about the creatures and he'd sometimes make their sounds! It consistently brought this very large film back down to a very human level, and that's what's so wonderful about these stories in general is that Ko is an extraordinary mixer of the wild and epic.'
Eddie's excitement for the level of detail on set was so infectious – he explained with delight how newspapers were scattered on set – even when they had no way of being in shot – and were fully readable, with stories constructed that made actors on set feel completely immersed in the story. He's clearly a fan of MinaLima, and it's not surprising – the graphic design in this movie has upped its game even from the beautiful works in Harry Potter. The cast and crew continue to astound us with their unimaginable amounts of creativity.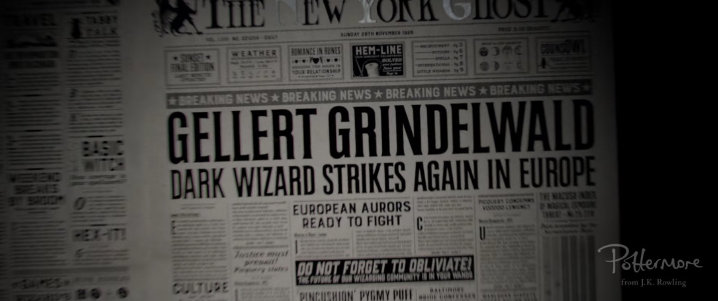 David Yates and David Heyman were asked a question about secrecy, easter eggs and connections to Harry Potter in the movie to wrap up:
'We can't mention too much obviously, because we'd have to kill you all before you can see the film!' Yates said jokingly (we hope) – Dan Fogler gave a concerned side-eye look to the cameramen at this point.
"We do mention Dumbledore in this movie, and he features a little bit in a wonderful scene between Colin [Farrell] and Eddie [Redmayne], and Grindelwald does feature in the movie sort of in the background, and he's going to become a much more prominent part of the stories going forward"
'Lips sealed' Yates hesitated, as Heyman shook his head mock-sternly.
'We next see Newt in another capital city' Yates tells Bowman (Eddie's head whipped round this news – the cast hadn't seen the scripts yet, but later we find that Jo's secretly feeding them information – Eddie's acting here, we assume!)

'It's not going to be New York, it's somewhere else entirely, and Jo has actually written the script – it's just as magical and just as marvellous as the first one'
They 'ummed' and 'ah'd' about details, and whispered in each other's ears for a while. 'David said I can't say' Yates admitted.
Eddie then launched spontaneously into an excited ramble about J.K. Rowling's creativity, saying:
'One of the best moments for us on set was when Jo would come to set, and I think David found it a mixture of both wonderful and mildly frustrating – we would turn into seven-year-olds. We would stop work, we wouldn't be able to do it. Jo would come up to us, and she would say "I'm working on the new script, I'm not allowed to tell you anything, but – and she  would just start launching forward-'
When David Yates suddenly cut in – 'Actually guys, there is someone here who could probably tell you a little bit more,' – anticipation in the room was tangible, it floated in the air, buzzing like the wings of a hundred snitches. He grinned as we stared at him, eyes wide, smiling uncertainly ourselves, waiting, hoping. Some fans were already screaming, a chair had been prepared at the end of the Q&A set-up during this exchange – she was here, we could feel it.
The theatre erupted as J.K. Rowling walked up to the stage. All those years of waiting suddenly met in this moment as Rowling joined us in the room to prepare us for the stories to begin again. We're coming out of retirement, out of our hidden places in the sidelines of current fandom crazes. Fantastic Beasts is the story Rowling 'always wanted to tell', the real-deal. Not a publicity stunt. A story every bit as beautiful as the last.
'They've been lying to you, they know everything' she said about the cast, 'I get excited, I tell actors things'
'This is unbelivable, this is like old times' she smiled at the crowd, and we couldn't agree more. Memories of Hogwarts, Dursleys and Butterbeer hung in the air between us.
She told us everything she could: 'I learnt how to write a script at the same time as learning to write a Hollywood movie. I wouldn't recommend that. It's quite stressful, but it has been a really amazing experience. I've loved it. I've really loved it, hence me writing another one and another one and…'
Edith Bowman starts to wrap up 'It's like Christmas!' she exclaims.
Jo then made the announcement that stories had been plotted, scripts written, conversations exchanged, and the decision had been made that not three, but five movies were in the works.
Five. Movies?
We were already feeling pretty spoiled, we were already content but FIVE movies?!
'Dan, why are you wincing? Do you want me to kill you?' Jo jokes.
This story arc promises to be complex and span the time between Newt and Harry, the space between Ilvermorny and Hogwarts, MACUSA and the Ministry of Magic. We've got a lot to catch up on. Who can predict what's in store?
Fans in the theatre deliriously came to their senses as Yates, Heyman and Rowling made the announcement that we would be getting to see the first 10 minutes of the film (half of the first reel). They left the theatre as the lights dimmed.
Here's a description of the first ten minutes, from memory of course – we weren't allowed any recording equipment (WARNING – SPOILERS AHEAD!): 
The Warner Bros logo welcomes us home, somehow even darker than in Deathly Hallows: Part 2. We're getting the feeling that this film isn't just Newt teaching us zoology now. There's an underbelly to this narrative that's waiting to welcome us into a new era of magic and conflict.
Five wizards surround a ruin, bracing themselves before a huge invisible Beast bursts out of the ruin, moving bricks and creating further ruin before disappearing into the night. A bleach-blonde figure stares off into the night, watching after the beast's trail of destruction. Is this Grindelwald?
Several newspapers catch us up on current affairs: Grindelwald has disappeared in Europe, we're shown various advertisements, panic is rising in the wizard community and the President of MACUSA – Seraphina Piquery – is calling for calm. 
A 1920s immigrant ship passes the Statue of Liberty – Newt is shyly sitting on a bench on the ship's deck on a sunny day, cradling his worn brown briefcase of restless beasties, whispering, 'Not long now, settle down.'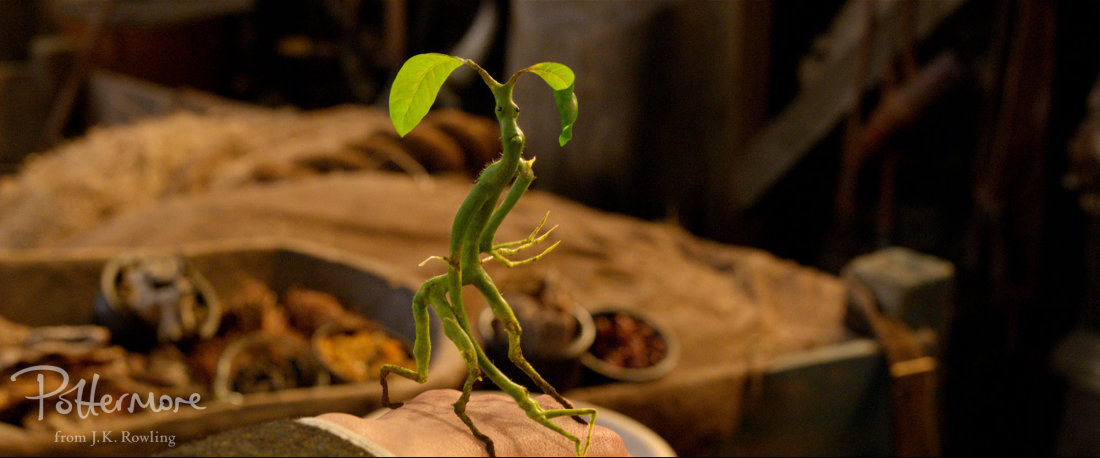 A man is standing on top of a pile of rubble in New York, explaining the cause of the destruction – a dark beast with big white eyes.
Graves is carefully, mysteriously creeping around the ruins, watching with knowing eyes as a wall cracks and the – still invisible – beast emerges, seemingly from the ground, parting the road, then appearing to fly into the air and into buildings, causing hysteria in the streets.
Mary Lou – Second Salemer leader – is shouting on a staircase somewhere else in New York (outside MACUSA?) about witches being in our midst.
Newt stumbles into Tina Goldstein, delicately eating a NY hot dog and looking disapprovingly, at basically everything but especially at the awkward stranger that bumped into her, and at the woman preaching about evil witches on stage.
Lou asks Newt why he's at the talk – if he's a seeker of truth. Mr. Scamander replies that he's 'more of a chaser' – we're loving this subtle reference to Quidditch.
The reel then moves into clips of Queenie and Tina showing newt and Jacob the Wizarding world, a few shots of Newt, the Niffler and President Picquery inside MACUSA, spells being cast and – of course – beasties! All with the promise that Fantastic Beasts is coming SOON.
As the clip ended, we were reminded of the film's release date next month (18th November), and left knowing that this series should be every bit as successful as Harry Potter. If these first 10 minutes are anything to go by, we're in for a treat. FIVE of them.
We were given a poster at the end of the talk, which was released to the public following the event – take a look below: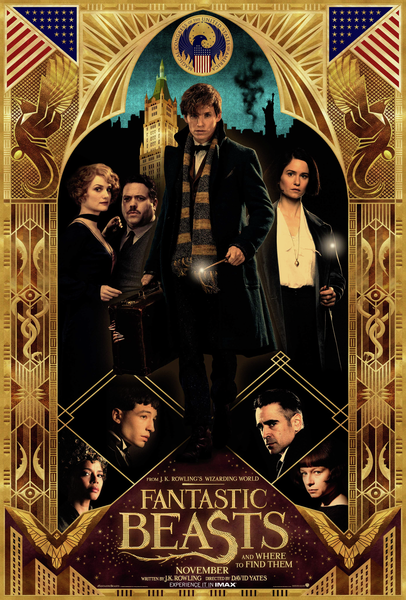 Be sure to pre-book your tickets to Fantastic Beasts, watch the livestream from the event below, and read up on North American wizarding history in the latest instalment (on MACUSA) here!
Lastly, we'd like to thank Warner Bros. for our invitation to the event – it was absolutely amazing, and you kept us on the edge of our seats the entire time!