Matthew Lewis Talks 'Potter' in New Interview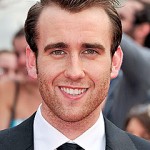 Jan 17, 2017
In preparation for his attendance at A Celebration of Harry Potter, Universal Orlando Close Up (the official blog of Universal Orlando Resort) have interviewed Harry Potter's Neville Longbottom, Matthew Lewis, on his memories from The Wizarding World of Harry Potter and his experience on the Potter movies.
He commented on how The Wizarding World of Harry Potter at Universal Orlando compares to the movie sets:
"The complete nature of The Wizarding World at Universal Orlando Resort gives it a level of immersion that we never had on set. We had to use a lot of imagination and complete the locations and sets in our own minds but that's not something necessary in Orlando – it's all there."
He also says he is humbled to feature on one of the rides at the parks around the world:
"I never thought as a kid that I would ever be part of a theme park or featured on a ride. That's crazy. I'm so honored by it, especially since it's one of the best rides in the world at the minute."
Neville Longbottom said many iconic lines, but Matthew Lewis's favourite is actually one spoken by another beloved character:
"I think my favorite line is from Harry Potter and the Prisoner of Azkaban when Sirius Black (Gary Oldman) exclaims "I did my waiting, twelve years of it – in Azkaban!"
Matt's clearly very fond of his old character. He made 'Started from the Bottom' t-shirts recently for charity, in line with the explanation as to what drew him to Neville:
"I found Neville's underdog status a huge draw. Naturally, being British, the plucky underdog is always a character that I want to champion. Neville, however, is also inherently good. He always attempts to do his best and fight the good fight against overwhelming odds. He's scared and out of his depth but he steps up and fights anyway – that's courage."
After sharing his favourite memories from working on Harry Potter, and speaking of relations between the cast now that the series is over, he shared his interest in portraying one of the more villainous characters in the Potter movies:
Q: If you could play another character in the movies, who would it be?

A: I'm often asked this question and I think I change my answer frequently but the most common is that I'd like to be on the other side. Playing bad guys is so much fun because it's out of your comfort zone and you get to do and say things you'd never do in real life. So I think I'd be one of the Malfoys. Probably Lucius!
Read the full interview with Universal Orlando Close Up here.
A Celebration of Harry Potter will take place at the Universal Orlando Resort from January 27th – January 29th, featuring attendance of various talent from the films, Q&A panels, demonstrations and interactive experiences . You can get tickets here, and read more about the event in our previous report here.