PotterCast #266: The New Year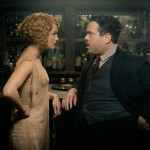 Jan 24, 2017
In the first episode of the new year, PotterCast meet to look back at a unique year of magic and forward to what could be an even more exciting time for the Wizarding World and Harry Potter fandom!
The release of J.K. Rowling's new website caused quite a stir, and this episode begins by trying to unpack a few of the features on the website. John gets busy trying to use Alohamora on the site (to no avail).
After the recent interview with Zoe Kravitz on her role as Leta Lestrange, Melissa, John and Frak discuss what sort of relationship her and Newt will have if they meet in Paris, how this will tie into his canonical ties to Tina Goldstein, and just how antagonistic Leta really is – she's said to be a tragic character, after all! The team also discuss what could be coming in the next films, which countries in the wizarding world they'd like to see, and if – perhaps – we might see J.K. Rowling take more of a leading role in filmmaking?
The Case of Beasts was a Christmas present for many Potter fans, and PotterCast – of course – is not exempt! The episode reveals a few more things within the book, and Melissa asks whether it can be considered canon.
A couple of questions from listeners are answered regarding Newt as Dumbledore's agent, and Queenie's involvement in Jacob's bakery. The latter began a discussion of Queenie's powers, and whether Queenie or Tina would win in a duel!
A little more is debated around President Picquery and what leads to her end of term as President of MACUSA in 1928 – is this related to Grindelwald? Where could she go next?
The episode wraps up with a discussion of the powers of the blood of magical creatures, and looks back at 2016 as great, homecoming year for Potter.
PotterCast will be on on a panel discussing all things Potter (new and old) on Saturday 4th March at 15:45pm at Emerald City Comic Con, and at LeakyCon in Dublin (Ireland, UK) this year.
PotterCast are also hosting a competition to win TWO cases full of Fantastic Beasts merchandise. Listen to the episode for more information!
You can also enter Leaky's own 'create your own fantastic beast' competition to win two more 'NewtCases' (for US residents only) here.
Happy listening!