'Cursed Child' Producer Brings "Unusual" Musical to the West End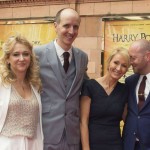 Jan 26, 2017
Sonia Friedman, the acclaimed producer of Harry Potter and the Cursed Child, is bringing, what she refers to, as an "unusual" musical to the West End this spring. Our Ladies of Perpetual Succour follows six Catholic schoolgirls from their imaginary convent in the Scottish town of Oban to a choral competition in Edinburgh. In their effort to be disqualified from the competition as quickly as possible these parochial crooning delinquents  put their rebellious nature to work and adolescent chaos ensues.
This "dark" story, which deals with issues from teenage pregnancy to serious illness, is underscored by the contrast of music from rock band ELO and Handel. As a result, according to Friedman,
"It is an unusual musical. There is nothing like it in the West End. It will bring in a different demographic."
Friedman, who was recently named the most influential person in the London theater community for 2017 by The Stage Magazine's Stage 100 list, is also nominated for a third consecutive Producer of the Year award by The Stage Awards. See Leaky's recent story on Sonia Friedman here.
The Scotland National Theatre's production of the musical ran in London last fall and was directed by Vicki Featherstone, who will be returning to direct for Friedman. In a review from The Telegraph of last year's run, critic Jane Shilling says,
"Our Ladies of Perpertual Succour is a joyous, moving musical riot.Vicky Featherstone's swift-paced direction gives the production real lift – and the freshness and vigour of the young cast turn it into pure gold."
 Our Ladies of Perpetual Succour, which was written by Lee Hall, best known for his work on the musical, Billy Elliot, and screenplays for Billy Elliot and War Horse, and adapted from the book 'The Sopranos' by Alan Warner, premiered in 2015 at the Traverse Theatre, Edinburgh. Friedman's production this year opens at the Duke of York Theater in May.
Click here for the full review of the 2016 National Theatre production from The Telegraph.