'Cursed Child' Playwright's New Musical Opens This Week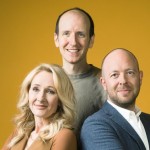 Feb 22, 2017
Playwright Jack Thorne, who just this week took home the Best Play Award from What's On Stage for Harry Potter and the Cursed Child, has a new production opening February 24 at the Bristol Old Vic Theatre in Bristol.
Junkyard, Thorne's first musical, was inspired by his own childhood experience, as reported recently by Leaky. It is a story about a group of misfits that build an adventure playground, just as his own father built a play area out of junk for the neighborhood youth 30 years ago in Bristol called 'The Vench'. The production is directed by Jeremy Herrin and the music was written by composer Stephen Warbeck, who won an Academy Award in for Shakespeare in Love.
The Bristol Old Vic's website says the following about the show,
"It's 1979, rubbish is on the streets of Lockleaze, and growing up is tricky for Fiz, Higgy and Ginger. Rick remembers what it's like to be a teenager. So when he decides to build a junk playground, he's pretty sure he has the charisma to get a bunch of reluctant kids involved. He's wrong. Inspired by the true story behind the Lockleaze playground known as 'The Vench', created over 30 years ago and still in play today, Junkyard is a story about Bristol, for Bristol."
Find out just how BAFTA winner @jackthorne has turned the real life story of Lockleaze's The Vench into our new play https://t.co/xM8iDwynpJ pic.twitter.com/H4xQ5A91SN

— Bristol Old Vic (@BristolOldVic) February 22, 2017
Recently, What's On Stage covered the cast of Junkyard as they rehearsed a number from the show entitled"Song at the End". Click here to watch their exclusive video.
Junkyard runs until 18 March at the Bristol Old Vic then plays at the Theatr Clwyd March 29 to April 15 then finally at the Rose Theatre Kingston April 19-30.