'Fantastic Beasts' Wins Best Costume Design Oscar!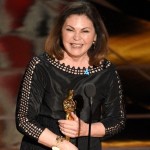 Feb 27, 2017
Colleen Atwood is now a four-time Academy Award winner, after her work on Fantastic Beasts and Where to Find Them was honoured with an Oscar last night.
Atwood won the title of Best Costume Design over fellow nominees LaLaLand, Jackie, Allied and Florence Foster Jenkins. In a ceremony pretty much dominated by LaLaLand, it was an amazing year to win the award!
The famed designer has previously won Academy Awards for her work on Alice in Wonderland, Memoirs of a Geisha and Chicago, and has been nominated for an Oscar on eight other occasions.
And the Oscar goes to… pic.twitter.com/KQqj9oBP7I

— The Academy (@TheAcademy) February 27, 2017
Congrats to now four time Academy Award winner Colleen Atwood who brought her magic to the Wizarding World. #Oscars #FantasticBeasts pic.twitter.com/81ZUsAVJXH

— Fantastic Beasts (@FantasticBeasts) February 27, 2017
Unfortunately Stuart Craig lost out to LaLaLand this year for Best Production Design (but recently won a BAFTA), and Atwood was quick to say she was stunned Harry Potter never won an Oscar:
"I can't believe they never won for that incredible clockwork creation of Stuart Craig in the Harry Potter movies."
She said of the inspiration behind the 1920s costumes in the film:
"The rawness of America at that time was my starting point & my inspiration"
Atwood noted that the contrast of this film to the Potter series prompted the film to receive the award, and praised the "incredible artistry" throughout the entirety of J.K. Rowling's wizarding world.  See the full video of her backstage speech below:
We had the honour of speaking to Colleen at the London premiere of Fantastic Beasts, where she discussed the work that went in to the elaborate costume design proscess, saying Queenie's costume was her favourite to design. The research behind the costumes in the film is absolutely fascinating, and of course began by looking at 1920s fashion in New York, and collaborating with sketch artists to bring the characters to life through their costumes. She spoke of trying to convey "a mood, a feeling of a situation with the fabrics" in a recent interview, and said she drew inspiration from the beasts in the film to help Newt blend in with them.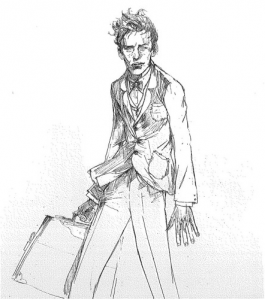 She has previously commented on working with Eddie Redmayne during the process of costume design, and how the coat (which – let's be real – is 50% of the reason Newt was such a great character) was crafted around his personality:
"Eddie's a really physical actor and, and we started really early with the shapes and how his costume was going to work and his movement and all that really early on, so we evolved it, and he loves clothes so he was really excited about what we were doing."
Pottermore's interview with Colleen Atwood begins by praising the designer's incredible attention to detail:
'Spend time with Colleen and she gives away the secret to her success. It's obvious: she has an extraordinary eye for detail and a dogged commitment to the integrity of her costumes. She's always on set making sure they're perfect, which, I'm told, is not standard practice for a costume designer.'
Atwood commented on why she took on Fantastic Beasts and Where to Find Them:
'I love the fantasy stuff, I love that,' she says. 'That's why I took on this movie. I like the challenge of it, and I like integrating fantasy into a period like this. You get to step out of it slightly and make something that's a version of that time. Which is what movies have always done: in a way, they glamorise time.'
Join us in congratulating Colleen Atwood and the Fantastic Beasts team on the very first Oscar win for the wizarding world!