Evanna Lynch Shows the Magic of Vegan Cooking with PETA!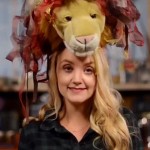 Mar 21, 2017
Evanna Lynch teamed up with Youtube channel peta2 – animal rights group PETA's US youth division – to show you how to whip up some Hogwarts treats, vegan style!
In full Luna style (she even dons a Gryffindor hat at the end!) Evanna shows you how to make chocolate frogs, butterbeer and pumpkin pasties, all without using animal products (or frogs!). Watch the short instructional video below:
"Whether it's owls, rats, or hippogriffs, be a hero for animals by going vegan today" she concludes.
Evanna has been spreading her beliefs in animal rights via her Instagram, sharing her involvement in campaigns. She told us in a recent interview that she'd love to start her own vegan podcast:
"I do have names, but I'm told they're all too girly. I need to try to have a more neutral name. I'm still looking for a cohost so we'll see how that works out, but I'm starting to blog about veganism because I feel like there are so many people who are interested. It's not quite mainstream yet but it's getting there. There are so many people who say "I want to but I don't know how" or feel they're too lazy, so I just want to talk about that. You don't have to be a big foodie or a big animal lover. There are ways you can make little changes.

"It's so hard to get people to care about animals without having to dress it up to be about being for their benefit. It does concern you if the planet is messed up, but to other people it's far away so it's less of a concern." 
Read the full interview here.
Krysten Ritter, Lucy Watson, James McVey and P!nk have also joined PETA's campaigns. Evanna clearly isn't lacking in her vegan cooking skills – check out this cake she made a couple of days ago:
One animal (or maybe Kneazle) will always be at the top of Evanna's list though, and that's her cat, Puff! If she's not enough to convince anyone to care about animal rights, what is?