Warwick Davis Celebrates a Life-Long Love for 'Star Wars'–and Exciting News!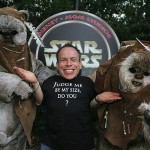 Apr 20, 2017
Long before Warwick Davis joined the Harry Potter series as Professor Flitwick and the goblin Griphook, he had a magical connection with the Star Wars universe. It began in 1977 when he fell in love with Star Wars: A New Hope, little knowing that Star Wars would, only a few years later, kick off his professional career and begin a relationship that would continue to this day.
Davis recently hosted the Star Wars Celebration and participated in the "40 years of Star Wars" panel. While there, he spoke to audiences about his big break, which came when he was cast at the age of 11 as the Ewok Wicket in Return of the Jedi.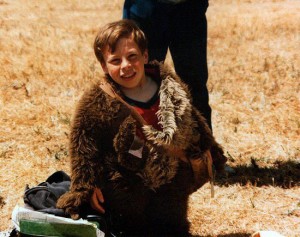 While the time on set was most certainly mind-blowing for the young fan, he chose to read a letter he sent to George Lucas after they finished filming.
Inverse reports that Davis wrote:
Dear Mr. Lucas,
My name is Warwick. I hope you remember me. I helped you make the new Star Wars film last year. I hear that the film is being released in this country on June 2 and that a few of the toy shops in London have some of the new figures.
I hope this is not too rude of me to ask you, but would it be possible for you to send me the latest figures and walkers — I was hoping very much that there may be an "Ewok" or "Jabba the Hutt."
I did enjoy myself with you and the members of the film unit and keep remember what a terrific experience it was.
Kindest regards,
Warwick
He even shared a picture of himself with the prized possessions (which he still has, by the way)!
Davis was then joined onstage by the Star Wars greats Harrison Ford (Han Solo), Mark Hamill (Luke Skywalker), Anthony Daniels (C-3P0), Billy Dee Williams (Lando Calrissian), Peter Mayhew (Chewbacca), and writer and director George Lucas, to the delight of the audience!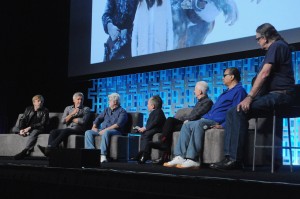 Comicbook reports that the stars were clearly enjoying one another's company, even engaging in some good-natured ribbing. Davis, in particular, couldn't pass up the opportunity to tease Ford about his skills, or lack thereof, as a pilot–now a running joke in the fandom given that Ford is known for playing one of the best in the galaxy.
In February, Ford narrowly missed a passenger jet when he landed his single-engine Aviat Husky on a taxiway, rather than the runway for which he was cleared. In an obvious reference to the incident, Davis made the cheeky jab:
"I can't believe we managed to keep [your attendance] a secret considering you landed your plane on I-4."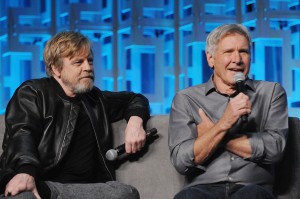 George Lucas later got in on the joke, commenting that he hired Ford because of his proficiency as a pilot. To which Ford wittily answered, "Flying? Yeah. Landing? No."
Davis and Ford were most recently co-stars in The Force Awakens, in which Ford reprised his role as Han Solo for the last time and Davis appeared as Wollivan.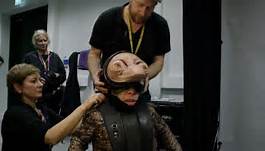 He continued his collaboration with the Star Wars franchise by appearing as the rebel Weeteef Cyubee in Rogue One.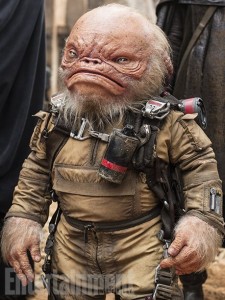 Leaky shared this Entertainment Weekly description of the character:
"'[Davis] is cocooned in his [costume], and his imagination brings such incredible life to his performance.' Though Weeteef is a good rebel, his look was inspired by a mean fish. 'We thought of a piranha,' says [creature-effect supervisor Neal] Scanlan, pointing out that Weeteef's name is slang (wee teeth) for his tiny, sharp incisors."
And it was announced at the Star Wars Rebels panel that Davis would take on yet another role, this time as the voice of Rukh!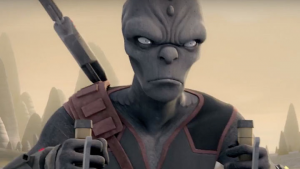 IGN described the character as follows:
"Rukh, a Noghri warrior who serves as Admiral Thrawn's bodyguard in the Timothy Zahn 'Heir to the Empire' trilogy that introduced Thrawn, has never been seen before in the series and this marks his move from a 'Legends' character into official Star Wars canon."
It was also revealed that season 4 will be the last for Star Wars Rebels, and IGN reported that co-creator and executive producer David Filoni spoke to the audience about the decision.
"Filoni told the crowd of fans, 'I really appreciate that love from you guys. I think I can make this story as meaningful as can be.' He stressed ending the show now was his decision, adding, 'I know what it's like when I don't get to end a series,' referring to Star Wars: The Clone Wars, which infamously had the plug pulled on it with a couple more seasons planned at the time."
It sounds like every effort will be made to end the series well, and it will be interesting to see how Davis' character Rukh plays into that resolution as the story unfolds. You can catch a brief glimpse of him in the newly-released trailer below.
Imdb.com also lists the upcoming Star Wars: The Last Jedi on Davis' filmography, but no character is yet specified. We'll cover his role in the film as more details are released. For now, we can introduce you to the official teaser trailer which was unveiled at the Star Wars Celebration!
And though he is not listed as having a role in the Han Solo film (yet), Davis has found a way to stay involved in the production. Superherohype reports that he joined George Lucas' Force for Change campaign to take fans on a "tour" of the  film set. Watch the video below and click here to find out how you can donate for a chance to win an actual set visit–and more!
We hoped you enjoyed the Star Wars updates. When talking super fandoms, there's bound to be some intersection, and we're proud to count Warwick Davis as occupying a distinguished seat in both camps!