Another Movie Sign-On For Dan Radcliffe: 'Escape From Pretoria'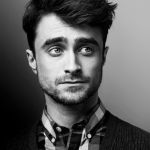 May 19, 2017
Daniel Radcliffe has signed onto another thriller, and is set to star in upcoming prison breakout thriller Escape From Pretoria, written and directed by Francis Annan.
His role in Jungle has been long awaited, and although two recent announcements have seen Dan switch into comedy (Guns Akimbo and Miracle Workers), we've seen Dan work his magic on high-tension horror/ thrillers such as The Woman in Black and Horns. He's certainly been working his magic on the big screen, small screen and on stage (his latest stage project was Tom Stoppard's Rosencrantz and Guildenstern Are Dead  at London's Old Vic Theatre).
The film is based on anti-apartheid activist Tim Jenkin's autobiography and will premiere at Cannes, marking Radcliffe's second debut at the renowned film festival. Jenkins broke out of a max security prison in 1978, and Radcliffe will take on this role in the movie. One of the film's producers said on the movie's subject:
"Political without being polemical, Escape From Pretoria is a rare combination of genre and drama, and I am delighted to bring together the potent combination of Daniel Radcliffe and Francis Annan on this astonishing true story"
The film will start shooting in South Africa in 2018. Read more on the film at The Hollywood Reporter, and keep posted for more updates on Dan's projects. We're glad to see him and the rest of Potter's YA actors doing so well! Catch up with them in our latest round-up here.