Take the Weasleys' Wizard Wheezes Magical Virtual Reality Challenge!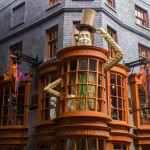 Sep 04, 2017
Today Universal Orlando tweeted a link to their new 360-degree virtual reality search-and-find game that takes you on a tour of the Weasleys' Wizard Wheezes shop–and challenges fans to find six magical objects hidden throughout the store!
Step into the shop, and you'll be amazed at the details that have been recreated. It looks exactly like the store located in Universal Studios Orlando's Diagon Alley!
You'll see the familiar brightly-colored décor, the Quidditch shop that angles off to the right, the multiple staircases, and the seemingly-endless shelving. You'll see a display by the register filled with Fever Fudge, Puking Pastilles, and Fainting Fancies. You'll see row after row of wizarding games, hats, shirts, whatever you need to pull off the perfect magical prank, and plenty of "disastrous delights!"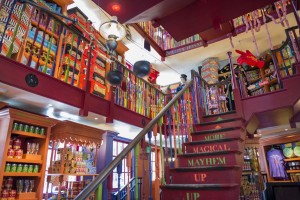 And while bombarded with all these exciting sights, fans will be asked to locate a pink Pygmie Puff, a purple Pygmie Puff, a rubber chicken, a jar of U-No-Poo, a rainbow-colored slinky, and a pair of Luna's Spectrespecs–all in under 60 seconds!
The faster you find the objects, the higher your score! When you've found them all, the game gives you the option of starting over so that you can attempt to beat your time. (And don't worry fans, if you fail in the attempt, you may try again as often as you like.) Comment to let us know your personal best!
Play a 360º game that transports you to Weasleys' Wizard Wheezes at #WizardingWorldOrlando: https://t.co/VK2MIzvLV5 pic.twitter.com/ZYJ2XHpaDq

— Universal Orlando (@UniversalORL) September 4, 2017
(One suggestion, though–this user found it more difficult to navigate the game on a laptop. It didn't seem to process the information fast enough and led to unfortunate glitches and gaps in the 360-degree view of the shop, making it nearly impossible to find all the objects. However, upon moving to a desktop computer, the virtual reality experience was exceptionally clear and the challenge was much easier to complete! Did you encounter the same problems or did it function like a Sneakoscope in the middle of Knockturn Alley–without a hitch?)
For more fun with virtual reality technology, take the new tour of the Hogwarts put out by Pottermore on Sept. 1 to celebrate the start of another term at the School of Witchcraft and Wizardry, commemorating the official induction of Albus Severus Potter, Rose Granger-Weasley, and Scorpius Malfoy to those hallowed halls.
As reported by Leaky, there are 100 different "hot spots" for users to discover around the grounds, each with information about that location, so that should keep fans busy for awhile! Have you found them all yet?