Pottermore Unveils 'Harry Potter: A History of Magic' Exhibition First Look!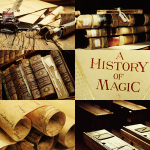 Sep 05, 2017
The Harry Potter: A History of Magic exhibition does not open at the British Library until Oct. 20. But, in anticipation of the event, hints have been released along the way to tease eager fans–from the official poster featuring the work of illustrator Jim Kay to descriptions and cover art of the two incredible companion books. Now, Pottermore has shared exclusive first-look images from the design company Easy Tiger, tasked with creating the layout of the exhibition!
Company director Bren Lardner explained that they were careful to preserve the feel of a library–but a special one, at that. The exhibition is intended to feel unique and, yes, magical, without drawing too heavily from either the books or the films alone, deftly connecting the fictional world of Harry Potter to the artifacts from historical collections. Lardner elaborated, "You want people to forget the world outside and get involved with the objects…We were creating a link between the British Library, Harry Potter and magic."
As to the individual rooms found throughout the exhibition, the final designs were very similar to the original concepts, with each exhibit designed to promote the wealth of information provided in a space that conjures the right magical twist.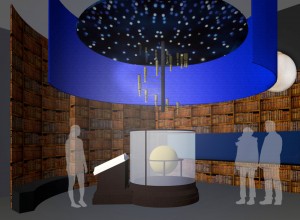 The Astronomy room, for example, will have a circular feel reinforced by the design elements, calling to mind the interior of the Astronomy tower. Many of the elements, like the curtain and the telescopes, also hang from the ceiling to create a sense of magic in the air as the objects float about the heads of exhibition guests.
Lardner revealed that this design method is carried through the other rooms as well, with the Herbology room featuring hanging pots and the Divination room cluttered with flying teacups.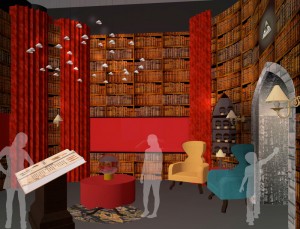 Other details add to the ambiance of the rooms. In addition to the plant-life and garden pots scattered about the Herbology room, Lardner told Pottermore the design would echo a wooden greenhouse. The concept for the Divination room appears to show a collection of glass balls and complimentary art, such as the all-seeing eye.
Each room also includes information boards with story panels that are both interesting and beautiful, pulling from the existing collection to fit the "narrative." And though Pottermore clarifies that other special effects, like smoke or incense, will be absent from the exhibition due to the potential for damage to the artifacts, it sounds like Easy Tiger has partnered with the British Library to create a truly magical experience, rooted in a deep appreciation for history and an inspiring love for all things Potter.
Visit Pottermore to see more exclusive images of the concept art here!