Cormoran Strike TV Series Sets U.S. Air Date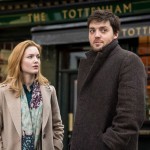 Oct 11, 2017
J.K. Rowling / Robert Galbraith's Cormoran Strike series – which first aired on BBC One in the U.K. – finally has an air date in the U.S.!
The series – true to America's tradition of renaming things, namely philosophers – will be called C.B. Strike in America, and all seven episodes (covering The Cuckoo's Calling, The Silkworm, and Career of Evil) will air for seven weeks beginning in June 2018. However, there's a catch – C.B. Strike will air on HBO-owned Cinemax, which is an extra $9.99 per month (if you don't have it already)!
Possibly a ploy to rake up users of Cinemax, this decision was based on the show having "a greater impact" on  Cinemax than on HBO. According to Deadline, Kary Antholis – president of HBO Miniseries and Cinemax Programming – said the following:
"We're looking for opportunities to broaden our audience (on Cinemax) and appeal to viewers besides the kind of core adrenaline-action oriented viewer, and we had an opportunity with C.B. Strike — it's a very appealing, entertaining kind of whodunit show.'"
Antholis also said they are open to future books in the series airing on Cinemax:
"We remain in conversations with the producers about the possibility of Rowling writing more books and developing more series with the BBC."
The last two episodes of Strike will air in the U.K. in early 2018. It's an even longer wait for eager U.S. fans, but for now catch up with a feature piece on the creation of the series here, and the U.K. trailer here.