From London to Broadway: 'Cursed Child' News, Tickets, Stars–and More!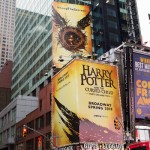 Oct 23, 2017
Cursed Child actors and associated talent are popping up all over the world–from London to Broadway to Malawi!–taking the stage, screen, and other events by storm.
Tickets for the Cursed Child Broadway production disappeared within hours, while the actors appeared elsewhere. Jamie Parker attended a magical exhibition opening (you know the one), Noma Dumezweni and Jack Thorne are involved in upcoming feature films, Ray Fearon will return to the stage in a musical revival unlike you've seen it before–and more. Read further for Leaky's review of all the week's Harry Potter-related theater news!
Harry Potter and the Cursed Child NYC
It was a big week for Potter fans as the first tickets for the Broadway production went on sale last Wednesday. Fans who procured access codes through the Verified Fan system bombarded Ticketmaster at 11 am and, though there were a few minor glitches, the initial allotment of tickets still sold out within hours. As Leaky reported, they flew "faster than a Firebolt!"
According to Market Watch, the 1,256 available seats went for an average of $185, factoring in the cost of premium seats, which go for more than the $199 high-end standard seats. This means the play will bring in over $230,000 each performance. Multiplied by eight weekly performances, Cursed Child could make about $1.85 million a week. Those are magical figures for a Broadway production!
Since the popularity of the play shows no sign of waning and the transfer to New York looks to be a certified success, fans unable to snag a ticket in the first go round can look forward to many more opportunities–with Cursed Child NYC promising as much.
All tix for our 1st release have now sold. Don't worry! There will be plenty more chances to buy tix before previews begin. #CursedChildNYC

— Cursed Child NYC (@HPPlayNYC) October 18, 2017
Hopeful fans can even sign up for a newsletter keeping them up-to-date on all the latest information about new releases. So hang in there.
Sign up to our newsletter & we'll be in touch soon about future ticket releases. https://t.co/yevptQTR95 #CursedChildNYC — Cursed Child NYC (@HPPlayNYC) October 18, 2017
From all accounts, it's worth the wait! The mastermind behind the wizarding world, J.K. Rowling herself, recently attended the production for the 12th time and enjoyed the experience just as much as the first. Her approval–and repeat business–speaks volumes!
This was about the 12th time I've seen the play from beginning to end and it was WONDERFUL. https://t.co/lPBWiPFVxA

— J.K. Rowling (@jk_rowling) October 21, 2017
Harry Potter: A History of Magic Opens at the British Library with Jamie Parker
Leaky reported on the Oct. 20 opening of Harry Potter: A History of Magic at The British Library. The exhibit boasts an incredible collection of artifacts from the Harry Potter film series, as well as magical antiquities from the Library archives, and original Cursed Child cast member Jamie Parker (Harry Potter) was there to christen the exhibit.
Delighted that Olivier award-winning @DickLeFenwick could be here to open Harry Potter: A History of Magic #BLHarryPotter pic.twitter.com/kthw6DczQc — The British Library (@britishlibrary) October 19, 2017
Cursed Child Play also teased a special Cursed Child item would be on display–to which The British Library cheekily replied, "Thank you! We'll take good care of it." 
Thank you! We'll take good care of it.

— The British Library (@britishlibrary) October 20, 2017
Have you been yet, Potter fans? Have you discovered the identity of the unknown object?! If, however, you missed the opening–and the fantastic Jamie Parker–you can still catch him at the Lyric this Christmas. Official London Theatre reports that Parker will appear with other celebrity guests for Joe Stilgoe's Christmas Party on Monday, Dec. 11.
And if you are unable to attend The British Library exhibit, remember that two companion books by Bloomsbury were released Oct. 20: Harry Potter: A Journey Through a History of Magic and Harry Potter: A History of Magic.
BBC Two will also broadcast a one-hour documentary, which will delve into the curation of the exhibit and the magical folklore it explores, along with not-to-be-missed interviews with J.K. Rowling and Jim Kay. As previously covered by Leaky, it will air Oct. 28. View the trailer below and make sure to tune in!
Ray Fearon Cast in All-Black Guys and Dolls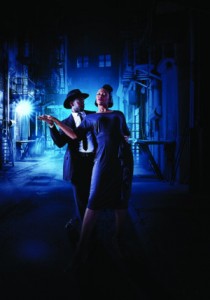 Also coming to the stage this Christmas is a new take on the hit musical Guys and Dolls, which takes the story to 1939 Harlem. The Royal Exchange Theatre is partnering with the UKs primary black theatre company, Talawa Theatre Company, to produce the exciting show led by Ray Fearon (Firenze) in the role of Nathan Detroit.
Director Michael Buffong told Broadway World:
"Pre-war Harlem was all about the hustle. The creativity of that era was born from a unique collision of talent and circumstance as people escaped the agricultural and oppressive South via the 'underground railroad' into the highly urbanised and industrialised North. Much of our popular culture, from dance to music, has its roots in that period. Our GUYS AND DOLLS brings all of this to the fore, in superb, celebratory style."
It sounds like an incredible production with plenty of charm and a bevy iconic, alluring songs! The show runs from Dec. 2 through Jan. 27, so get your tickets now. Visit  www.talawa.com or www.royalexchange.co.uk for more information.
Noma Dumezweni Stars in The Boy Who Harnessed the Wind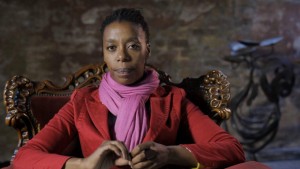 In other news, Noma Dumezweni, also an original member of the Cursed Child cast and set to reprise her role as Hermione Granger in the Broadway production, will star alongside Chiwetel Ejiofor in the upcoming feature film The Boy Who Harnessed the Wind.
According to a Deadline report, Ejiofor adapted the film, which also marks his first effort in the director's chair, from the book by William Kamkwamba and Bryan Mealer. The plot is described as follows:
"The film follows 13-year-old William Kamkwamba (newcomer Maxwell Simba) who is thrown out of the school he loves when his family can no longer afford the fees. Sneaking back into the school library, he finds a way, using the bones of the bicycle belonging to his father Trywell (Ejiofor), to build a windmill which then saves his village from famine. The emotional journey of a father and his exceptional son at its heart, William's tale captures the incredible determination of a boy whose inquisitive mind overcame every obstacle in his path. Key themes from the film aim to raise awareness around environmental sustainability and the power of education."
Dumezweni stars as the librarian who brings the story to light. Other members of the ensemble cast are Lily Banda, Aissa Maiga, Joseph Marcell, and Lemogang Tsipa. Production has begun in Malawi, but no estimated release date has been announced. 
New Trailer for Jack Thorne's Wonder Released 
ShowBizJunkies shared the new trailer for Lionsgate's Wonder this week. The film starring Owen Wilson and Julia Roberts was adapted by Jack Thorne, Steven Conrad, and Stephen Chbosky from R.J. Palacio's bestseller. The synopsis is as follows:
"Wonder tells the inspiring and heartwarming story of August Pullman. Born with facial differences that, up until now, have prevented him from going to a mainstream school, Auggie becomes the most unlikely of heroes when he enters the local fifth grade. As his family, his new classmates, and the larger community all struggle to find their compassion and acceptance, Auggie's extraordinary journey will unite them all and prove you can't blend in when you were born to stand out."
The film is scheduled to release in theaters Nov. 17. Watch the inspiring final trailer for this heart-warming drama below!