Julie Walters and Helen McCrory Receive Royal Honors!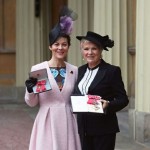 Nov 09, 2017
Julie Walters and Helen McCrory appeared at London's Buckingham Palace on Tuesday, Nov. 7 as special guests of the Queen, where she awarded both women distinguished honors!
Walters, known to Potter fans as the beloved matriarch Molly Weasley, was officially named Dame Commander of the British Empire, an endowment which was first announced in June as part of the Queen's Birthday Honours. Though Walters may have felt the recognition as unbelievable as one of Professor Trelawney's prophecies, there were no smoke and mirrors at play when the day arrived and the title was indeed bestowed.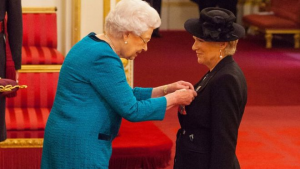 According to BBC.com, her reaction to the event was a mixture of disbelief and gratitude, saying:
"It's not really real…

"It was slightly nerve-wracking, 'when do I curtsey?' But everyone is the same.

"It's one of those things where you feel relieved [when you've done it], then you look back and think 'how fabulous'.

"I thought, 'I wish my parents were here'."
What lovely and relatable sentiments from one of our favorite witches (and actresses)! In spite of her long and storied career, it's still possible to get a bit star-struck and flummoxed. (Not unlike our dear Molly in the presence of Gilderoy Lockhart, we imagine.)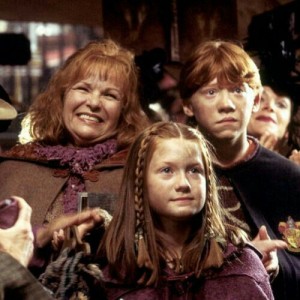 But her colleagues and employers know how deserving she is–Walters was given special leave from the shooting of her upcoming musical sequel Mamma Mia: Here We Go Again, in which she reprises her role as Rosie, in order to attend. And though she may have fan-girled before the Queen of England, she's a queen in her own right–dancing queen, that is–and we can't wait to see her strutting and singing along with the other Dynamos once more!
Speaking of talented colleagues, her Harry Potter costar Helen McCrory, known for her portrayal of the mysterious Narcissa Malfoy, also received a royal honor. McCrory was presented with the Order of the British Empire (OBE) at the same ceremony.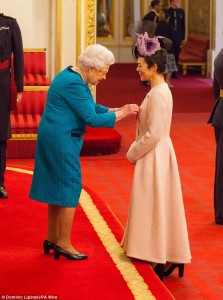 According to a Hollywood.com report of her statements to the Press Association, she almost missed the award altogether–not because of misguided prophecies or manipulated visions but because she simply hadn't opened the mail. (And, no, Errol the owl wasn't involved!) McCrory said:
"They thought I hadn't got the letter and I was actually phoned at home to be asked if I was going to be accepting the honour…I hadn't opened it, I thought it was something else. I thought it was for my husband and thought, 'Oh God, he hasn't paid something again.' It was sitting in his office, and they said, 'It's your last day to accept it, would you like to accept it?' I said, 'My gosh, of course, how fantastic'."
We're sure she's glad she did!
As fans of the Harry Potter series, we're extremely proud of the amazing actors associated with the films and the recognition they receive for their stellar work in the industry. We raise our wands (and butter beers) to you–congratulations!
Featured image: Getty Images