Beauty and the Beast Returns to Theaters in December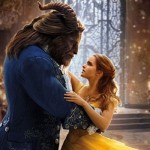 Nov 29, 2017
Emma Watson and company return to select theaters this week for a limited one-week engagement in Disney's spring mega hit Beauty and the Beast.
The live-action version of the Disney animated classic, which has become the most successful movie musical of all time, grossing over $1 billion worldwide, will play at the AMC Century City in Los Angeles and the AMC Empire 25 in New York City, beginning Friday, December 1.
In addition to Watson, Harry Potter's beloved Hermione Granger, whose performance as Belle enchanted audiences everywhere, last spring's remake also starred Potter alum Emma Thompson as Mrs. Potts, Dan Stevens as the Beast, Luke Evans as Gaston, Kevin Kline as Belle's father Maurice, and Josh Gad as LeFou. Ewan McGregor, Stanley Tucci, Audra McDonald, Gugu Mbatha-Raw, Ian McKellen voiced the other members of the Beast's castle staff.
This re-release in cinemas provides the dual purpose of a delightful holiday gift for fans as well as a chance for the movie to show itself again this awards season. We hope to see Director Bill Condon's Beauty and the Beast and cast on the ballots!
Did you see Beauty and the Beast in theater? How many times did you go?? Let us know if you're in New York or LA in the next week and planning to see it again!
Check out some of Leaky's extensive coverage of the film and Watson's role as the book-loving Belle here and here.
First image: Entertainment Weekly