Theater Round-Up: Evanna Lynch's 'Disco Pigs' Heads to NY, Jack Thorne Talks Upcoming Series, and Anthony Boyle Stars in 'Derry Girls!'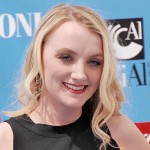 Jan 09, 2018
In theater news this week, Evanna Lynch's Disco Pigs moves to New York City and opens off-Broadway, Jack Thorne comments on his new television series Kiri and considers his next dramatic subject, and Anthony Boyle goes back in time–sans time turner, thank goodness!–to join a new comedy about teens in Northern Ireland.
Evanna Lynch's Disco Pigs Goes Off-Broadway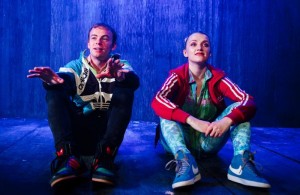 In 2017, Evanna Lynch, known to Potter fans as the intelligent, loyal, and quirky Luna Lovegood, starred in the London production of Enda Walsh's Disco Pigs. According to Playbill, the play has now transferred to the off-Broadway Irish Repertory Theatre in New York City. Previews began Jan. 5 with an opening performance scheduled for tonight, Jan. 9. The special limited run will end Feb. 18 after delighting lucky viewing fans!
Enda Walsh's Disco Pigs begins Off-Broadway tonight, with Harry Potter's @Evy_Lynch and Colin Campbell reprising their roles from the London run https://t.co/KYsfglOf9s pic.twitter.com/AWfdqS3xwb

— Playbill (@playbill) January 5, 2018
As reported by Leaky, the run will be the 20th anniversary production, a huge feat for the stage play, establishing it as a certified long-running success! Lynch will reprise her role alongside costar Colin Campbell in what Playbill called Walsh's "breakthrough piece." It is described as follows:
"Born at the same time on the same day in the same hospital, Pig and Runt have been inseparable ever since. They speak in their own language, play by their own rules, and create a world for themselves in which boundaries blur between truth and illusion. Until, on their seventeenth birthday, they discover something more. As night falls, and the disco and drink take hold, they spiral violently out of control."
Last summer, Leaky covered Lynch's interview with Huff Post discussing the role. She explained her attraction to the character:
"I loved the script; it was so different from anything I'd read before. The language is so strange and idiosyncratic. I find the story very romantic. It's these two teenagers, and they have their own little world. I always connect to characters who do things their own way, and who don't really set their standards by other people."
To further promote the Broadway run, Lynch took over Playbill's Instagram account to give fans an inside look at the production!
Check out some screenshots from her behind-the-scenes takeover: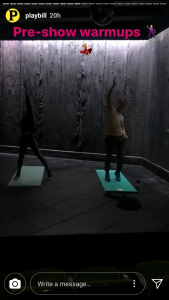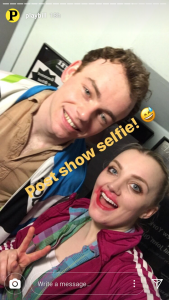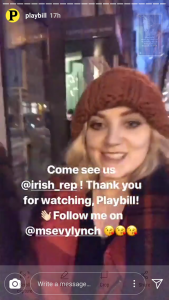 This sounds like an inspiring, revolutionary tale not to miss! Watch the trailer from the London production below and make plans to catch the production while it's in New York!
Jack Thorne Considers Grenfell Tower Story and Discusses Kiri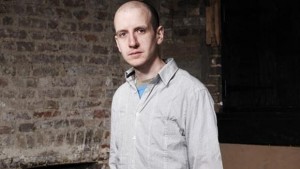 RadioTimes reported that Thorne, well-known author of Harry Potter and the Cursed Child, is considering penning a drama based on the Grenfell Towers tragedy. According to the report, he could use an approach similar to that employed in National Treasure (2016) and Kiri, examining important social issues through the lens of media coverage.
At a Q&A to discuss and promote Kiri, Thorne addressed the possibility, saying:
"Grenfell is certainly something we should be working out how to dramatise…

"It's really complicated and the longer you spend on it the more complicated you realise it is…It overwhelms me that it's not being talked about it as much as it should be and I still can't believe this happened in our country.

"In a country which is supposed to have money, I can't believe we inflicted that on people. And I can't believe that they were screaming out for help and no one listened. I think we're all responsible for it and we need to work out a way to come to terms with it.

"[Grenfell] was at the centre of everyone's world for a while and then [it] just sort of got forgotten about and disposed of."
Thorne wants to make sure he uses his talents and platform to keep these concerns at the forefront, pressing the public to be more than just consumers of entertainment. He's accomplished the same with Kiri, which deals with the complexities of social work, adoption, and race through the microcosm of a horrific abduction and murder case.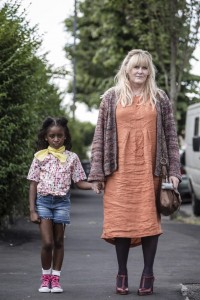 The Guardian covered Thorne's interview with the Observer in which he shared how he resolved some of the difficulties of undertaking such an endeavor. He observed:
"I think writers should be able to write about everything but, with Kiri, we [faced] tricky questions about race, and I wasn't writing it very well – I was scared, and that wasn't a good thing…I begged Rachel [de-Lahay] to come on board because she's such an eloquent writer and she has tackled these themes in such interesting ways."
De-Lahay made it clear that she and Thorne both wrote for the races represented, and audiences should not assume they voiced only their own ethnicities. They were also very intentional about including a variety of perspectives week to week. So rather than pushing a specific agenda, they aimed to be thought-provoking. Thorne reflected:
"The main questions Kiri raises are how do we look after vulnerable kids and how important is someone's culture in these cases…I don't have any answers but I hope the drama provokes people to have these sorts of conversations."
Kiri premieres on Channel 4 Wednesday at 9 p.m.
Anthony Boyle Stars in Derry Girls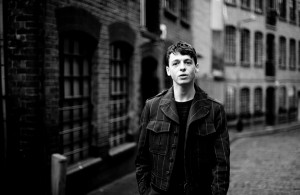 Channel 4 is also bringing some stellar comedic programming to the small screen, this time featuring Cursed Child's Anthony Boyle. Boyle plays the boyfriend of main character Michelle, one of the girls through whom the story is told.
The original new series is the brainchild of writer Lisa McGee and draws inspiration from her experiences growing up in 1990s Northern Ireland before The Troubles ceased. She told BelfastLive:
"I used to say, when I started writing, that I'd never write anything set during The Troubles, because I'd had enough of how where I'm from was presented…And then I just thought 'someone needs to show the other side of it – that these people are funny. You never got to see that side of Northern Ireland'."
And the audience has responded!
#DerryGirls let's be havin ya!!! Refreshing to see something about #NorthernIreland on tv that's not all doom and gloom

— dearbhaile (@dearbhailem) January 4, 2018
Take a bow @LisaMMcGee superb stuff. Howled laughing, great lines. Can't wait for the next one. #DerryGirls

— Andrew Ryan (@AndrewRyan_) January 4, 2018
Haven't stopped lol'ing since the start. This is pure comedy genius ?????? #DerryGirls

— John O'Connor (@johnoc21) January 4, 2018
Check out the new show–and Anthony Boyle!–on Channel 4 Thursdays at 10 p.m.