Theater Round-Up: Interviews with 'Cursed Child's' Anthony Boyle and Sam Clemmett–and More!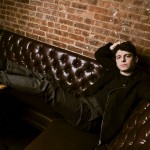 Apr 04, 2018
Though Harry Potter alums continue to stage incredible theater performances in the West End and in New York, the bulk of this week's news centres on Harry Potter and the Cursed Child. With the new production only weeks into its opening run and a round of promotional images from the renowned Annie Leibovitz recently released in Vogue magazine, all eyes have been on Broadway.
We would think tensions might be high, except that these actors and actresses are now wizarding veterans. In fact, Jamie Parker, who has the distinguished honor of portraying Harry Potter, took a moment to share a magical rendition of a theme you'll probably recognize–played by the man himself!
Turns out there's a piano in the room upstairs… pic.twitter.com/Iub8WycEnC

— Jamie Parker (@DickLeFenwick) April 3, 2018
It seems he's quite at home in his new surroundings, and we're excited about what this foretells of the production's success! Read on for interviews with Cursed Child's Anthony Boyle and Sam Clemmett to see how they, too, are adjusting to New York and how they've dealt with the pressures of being swept up into J.K. Rowling's wizarding world. 
Harry Potter and the Cursed Child NYC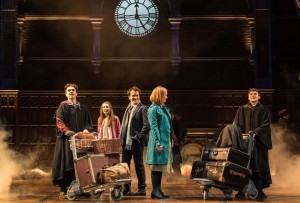 It's been a little over two weeks since Cursed Child previews s opened on Broadway, and initial reports indicate the production has already cast a spell over the Great White Way, charming its way to the No. 6 position on the sales chart after only six performances!
Variety reported Cursed Child brought in $1,541,957 for those previews, which, it calculated, would make for a $2 million haul in the standard eight-performance week. Those are some magical figures, though certainly not unexpected. And given the success of the staged wizarding sequel, it's not surprising that its stars are experiencing a similar boost–in their careers as well as their notoriety as the promotional juggernaut accompanying the opening run gets under way.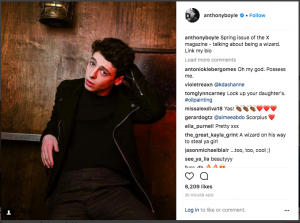 Anthony Boyle, who plays Scorpius Malfoy, son of Harry Potter's childhood nemesis Draco and best friend to Albus Potter, spoke to Today Tix about taking on the role. He acknowledged that many fans come into the story with preconceived notions about a Malfoy, let alone a story about The Boy Who Lived, but he determined to ignore the pressure lest it unduly influence his creative choices. He explained:
"I focus not on the idea of being a wizard, but on the idea of being this 14-year-old who's very lost and very mixed up. As opposed to, you know, the weight of the cultural impact that Harry Potter has had, or the gravity of this…It's all a bit much, isn't it?"
Though that might be a concern, it sounds like Boyle has an intuitive connection to the character, which helps him bring Scorpius to the stage in an endearingly vulnerable and relatable way. He said:
"I remember reading the first couple of scenes…Scorpius loses his mother quite early on in the play. There was just so much pain in him when I read it, and there was a lot of humor, but often people cover up great pain with humor. There's something about the role that I just completely fell in love with. I just think that I knew who he was almost immediately."
Experience has helped, too. A successful–and award-winning!–turn in the original London production has enabled Boyle to achieve a level of comfort and confidence he didn't have the first time around. No doubt that will translate to another incredible run, albeit in a new venue.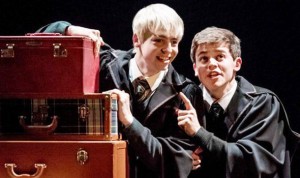 Sam Clemmett, who plays Albus Severus Potter, the other half of the central duo, also shared thoughts on his place in the production and on becoming acclimated to New York City. 
.@HPPlayNYC's @Sam_Clemmett on finding his way into Albus Potter, settling into life in NYC & more: https://t.co/o3o0K5r7F6pic.twitter.com/KtZcDWB8z2

— broadway.com (@broadwaycom) April 2, 2018
While Boyle inhabited his role with relative ease, Clemmett told Broadway.com he did not come to an understanding of Albus quite as naturally. He shared some of Albus' experiences but not others, though he believes having both commonalities and differences can serve an actor well. He observed:
"[Albus is] a very misunderstood and tricky young man…I myself have a very good relationship with my dad, in particular, but my family as well. [Albus] does not, so the way in for me was the bullying aspect. I went through a small bout of bullying while I moved to high school after primary school and felt isolated for a time. That was my way of sort of understanding him, and it's where a lot of his angst and troubles come from. I think it's also very useful as an actor to have very contrasting differences between you and the character."
As for the hype Boyle works to ignore, Clemmett, too, acknowledged it has always existed in the background, though more so before the London run began. He said:
"When it came to getting the part and rehearsing it and developing it and then finally putting it in front of an audience, there was so much hype…We'd thought we'd got something special on our hands, but you never truly know until your have it in front of your first live audience." 

"[Then] the music started at the top of the show, and I got incredibly nervous. You go out, you say your first line, and the energy we all felt from that first preview audience in London was euphoric. We all sort of sat back into our parts and went, 'No, actually, this is going to be all right. They seem to be with us and on this journey with us and wanting it to be good.' And then by the end of Part Two, the response we got was like we've said so many times, it was like a rock concert. It wasn't like any theatrical experience I've ever had in my life. It was like an event. It became an event more than a piece of theater. And it celebrated what theater could be. It was amazing!"
Now that he's in New York City and working, he noted that he's settled much quicker than he expected, even finding that "it feels like home." And that's probably a very good thing, because his enchanted stay on Broadway will probably last as long as he wants it to.
Harry Potter and the Cursed Child London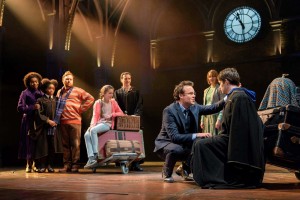 Though the Broadway production of Cursed Child is understandably getting a lot of attention these days, the London production continues to enthrall and delight fans. The latest news from that side of the pond comes in the form of new merchandise available at the Palace Theatre. What better way to commemorate a magical trip to the theater than with exclusive mementos by which to remember the experience?! 
For those who would like to see… hogwarts stationary set, spinning house keyrings and my favourite – the Hogwarts spinning keyring! ? pic.twitter.com/lhZJZVpi2A

— Chris Morgan (@turlaach) April 2, 2018
From the pictures above, there looks to be a Hogwarts stationary set, including wax and seal, pens, pencils, patches, ties, bookmarks, lanyards and spinning key rings–all house-themed, of course! And for those wondering, the fan in question even tweeted price points for those interested. 
Stationary set is £12, house keyrings are £8.95 & Hogwarts one is £10. Keyrings are available online now but stationary is only at the shows at the moment!

— Chris Morgan (@turlaach) April 2, 2018
Cherrelle Skeete Stars in Fun Home
In other theater news, Cherrelle Skeete, formerly Rose Granger-Weasley in the original Cursed Child production, is set to star in Fun Home at the Old Vic. 
Next Up #FunHome@youngvictheatre ? https://t.co/kRt9kdaXKf

— Cherrelle (@CherrelleSkeete) March 29, 2018
According to WhatsOnStage, the production, directed by Sam Gold, comes to the UK for the first time in June and brings with it a history of success, which is definitely the baggage you want to have in a transplant! The play has won five Tony awards and "is based on Alison Bechdel's 2006 graphic novel and follows the lead character Alison at three different stages of her life as she grows up in a turbulent household."
Skeete will star alongside Kaisa Hammarlund as Alison, Eleanor Kane, Jenna Russell, Ashley Samuels and Zubin Varla with more casting announcements to come. The production is set to run from June 27 to Sept. 1. Previews will begin June 18.
Jack Thorne's A Christmas Carol Returns to Old Vic

It looks like the Old Vic's schedule is filling up far beyond Fun Home's run as London Theatre announced Jack Thorne's adaptation of A Christmas Carol would return for the Christmas season, beginning performances Nov. 27. The official opening is slated for Dec. 5 to run through Jan. 19.
The previous production starred Rhys Ifans, also known for portraying Xenophlius Lovegood in the Harry Potter series. Casting for the upcoming production has not been announced, however.