Over 225 Million Spells Cast By 'Hogwarts Mystery' Players, Plus New Updates!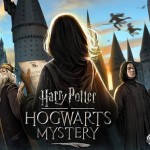 Jun 02, 2018
How's your Hogwarts story going so far? This week, Hogwarts Mystery developers Jam City released some surprising statistics on milestones reached since the official launch of the game on April 25th, and also added a few new updates, giving players the opportunity to customise their Hogwarts experience even more.
As explained during  our exclusive interview at A Celebration of Harry Potter, game makers felt that by now Harry Potter fans know where their allegiances lie. Therefore, the game offers players the opportunity to choose their own Hogwarts house, and turns out (surprise surprise) that Gryffindor has accumulated the most students overall, followied by Slytherin, Ravenclaw and Hufflepuff. In addition to this, Jam City announced the following statistics:
3.1 billion House Points have been awarded
225 million spells have been cast
35 million sticks have been fetched by Fang
Players just love getting Fang to up their energy levels! Also, take note of the 8% of players telling Professor Flitwick to his face that they're rebels, and the 18% who have yet to decide whether Hogwarts is worthy of their unwavering respect. Here's an official (and beautifully designed) infographic from Jam City illustrating these stats:
In addition to this information, the game received a few more updates this week after players were finally able to leave Hogwarts and enter Hogsmeade in their Third Year. Year Four is still yet to be unlocked, but a new feature allows players to have new encounters with friends, adding to the interactive and customisable experience of the game outside of central quests. Players can now drink Butterbeer in the Three Broomsticks, and play Gobstones with a chosen friend in the Courtyard, and then take their friendship to the next level with a meal in the Great Hall. In adding these updates, Jam City have created new ways for players to earn more energy, but each new activity can only be achieved once per day due to the time it takes for each to refresh. Here's a list of locations for each new activity, from Game Rant:
Play Gobstones (Lower Floor – West, Courtyard) – 16 hours

Meal with a Friend (Lower Floor – West, Great Hall)- 10 hours

Drink Butterbeer (Hogsmeade – Three Broomsticks) – 16 hours
Have you been enjoying Hogwarts Mystery so far? Are there any updates you're hoping for? Let us know in the comments!