Theater Round-Up: 'Cursed Child' Boasts Record Sales and New Cast Photos While 'King Kong' Waits in the Wings!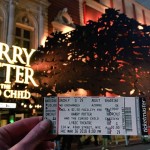 Jun 18, 2018
This week in theater news the spotlight returns to Harry Potter and the Cursed Child. According to Broadway World, Cursed Child continued its record-breaking streak, posting a banner week of ticket sales and making Broadway history with the best week ever! The play reported a gross of $2,277,446 for the week ending yesterday, $138, 587 more than the previous record set in April.
The success of the magical production is no surprise to fans keeping tabs on the Olivier and Tony Award-winning continuation of J.K. Rowling's Harry Potter book series, and today's round-up covers a recap of the recent awards ceremony, the New York cast's foray onto the softball field, new in-costume promotional images from London's third cast and exciting news about Imogen Heap's Cursed Child soundtrack.
And though Cursed Child continues to be a global tour-de-force, the reach of Harry Potter alums can be felt in other corners of the theater world, so we cover news of the upcoming King Kong musical, Mark Williams' next stage role as Doctor Doolittle and Tom Burke's participation in "Spotlight On Don Carlos" at the Exeter Northcott Theatre.
Harry Potter and the Cursed Child News From Broadway to the West End
Recapping Cursed Child's Tony Awards Wins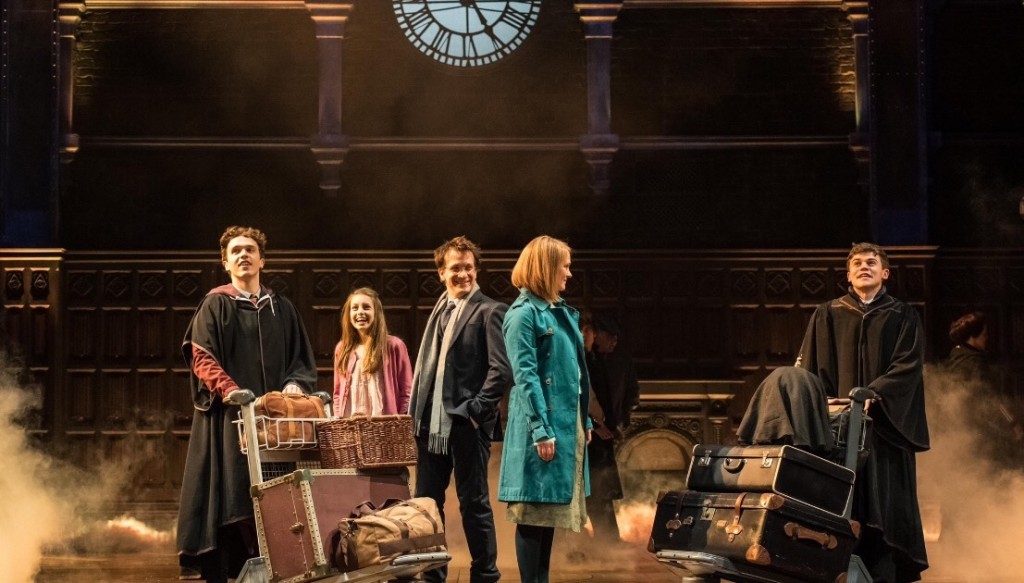 Last week Leaky covered Harry Potter and the Cursed Child's six Tony Award wins for it's phenomenal Broadway production. We were so excited to see the cast, crew and other creatives recognized for their incredible stagecraft as they brought Harry Potter's continuing story, as written by Jack Thorne in collaboration with director John Tiffany and series creator J.K. Rowling, to life.
The production received an astounding 10 nominations and to garner six wins against competition from the likes of Angels in America's Nathan Lane and Andrew Garfield to Three Tall Women's veteran actress Glenda Jackson is quite a feat! At the end of the night, Cursed Child had come away with nods for Best Play, Best Director, Costume Design, Scenic Design, Lighting Design and Sound Design, proving yet again that something magical happens on that stage.
#CursedChildNYC has won six #TonyAwards inc: Best Play, Best Director, Costume Design, Scenic Design, Lighting Design and Sound Design – congratulations to all our winners, nominees and everyone in the #CursedChild family! pic.twitter.com/bQSAjJSvkc

— Cursed Child NYC (@HPPlayNYC) June 11, 2018
And while fans watching at home got to see Jamie Parker, nominated for his portrayal of Harry Potter, presenting and hear Sonia Friedman, Jack Thorne and John Tiffany at the microphone, not all the Cursed Child winners were televised. So watch their acceptance speeches below–they've earned it!
Neil Austin for Best Lighting Design
Gareth Fry for Best Sound Design
Katrina Lindsay for Best Costume Design
Christine Jones for Best Scenic Design
Congratulations to the winners and to all who contribute to making this the record-breaking, award-winning, visually-stunning return to the wizarding world that it is!
Cursed Child NYC on the Softball Field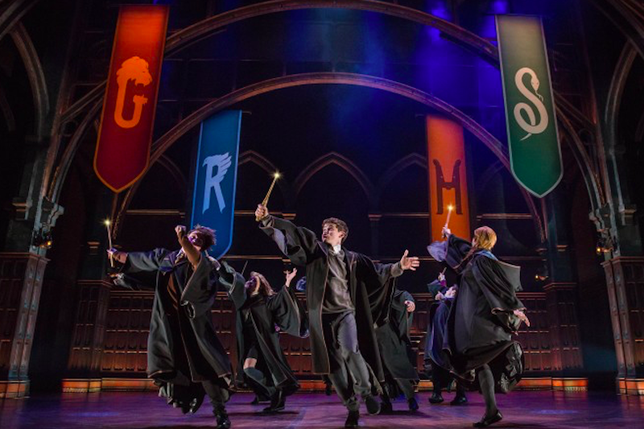 The Cursed Child cast may be prepared to leap into action on stage, practiced in dueling and wand-wielding choreography, but they've been a bit less effective on the field in the Broadway Show softball league.
NYDailyNews reported that the Fizzing Whizbees are currently 0-5, ranking last in their division. (We'll forgive them given that their on-stage prowess beats the pants off the competition–and they've been such good sports about it!)
The League Commissioner, John Gordon, commented, "They're phenomenally good sports…They seem to have the most fun, no matter what the outcome."
And after their first loss–a few games ago–Paul Thornley (Ronald Weasley) said as much in a follow-up tweet. Check out those smiles!
The Fizzing Whizbees had their first outing as a softball team today. Never have I enjoyed being soundly beaten at sport more @HPPlayNYCpic.twitter.com/AipqaJUWeO

— Paul Thornley (@paulfthornley) May 3, 2018
New Cursed Child London Cast in Costume
Rehearsals have begun for Year Three of #CursedChild in London! Here's the first look at the 2018/2019 Company, together for the first time in the rehearsal room. Read more abut them here https://t.co/JCg6tNx0ei pic.twitter.com/mtnChipXeJ

— Cursed Child Play (@HPPlayLDN) March 14, 2018
The cast for the third run of Harry Potter and the Cursed Child London was announced in March with exciting news about returning actors and newcomers to the production, and now Broadway World has newly-released images of them on stage in full costume!
Susie Trayling is the latest actress to portray fiery redhead Ginny Weasley Potter, and Jamie Ballard will take on our favorite boy wizard turned baffled father, Harry Potter.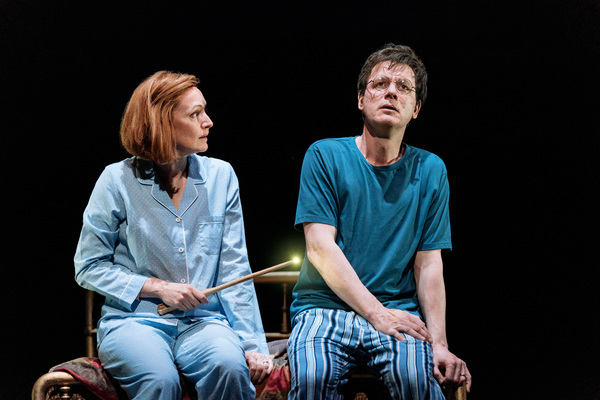 In addition to returning cast members Helen Aluko (Rose Granger-Weasley) and Rakie Ayola (Hermione Granger-Weasley), James Howard and Thomas Aldridge will reprise their roles as childhood nemesis Draco Malfoy and devoted friend Ron Weasley, respectively.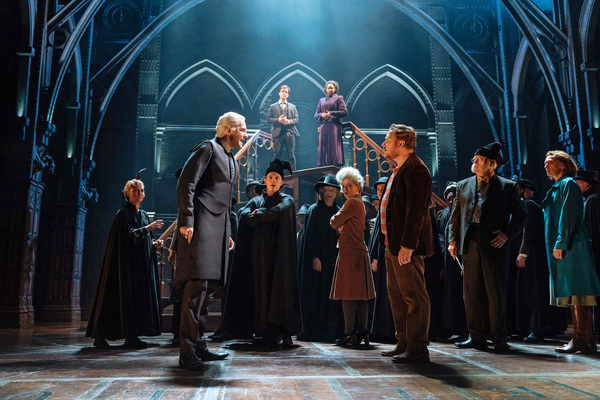 Perhaps the biggest shoes to fill come in the form of the two sons who, struggling to relate to their fathers while also stepping out from beneath their long shadows, form a bond of friendship which anchors the story. Jonathan Case inherits the role of Scorpius Malfoy, and Joe Idris-Roberts plays Albus Severus Potter in a new friendship for the ages, which changes not only the boys but also, in the end, their parents.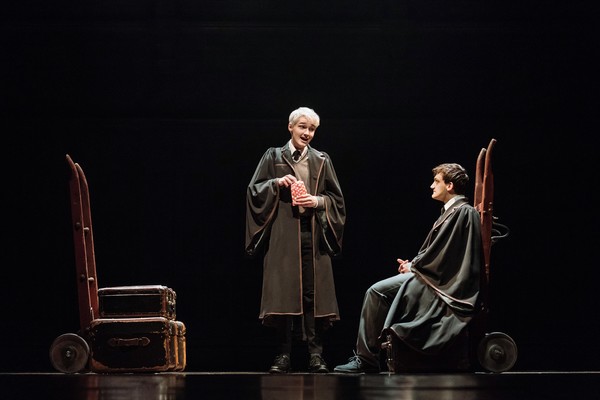 And check-out this close-up of Jamie Ballard as Harry Potter! What do you think, Potter fans? More or less like the Harry Potter of your imaginings than those who came before? (Also head to Broadway World for more photos of the new cast in action, here.)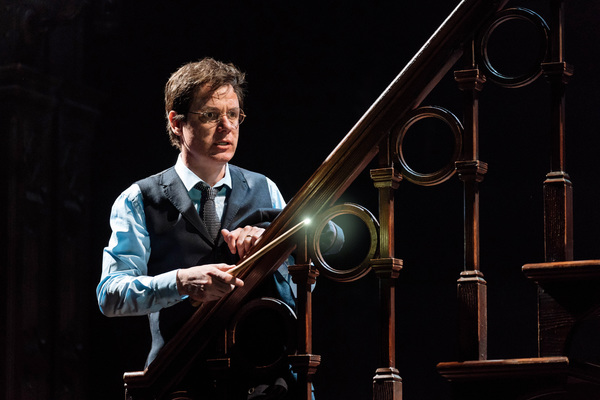 Finally, watch the video below of the new cast taking their official promotional photos, and hear Jamie Ballard offer his thoughts on stepping into this incredible story which explores the timeless themes of "love, friendship, family, loss, guilt, isolation, loneliness," acknowledging,"It's incredibly exciting but also a huge responsibility."
Imogen Heap's Cursed Child Soundtrack
Let's not forget how large a part the music underscoring a production plays in driving the story and engaging the emotions of the audience. Imogen Heap has done this for Harry Potter and the Cursed Child and earned a Drama Desk Award for Outstanding Music in a Play for her efforts.
Imogen Heap wins the Drama Desk Award for Outstanding Music in a Play! https://t.co/VFd59LOg3o

— BroadwayWorld (@BroadwayWorld) June 4, 2018
Now her Cursed Child soundtrack has been heard on BBCRadio2, leading us to believe we can expect an announcement any day of an official release for purchase! Stay tuned–we'll share all the details as soon as they are available.
Oooooooh @HPPlayLDN soundtrack by our wonderful @imogenheap just spotted on @BBCRadio2 EP on Sunday! pic.twitter.com/iEqpwSWyka

— Tom Aldridge (@Thomas_Aldridge) June 17, 2018
More News of Harry Potter Alums on Stage
Jack Thorne's King Kong Lights Up Broadway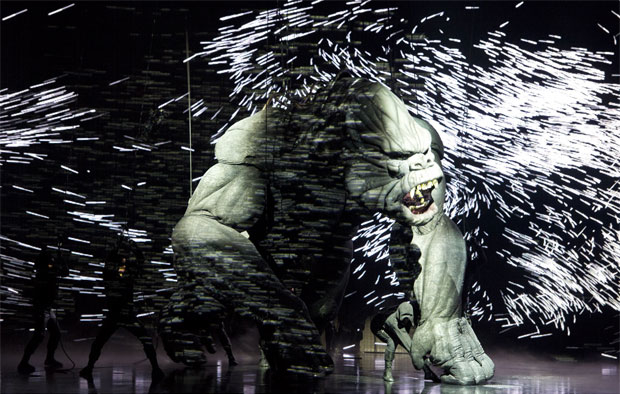 Cursed Child writer Jack Thorne penned the innovative new Broadway musical, King Kong, set to open Nov. 8, 2018, with preview performances beginning Friday, Oct. 5. Broadway World described the production as follows:
"Based on the 1932 novel, the stage production of King Kong is a contemporary take on the classic tale of beauty and the beast. The story follows a young actress, Ann Darrow, and a maverick filmmaker, Carl Denham, as they voyage from the bustling streets of 1930s New York to an uncharted island to capture the world's greatest wonder. At the center of this 21st-century reimagining: a 20-foot high, 2,000-pound gorilla brought to life by a team of seamlessly integrated artists and technicians. King Kong is a larger-than-life encounter with a legend that's always been too big to contain."
Now the iconic gorilla has truly taken over the Great White Way with official larger-than-life marquees, up in advance of its opening. Get a glimpse of the Broadway takeover below!
View more photos from Broadway World here.
Mark Williams to Star as Doctor Doolittle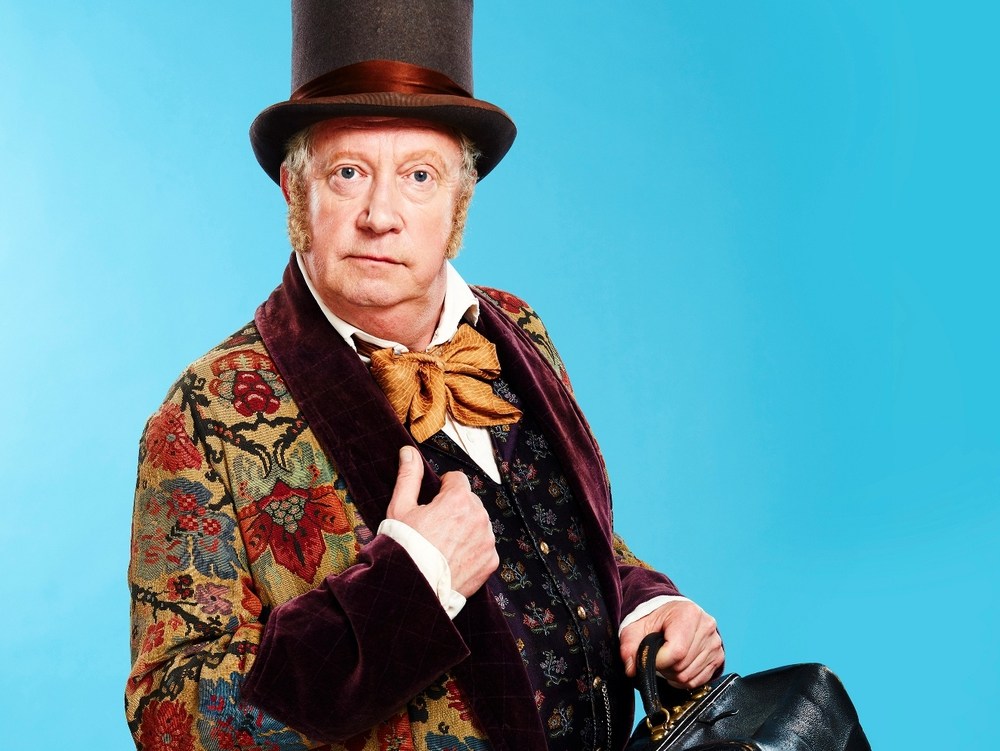 Mark Williams is best known to Potter fans for playing the loveable Muggle-artifact collector and devoted father Arthur Weasley in the Harry Potter series, though he has also appeared in other well-known films such as 101 Dalmatians, The Borrowers and Shakespeare in Love. He's currently set to star in the seventh season of BBC One's crime drama Father Brown as well.
Now the veteran actor plans a return to the stage as Doctor Doolittle at the Wolverhampton Grand, according to the ExpressandStar. Other cast members have not been announced, but the production does have a premiere date, Jan. 9, 2019, and will run through Feb. 9.
Tom Burke Joins Theater Talk

The Exteter Northcott announced it will host "Spotlight on Don Carlos" Thursday, July 12 at 6 p.m. The talk is intended to launch the upcoming production Don Carlos, as well as the autumn season, and will feature actor Tom Burke, know for portraying Cormoran Strike, and director Gadi Roll.
Burke and Roll will be joined by Professor Gert Vonhof, a noted expert on the writer Friedrich Schiller, to discuss theater in the 21st Century. Specifically, the talk will include "discussion about the play, its contemporary relevance and why classical theatre still matters in a digital age." BBC presenter Judi Spiers will moderate the discussion, followed by a Q&A.