J.K. Rowling Talks New Chinese 'Fantastic Beast'–Will the Wizarding World Head There Next?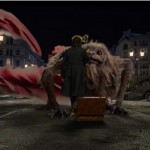 Jul 27, 2018
A Chinese film crew recently traveled to the U.K. to discuss Fantastic Beasts: The Crimes of Grindelwald with series creator and screenwriter J.K. Rowling, and she obligingly revealed previously unknown details about one of the beasts Newt Scamander encounters in the official new trailer–the Zouwu.
She described the ancient mythological creature as follows:
"The Zouwu is terrifying if you're a normal human being and to Newt Scamander, like a big kitten.
This is how it's described in Chinese mythology: gigantic elephant sized cat, five-coloured. It really does take a Newt Scamander to contain and look after that beast."
"The Zouwu is terrifying if you're a normal human being and to Newt Scamander, like a big kitten.
This is how it's described in Chinese mythology: gigantic elephant sized cat, five-coloured. It really does take a Newt Scamander to contain and look after that beast." pic.twitter.com/NwKHNLYU1m

— Fantastic Beasts Film Series (@FBFilmSeries) July 26, 2018
Update  – 08/08/18: The Zouwu features in one of Warner Bros' new promos, along with confirmation that the fluffy bird creature is an Augurey (which features in Cursed Child!). Eddie Redmayne also recently confirmed that we'll be seeing BABY NIFFLERS in Fantastic Beasts (read more from that interview here)
The Beasts are back. #FantasticBeasts #WizardingWednesdays pic.twitter.com/T5hw6LGGL3

— Fantastic Beasts (@FantasticBeasts) August 8, 2018

Katherine Waterston, who plays Tina Goldstein, also made a reference to the Chinese connection in a cast interview with IGN, saying:
"I think that was quite thrilling for us, even on the first film, just to see how rich and expansive J.K. Rowling's imagination was and it went back in time, and she sees the future, and she knows what's going on in China right now! We don't know, you know, but she's built it all already, so it's just, I think it just makes our work, what we get to do, that much more exciting and makes the whole, you know, the story-telling that much more rich."
This has us, and numerous other outlets, wondering if Rowling's inclusion of the Chinese Zouwu hints at a larger part of the story to come.
Another reason why #FantasticBeasts 3 could be set on China? @jk_rowling visited the country and was featured on local TV to promote #FantasticBeasts 1! https://t.co/yvr30lPb8j

— The Rowling Library (@rowlinglibrary) July 26, 2018
Earlier this summer, Leaky reported that J.K. Rowling's website featured a new "Answers to Questions" section, where she confirmed that she is currently writing the screenplay for Fantastic Beasts 3. So far, the film sites have overlapped with known wizarding schools, likely because those places feature a high concentration of the wizarding population around the world. The first two films take us to New York, North America being the location of Ilvermorny; London, central to the United Kingdom's school, Hogwarts, located somewhere in Scotland; and to Paris, near the French wizarding school, Beauxbatons Academy.
J.K. Rowling's writings for Pottermore do not mention a Chinese school. However, she indicates that there are 11 known wizarding schools, and only seven are named. So, it's possible she has chosen to withhold details about a school in this region in order to protect a bigger and more exciting reveal later! It's also possible that we will see our characters journey to China and partner with witches and wizards from the neighboring Asian country of Japan, home to the wizarding school Mahoutokoro.
Susan Sipal put together an in-depth video analyzing the mythological qualities of the Zouwu and patterns found in the first two films, which further support the theory that Rowling is taking the wizarding world to China. Follow her logic below!
It's particularly interesting to consider the Zouwu's magical characteristics–its ability to sense danger and to see both the past and the future. Though Newt would want to free this magnificent creature from the Circus Arcanus for its own sake, we can't help but note that it could prove very useful to Newt in combatting Grindelwald and sensing what they're up against. As well as–where he may be going.
So if Newt does find himself in China in the not too distant future past, what fantastic places from that ancient land do you hope will be featured–and what other creatures from their long mythological tradition? Could this also lead us closer to discovering Fawkes' origin?
Phoenix-like birds have been observed in the myths of many cultures, from the better-known Greek and Egyptian writings to lesser-known myths which mention a Slavic firebird, a Persian simurgh, a Georgian paskunji, the Arabian anqa' and Turkish, Tibetan and Japanese creatures–as well as the Chinese fenghuang, said to have originated in the sun.
According to Wikipedia's entry:
"In some traditions it appears in good times but hides during times of trouble, while in other traditions it appeared only to mark the beginning of a new era. In China and Japan it was a symbol of the imperial house, and it represented 'fire, the sun, justice, obedience, and fidelity.' "
We also know from Newt Scamander's writings in Fantastic Beasts and Where to Find Them that Phoenixes are found in China: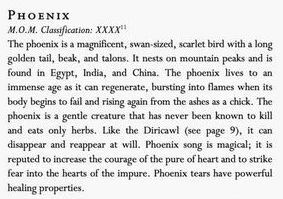 Will Newt be the one rescuing Fawkes from trouble? What happens to engender Fawkes' loyalty to Dumbledore? There are so many exciting questions to consider! And yet, like Katherine Waterston, we're confident Rowling knows exactly where she's taking us–and we'll happily follow her there.