J.K. Rowling Shares 'Fantastic Beasts 3' Progress & More in Website Q&A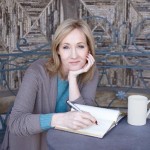 Jun 01, 2018
Not only will we be getting Lethal White and Fantastic Beasts: The Crimes of Grindelwald this year, but J.K. Rowling revealed in a new 'Answers to Questions' page on her website that she's currently writing the third Fantastic Beasts film, as well as planning another story for children! Answering questions about writing, collaboration and producing films, Rowling gave insights into how her work has changed over the years, and what it was like to see her work brought to stage for Cursed Child.
Moving straight from finishing Lethal White to writing the next Fantastic Beasts screenplay (these movies move fast), Jo revealed that there are other works on the horizon. We've been spoiled with new wizarding world content in recent times, but she's currently working on a non-wizarding world children's story that's stuck with her "for about six years" – could it be the 'political fairytale' she's spoken of for years? (Probably not, as she said the story has yet to be written down!)
Ever wonder how she gets it all done? Aside from decades of practice and a never-ending urge to write, Jo shared her routine for staying productive on a typical 'writing day' spent in her writing room, represented in the front page of her website. Her choice of music when writing leads Jo into a lovely memory about writing in cafés:
"The radio is usually tuned to classical music, because I find human voices the most distracting when I'm working, although a background buzz, as in a café, is always comforting. I used to love writing in cafés and gave it up reluctantly, but part of the point of being alone in a crowd was being happily anonymous and free to people-watch, and when you're the one being watched, you become too self-conscious to work. "
Later she even talks about meeting Cursed Child director John Tiffany when writing Harry Potter in the café at Edinburgh's Traverse Theatre:
"I couldn't have asked for better collaborators on the stage play than John Tiffany (director) and Jack Thorne (writer). Incredibly, John and I knew each to say hello to years ago, when I used to write in the café at the Traverse Theatre in Edinburgh. When we met for the first time about Cursed Child, I stared at him, thinking, he looks so familiar, where have I met him? And he told me, and the whole thing felt oddly fated."
Preferring waking early to pulling all-nighters (which Jo said she's done a couple of times for Fantastic Beasts),  her writing days usually begin at 9am, and she'll work through until 3pm, when she'll take "a short break". During these six hours of writing, Jo manages to drink an impressive eight to nine cups of tea, but she doesn't share her tea preferences – probably because the answer has the power divide us all.
True to her self-admitted solitary nature, Jo Rowling began her journey into writing with novels, and over the years has collaborated on a variety of projects – from stage to big screen – and each medium requires something new from her and her collaborators. Speaking about the way Cursed Child was created, she shared her faith in producers Sonia Friedman and Colin Callender after ten years of refusing new Harry Potter projects. She also explained that her focus on Albus Severus Potter was the starting point of creating the production with director John Tiffany and writer Jack Thorne, which she says was a thoroughly enjoyable experience:
"I have so many wonderful memories of the earliest rehearsals, of seeing the costumes and illusions for the first time, but what I remember most fondly about the three of us working together is the laughter. I loved the process from beginning to end.
I particularly remember the first full dress rehearsal I watched. By this time I knew the script backwards, had heard it read all the way through and watched individual scenes acted, but nothing prepared me for seeing it in its entirety, in the theatre. I found it incredibly moving and it brought back a tsunami of memories about the seventeen years I spent creating the characters and writing the Harry Potter books. John and Jack did a superb job. Very few people have come inside the world with me and it creates a particular bond."
Although Rowling is the absolute authority in the wizarding world, the new ventures she's taken into screenwriting have benefited hugely from the advice of director David Yates and screenwriter Steve Kloves, who have worked on both Harry Potter and Fantastic Beasts. Rowling has experience as a producer on both film series, and explains that the producers are 'taken seriously' but that their input throughout the process of making the films is 'not necessarily the final word'. As screenwriter, however, her input comes at an earlier stage, and shapes the entire process. Though she found the process of screenwriting 'challenging' at first, her ideas took shape with the help of her early collaborators:
"I learned how to write a screenplay as I went along, knowing that the movie was definitely going to be made, which is, to say the least, atypical. Steve gives great, pithy notes. The one that made me laugh longest was when I had a character in a cut scene in an early draft say, 'They're children!'. He said, 'Yeah, unless we've got the casting badly wrong, that'll probably be obvious.'
David knows the world of Potter intimately now, after directing four of the eight original movies. I love working with him. I learn a lot just listening to him talk about images. Even though I have a highly visual imagination, I've had to learn just how much can be said onscreen without a word, and David and Steve have taught me that."
David Heyman and David Yates shared more about her process of learning the art of screenwriting in our exclusive interview with them, here. Rowling said that visiting the film set helped her stay motivated, and encouraged her to believe in her vision, which she alluded to as "one big glorious game of pretend, with the world's best pretenders saying your words, and dressing out of the most fabulous dressing up box" .
Finally, Rowling answers the question of whether she writes for readers or for herself. She shares that her process is usually a bit of both; whilst staying true to herself and fulfilling her 'compulsion' to write and capture her stories on paper, she recognises that books – in some respects – also belong to their readers:
"I certainly write 'for myself' in the sense that I have to write. It's almost a compulsion. I need to do it.  […] I'm afraid I couldn't write anything just because I knew people wanted it. The impetus always has to come from within.
"On the other hand, no story lives unless someone is prepared to listen. As a writer, your highest aspiration is to touch people, to connect, to amuse or console. What could be more wonderful than hearing that your book helped somebody through a tough time? I think of the times when books have been my best consolation and source of strength, and I'm proud beyond words when I hear that anything I wrote did the same for other people."
In a new announcement, Vogue released their 25 'Most Influential Women Shaping 2018', and on this list, of course, is J.K. Rowling:
"It's more than 20 years since JK Rowling brought Harry Potter into our lives, but his – and her – power over us remain undimmed. While audiences flock to Harry Potter and the Cursed Child on Broadway, this autumn brings the film sequel to Rowling's Fantastic Beasts and Where To Find Them (part one took £85 million at the British box office). No surprise that 52-year-old Rowling is now the world's highest-paid author. A generation belongs to her."
Join us in congratulating her on yet another achievement! Read the full Q&A here. Fantastic Beasts: The Crimes of Grindelwald releases November 16th this year. Find our breakdown of the trailer here, some of our theories here, and see the new screenplay cover here.