INTERVIEW: Supporting Foster/Adoptive Families With Transfiguring Adoption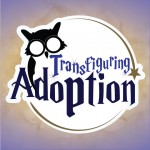 Aug 10, 2018
If you're attending LeakyCon this weekend, be sure to look out for Transfiguring Adoption! In a recent interview, Darren Fink, co-founder of the Potter-inspired non profit, told us more about the organization he, his wife (Margie), and his adoptive children built to support foster-adoptive families, shared more on their Elf Squad online and local activist groups, stories from their presence at events, and the winner of their Best Foster Parent In the U.S. award!
Beginning as a small group of Harry Potter activists hoping to benefit foster-adoptive families a few years ago, Transfiguring Adoption now runs regular projects and campaigns to make real-world change. Using the power of J.K. Rowling's stories to help spread the word, resources include a discussion guide which utilizes Sorcerer's Stone to assist caregivers in beginning healthy conversations about past trauma with foster and adopted children. The program's grassroots Elf Squad group aims to help foster/adoptive parents nurture children from traumatic backgrounds.
Darren begins by explaining how the Harry Potter series inspired the creation of Transfiguring Adoption:
"Harry Potter really started all of this. My wife and I have four children adopted out of foster care. At the time we lived in Illinois, so we didn't live by the Wizarding World of Harry Potter or anything, but we were trying to get the kids to read, so every night – even though they said "We've seen all the movies already!", because they were older when we adopted them – we said, "We know but you kids are gonna read the books with us", so we started reading them. One day my middle son started crying at the dinner table, and when we asked him what was going on and talking with him, he started opening up and sharing this stuff he'd never told anyone. He has a language processing  disorder, but these stories opened up a whole new world for him. He was able to say, "I get how Harry feels" and finally open up and talk about it."
Margie and Darren were working on Social Media Management at the time, and Darren tells me that they knew their children had been interested in promoting the important lessons they were learning as they read the series, so they decided to make a fun family blog dedicated to their children's experiences reading Sorcerer's Stone.
"They wrote all this stuff about what families need to talk about when they read through the Sorcerer's Stone – specifically foster-adoptive families. From there we started going different places and people knew who we were!  We'd be at The Wizarding World [of Harry Potter] and people would say they knew us – it was kinda scary but cool at the same time. At that point we said to ourselves, "You know, maybe people are getting something out of this.""
They spoke to an attorney, and came out a fully-fledged non-profit. Darren tells me the Potter aspect of Transfiguring Adoption is understandably a very small part of their focus and mainly helps them explain issues to others, and has helped create a loyal base of fans and supporters of the organization (many of whom are Potter fans themselves!).
Supporting families and creating change is their priority, and in the three years that they've been running, they've been doing an amazing job at it. Chris Rankin, who portrayed Percy Weasley in the Harry Potter film series, speaks regularly about his experience of adoption on his blog, and also recently supported Transfiguring Adoption's work. Darren spoke more about how this came about:
"That was actually an exciting accident – we just happened to be talking to him at this small comic convention we got asked to come to, and we weren't even sure if he was going to be able to attend at first. We were able to just go up and talk to the actors where it was a smaller event, and although they must've heard so many stories about how they've impacted people's lives, I just like to thank them because I'm not sure they get to hear that all the time. I never get tired of hearing it! I was thanking him and he was just like "Hey, I'm adopted!". From there it just kind of hit a note with him  
Read more about Chris's support of the charity here, and watch his video on the Elf Squad boxes below:
Chris will also be at LeakyCon this weekend, so be sure to look out for him wearing his House-Elf ears in support of Transfiguring Adoption!
My elf ears are packed and ready to go! https://t.co/EZrvXHE5Rn

— Chris Rankin (@chrisrankin) August 8, 2018
Elf Squad started because Potter fans wanted to get involved in Transfiguring Adoption's activism:
"They took it upon themselves to start this grassroots movement called Elf Squad. It was supposed to be this online community where people all over the world just met online and carried out projects and stuff online, and in the first year it did okay for a start-up, but people kept asking us for groups where they could hang out and talk about the work they were doing and other stuff, and actually do things in their community. About two or three months ago we started up these local groups to see what happened." 
The organization is now looking for local Elf Squad leaders to help organize activism in their local community. If you'd be interested in leading a group of volunteers in getting creative projects running in your community – or join a local Elf Squad as an activist – you can find out more here.
"We look at it this way: we have these caregivers that want to love other kids, but they don't know how to interact with a kid that's got PTSD, or a kid who's been sexually traumatised – they might not know what they need. So we thought, let's help them so they can love and help the kid succeed. Fifty percent of caregivers in America will quit the first year because they don't feel they can handle the traumas the kid is experiencing. It's just staggering to think that fifty percent of parents are going to throw in the towel, and these kids are going to have to go to a new home.
"Some of our kids, when they were in foster care, were in seven homes in seven years. It does almost irreparable damage to move so many times. They lose almost a year of school. If they move during a school term they might as well have just not gone to school, because of all the trauma involved in that move basically erases everything they've learned at school that year – they just can't retain it, so they're already behind when they go to their next school." 
Darren makes a comparison between the Dursley's treatment and repression of Harry, and the innate desire for parents to repress the child's traumas and fears, and shield them from things that might be difficult to discuss. Part of being a foster parent, he says, is facing a child's fears with them and helping them work through it:
"You see it in the books – Harry's had a lot of things happen in his life, and he's had a lot of trauma with remembering his parents death. You see how the Dursleys handle it and how they shy away from it and pull back. None of us want to be the Dursleys but a lot of parents do that and try to shield their kids. We don't want to be around somebody with trauma – it's scary to talk about. We pull away from it. But then there are others who will face it and help people process it, and that's what the foster parents are for these kids. They're able to process things. They're like Sirius – they're able to process and really work through things with kids. It's scary, and Sirius didn't have all the right answers all the time, but they're trying. And that's better than pulling away."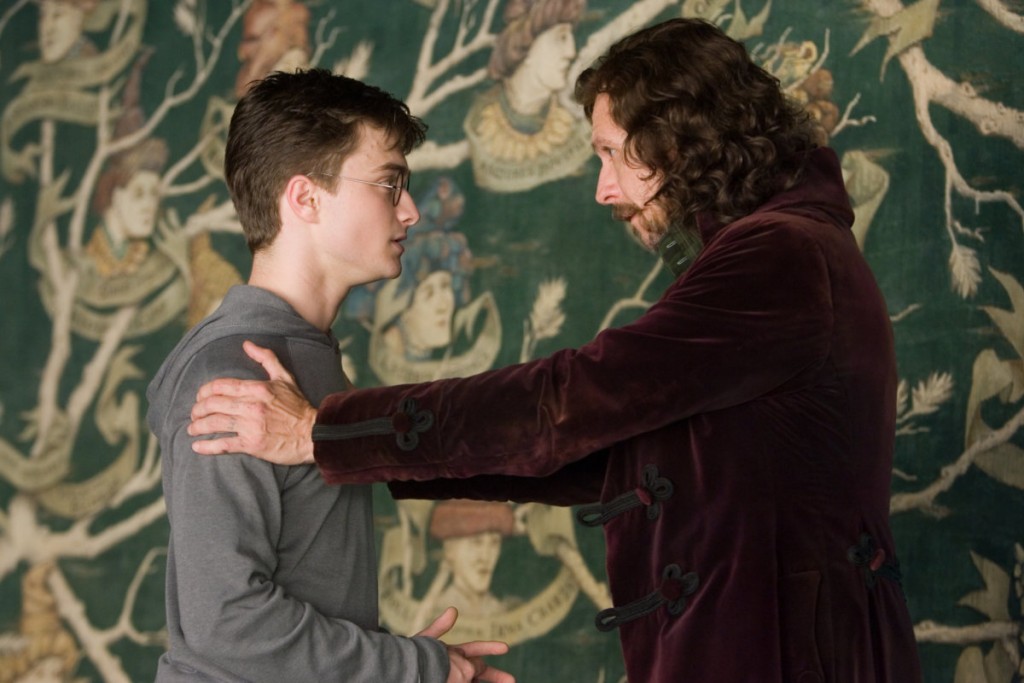 Speaking about the profound experiences he's had with families at events, Darren tells me about a time he and Margie were attending a convention, and he came back to their table to find a woman bawling in Margie's arms. After going to worst-case scenario ("Did you do something? / I hope she didn't trip / Are we liable for something?"… Darren's a Ravenclaw, I think you can probably all tell),  Margie explained:
"She's a foster mum, she's here to have some fun without her kids and wanted to have some time away. She asked what we did for kids and I said "Actually, we're helping foster parents". She was like "Are you kidding me? No one cares about me. Nobody wants to help me!"'
Hundreds of people like Darren and Margie are involved in giving support to caregivers through Transfiguring Adoption – at events, local groups, weekly check-ins, livestreams and other events, all focused on keeping foster/adoptive families together. Emotional experiences like this occur pretty regularly, Darren tells me, and we'd say that's a sign Transfiguring Adoption are doing an amazing job at creating a much-needed space for families! Darren explains the need for support for caregivers:
"They don't feel like anyone cares, and they don't feel they can reach out to people because it's kind of embarrassing for them sometimes. They feel like they should be able to parent a child, but with these specialised needs they just can't. They need help and they need people that care. They're quiet sufferers going through their own personal hell everyday. Just to hear that people care about them can make them lose it!" 
Last year, one of the Elf Squad's projects involved teaching children Lumos by donating night lights to foster agencies to help children with night-time terrors:
"A lot of people were questioning why we were giving out night lights, and how that was helping. Shortly after we'd given out these night lights to caregivers this foster mum in Florida contacted me to thank us."
The woman had just fostered a thirteen year old boy, who was struggling to fall asleep in the dark, and the Elf Squad's campaign helped her normalise his fears and connect with him, which Darren says is a crucial part of being a foster parent:
"He was really embarrassed, he knows that's not normal. The foster mum was able to just say to him "Hey, no worries – I've got a night light." The embarrassment was gone because she made it normal, and he got sleep that night. That's so important – kids who might have been sexually abused, they're in a stranger's house and you know your house is safe, but they don't because they've been lied to by adults maybe their whole life, and that's why they're in care. It's huge for them because you're telling them that they'll be safe, and then you're telling them "But don't take my word for it, here's a night light.""
Last month, Yvette Clark was announced as the winner of Transfiguring Adoption's Best Foster Parent in the U.S. Award, which recognises the amazing work caregivers do for children:
"In the States at least, the media likes to drum up drama – all the bad caregivers get the attention. We really wanted to turn that around because we know there are a lot more caregivers making amazing sacrifices, and the public just has no clue what these caregivers are doing."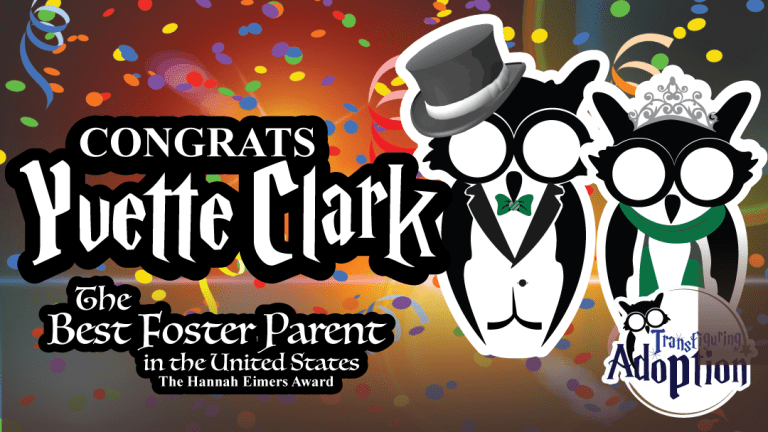 Yvette's nomination is as follows:
"I had two children who were placed with two prospective adoptive families and then given back based off their lack of desire to adopt. The children were birthed into a traumatic atmosphere with their biological parents and now began to experiencing the feeling of being rejected and not good enough. Yvette Clark came into the picture with the determination and selflessness to LOVE THESE TWO CHILDREN BACK TO LIFE. Yvette was the children's placement for approximately 12 months and participated in vetting the third and last adoptive placement. Today those two children have been adopted by a loving family who are truly appreciative towards Yvette Clark amongst others in walking along side with them through this process and giving life to those two children who experienced what no person should experience, not being wanted. The children are 5 and 4 years old and continues to hold a special place in their heart for Yvette Clark."
Read more on their website here.
The award itself is named The Hannah Eimers Award, after a seventeen year old girl (Hannah Eimers) who met the Transfiguring Adoption team at a convention, and proceeded to be one of their most committed members after identifying strongly with their mission as a result of having multiple adoptive siblings. Tragically, Hannah passed away after an car accident, but the team hopes to share her inspiring passion and presence through this award:
"She saw the sacrifices her parents made, and she just got it. She was following us and telling people about us, she was active in her Elf Squad. She would come out to see us at conventions, and all of a sudden I got a phone call from Hannah's dad one day. I'd never really talked to him, and he was pretty frantic and wanting to know what we were all about. He broke down and explained that his daughter had tragically passed away. She'd been in a car accident whilst coming home from a party. 
"She was very passionate about helping orphans and foster-adoptive children, so to honor her memory we named the award The Hannah Eimers Award, so we can do what she did and draw attention to all the caregivers who are making a difference."
Darren discussed this year's winner, Yvette Clark, and her amazing presence in her community:
"The thing I love most about Yvette is how her community came around her – even moreso than her story. She has a great story, and she's a phenomenal parent. She's like superwoman. It's just very telling of a person when a community all of a sudden just gets around them. Someone from her agency nominated her, and when we let them know that Yvette was a finalist I was worried about her. She had three votes and everybody else had hundreds. All of a sudden her community just kicked in and she took off! That's so telling of her – everybody wanted to see her win this, so she must be doing something right! It's one thing telling her story but when you see other people willing to do stuff for her… It's just amazing." 
The award runs annually, and the public are called to nominate caregivers based on their impact (e.g. how creative they are, how long they've been a carer). Darren tells me it's crucial for foster and adoptive parents to be resourceful and knowledgable about their child's specialist needs and how to accommodate to those, but one thing they don't expect is for parents to be perfect:
"One thing people think we're looking for is how they've got everything under control, but we actually are not looking for a perfect parent. We know that there's no such thing as a perfect parent – we just want to know that they're being creative, and resourceful, and they're doing things to help kids succeed."
If you're at LeakyCon this weekend, be sure to go say hi to Transfiguring Adoption (and other Potter-inspired charities, The Protego Foundation, Hogwarts Running Club and The Harry Potter Alliance!). Darren, Margie and the team will also be attending PotterVerse, as well as Conjuration this November. Darren also tells me to look out for a virtual race in future – so stay posted for future updates!
Day one of @LeakyCon is in the books! Setup is complete – VIPs were welcomed. Next up… Day Two and the meeting of thousands of new friends. #LeakyCon pic.twitter.com/EP5PyLtLbr

— Transfiguring Adopt (@TransfigurAdopt) August 10, 2018
Support Transfiguring Adoption and purchase your own Elf Squad kit on their official website, here, and be sure to follow the program on Facebook, Instagram, Twitter, and YouTube.