100,000 Tickets For 'Harry Potter and the Cursed Child' NYC Releasing This Month!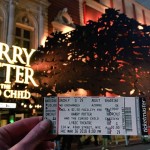 Sep 06, 2018
Today, Harry Potter and the Cursed Child producers Sonia Friedman and Colin Callender announced that over 100,000 tickets to the Tony Award-winning Broadway production of the show will be released this month!
100,000 tickets for performances through June 9, 2019 at all price points starting from $40 will release on Thursday, September 27, 2018 at 11:00 AM ET, so set your alarms – strictly no time turner use allowed!
We've got some exciting news! A new block of tickets for #CursedChildNYC go on sale September 27 at 11am ET. Find out everything you need to know about the upcoming ticket release here https://t.co/JjPFcQjbCp pic.twitter.com/2RAJuW0eUd

— Cursed Child NYC (@HPPlayNYC) September 6, 2018
More details will be announced soon via the official website, social media channels and the official newsletter. Those wishing to purchase tickets should visit www.HarryPotterThePlay.com between 10:30am-11:00am on Sep. 27 to join the 'Virtual Waiting Room':
"When tickets are released at 11:00 AM ET, everyone in the 'Virtual Waiting Room' will be randomly assigned a place in the queue for the opportunity to purchase tickets. The randomization of the queue allows the purchase of tickets to be as fair as possible and provides protection against bots. These tickets will not require an Access Code to purchase."
Recently Cursed Child announced productions opening in San Francisco, California and Hamburg, Germany in 2020, plus, the cast was just announced for the production opening in Australia at Melbourne's Princess Theatre in January 2019!
Read more about the ticket release on September 27th here.