EXCLUSIVE: 'Fantastic Beasts' Stars Tease Tomorrow's Trailer Release with All-Day Fan Event!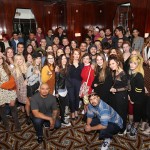 Sep 24, 2018
The stars of Fantastic Beasts: The Crimes of Grindelwald congregated in New York outside the Today Show studio early this morning to kick off a day-long fan event building up to the release of the final trailer from Warner Bros. tomorrow!
Who's excited?!?! ? #WandsReady https://t.co/KTQG8thvnu

— The Leaky Cauldron (@leaky) September 24, 2018
Fans screamed and cheered behind the delighted cast members, including Callum Turner (Theseus Scamander), Zoe Kravtiz (Leta Lestrange), Claudia Kim (Maledictus), Ezra Miller (Credence Barebone), Alison Sudol (Queenie Goldstein), Dan Fogler (Jacob Kowalski) and Katherine Waterston (Tina Goldstein). 
A growing crowd has braved the dawn chill to gather at the @TODAYshow Plaza for a surprise magical guest at 7am! Leaky has spotted a Niffler, a Bowtruckle, and a backpack that will never get lost! #WandsReady pic.twitter.com/KTRxDug4Za — The Leaky Cauldron (@leaky) September 24, 2018
Waterston's onscreen counterpart, Eddie Redmayne, who plays the wonderfully-awkward and compassionate magizoologist Newt Scamander, was noticeably absent (as was Jude Law), but Redmayne did send a brief video message for fans.
We'll soon be embarking on a very special day of #FantasticBeasts activities around New York, featuring the cast (and @jk_rowling!) – first up, a message from Eddie Redmayne, sadly for us he's on set, so won't be in New York today! Stay posted for more updates! #WandsReadypic.twitter.com/aQG8u37MnF — The Leaky Cauldron (@leaky) September 24, 2018
Redmayne is presumably on location filming The Aeronauts with former The Theory of Everything co-star Felicity Jones, and he was sorely missed, but Warner Bros. and the Today Show did not leave fans disappointed! J.K. Rowling, author of the Harry Potter series, screenwriter of Fantastic Beasts and creator of all wizarding world magic, surprised lucky fans by joining the Crimes of Grindelwald cast for a brief teaser interview.
It's a magical morning because @jk_rowling is here! #FantasticBeasts pic.twitter.com/0nkRzxDWqX

— TODAY (@TODAYshow) September 24, 2018
"I know about the next four things I'm writing…I'm scared I'll die before I get it all out." @jk_rowling talks about her latest projects and #FantasticBeastspic.twitter.com/NZsCsqd9TW — TODAY (@TODAYshow) September 24, 2018
Rowling divulged, "I know about the next four things I'm writing…I'm scared I'll die before I get it all out!" Inquiring minds were immediately curious whether that would include further forays into the wizarding world but, other than her confirmed work on the next three Fantastic Beasts screenplays, Rowling would only reveal that she's also mulling over the Robert Galbraith Cormoran Strike stories.
After the Today Show, fan-site representatives embarked on a series of magical activities and events. Leaky correspondent and contributing editor Amanda Kirk was onsite to bring fans an inside look at all the excitement.
Amanda, one of Leaky's Editors, gives a quick update from the #FantasticBeasts fan event in New York City today – stay posted here, Facebook (Leaky) and Instagram (theleakycauldronnews) for coverage throughout the day: https://t.co/Jhh6kcX5Zepic.twitter.com/ITcvpf1nrZ

— The Leaky Cauldron (@leaky) September 24, 2018
First up, Kirk attended a surprise meet-and-greet with Rowling herself: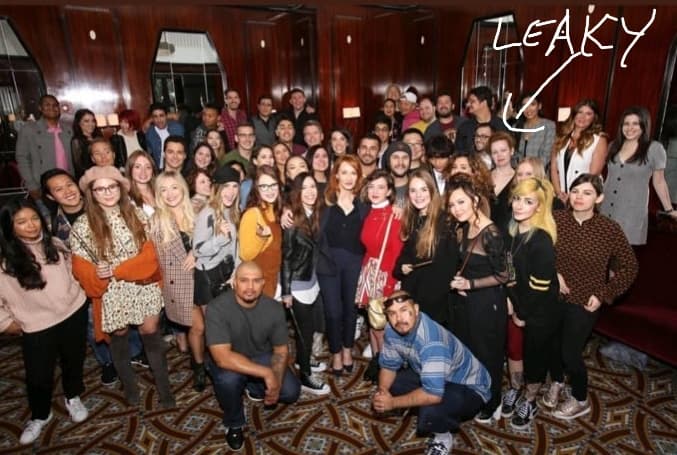 This was so lovely. Thank you all for being fabulous ? https://t.co/0nX2L7LaSN

— J.K. Rowling (@jk_rowling) September 24, 2018
Before leaving the overwhelmed Potterheads, Rowling gave the following advice as they prepared for a special advance screening of the trailer–and hear it with your own ears in the video shared by the official Fantastic Beasts Instagram account! 
"When you see the trailer, don't speak to each other until the end because there's a name you're going to want to hear", @jk_rowling told us at the #FantasticBeasts fan event in NYC today – we've got chills! ? #WandsReady — The Leaky Cauldron (@leaky) September 24, 2018
If seeing the new trailer a full day early wasn't thrilling enough, those reserved seats were for Claudia Kim, Ezra Miller, Callum Turner and Dan Fogler, who accompanied the group into the screening room! 
A live clip from the #FantasticBeasts screening room with @mrdanfogler (notorious spoiler), Ezra Miller (best Secret Keeper), Callum Turner (Ministry Man Theseus) and Claudia Kim (mysterious Maledictus)! #WandsReady https://t.co/7YYtdyDk90 pic.twitter.com/5Jx3ivYG2q — The Leaky Cauldron (@leaky) September 24, 2018
After viewing the trailer–which they got to see THREE times!–Kirk had the pleasure of speaking with Ezra Miller about the films. They talked briefly about the evolution of Credence's haircut, and Miller joked that it was always possible Credence would decide to own the "bowl cut" at some point, but then they got back to the topic at hand.
Asked what Leaky readers should look out for in the trailer, Miller advised:
"Right at the beginning there's a card that's handed off, and I think it's really interesting to observe what's on that card. It's not really revealing anything new, but it links into something we already know, I think in a very cool way, which has to do with real esoteric history, you know, which is something we're starting to collide with in this movie more than ever before."
Amanda also caught up with Dan Fogler later in the day, and when asked if he knew what was going to happen to Jacob's bakery whilst he's in Europe, Dan said he hasn't the foggiest, but that he hopes Warner Bros franchises it!
Kirk then met Pierre Bohanna, the prop master who designed the intricate details of the iconic wands used by our favorite wizards and witches in the films.
Crimes of Grindelwald wand alert! We spoke to head prop maker Pierre Bohanna about the latest #FantasticBeasts wands (thread): pic.twitter.com/N7w87e6fYz

— Pottermore (@pottermore) September 24, 2018
He specifically discussed Dumbledore's wand, which is of particular interest because this is the first time we see Dumbledore using a wand other than the Elder Wand, and it is, presumably, the wand which originally "chose" him. Bohanna elaborated:
"So this is Dumbledore's wand for Crimes of Grindelwald…it's a hard ebony…almost like a root clump that's been honed into a wand tip with an ebony and silver handle. Very nice, very long, for a big guy. Very comfortable. I quite like it."
"When designing Dumbledore's wand for the Harry Potter films, we didn't know it was going to be revealed as the Elder Wand. This is the one he had before – it's a very practical design." #WandsReadypic.twitter.com/315AzuxjPK — Pottermore (@pottermore) September 24, 2018
Here's a closer look at Dumbledore's wand. So. Cool. #WandsReady pic.twitter.com/pTUkuDynOe — Pottermore (@pottermore) September 24, 2018
Regarding Newt's wand, he commented:
"The lovely thing about this is the fact that Newt really has no care about anything peripheral in his life at all. It's just this great passion for his creatures, and everything else is secondary to that, so we tried to put the fact in that the wand tip is bent with scratches in it and it's all scuffed up and things like that. It's almost like a gardening tool and he's constantly doing loads of other things, biting on it, etc., etc…but there's a shell handle, like a sand mollusk, a shell for the handle with the idea of just a hint of his interest, again, in creatures, but to the fact that no creature was harmed in the making of this."
Bohanna also discussed the designs for the wands of Nicolas Flamel and Queenie Goldstein. 
Nicolas Flamel's wand can be seen on the left! Note the horn handle and ancient design – it looks centuries old. #WandsReady pic.twitter.com/eSo96gVnHV — Pottermore (@pottermore) September 24, 2018
"It's really interesting designing wands for different time periods. For Queenie's, we included nods to 1920s Art Deco design." – Pierre Bohanna pic.twitter.com/xIr0voh8ky

— Pottermore (@pottermore) September 24, 2018
He went on to explain how the setting for the film influenced the wand design, saying:
"One of the really nice things about Fantastic Beasts was the period it was put in…everybody was sort of thinking about the period, that wonderful period of the late '20s, where design and architecture and taste was prevalent, very indulgent."
Watch the full discussion with Bohanna below, including comments on his wands for Theseus and Rosier as well.
In a one-on-one interview, Kirk had the opportunity to question Bohanna about the specifics of wand repair and personalization. He explained that, in his personal opinion, the core is what is personal, but that the "housing" can change. For example, Malfoy's wand wasn't in a cane when he got it at 11. She also asked how Harry Potter could break the Elder Wand without repairing his, and Bohanna speculated that Harry could put the core in new housing. Very interesting, indeed!
Leaky even got to duel MuggleNet, and since Kirk found herself in possession of the Elder Wand, we're willing to bet she fared quite a bit better than Draco did when he met Harry on the dueling platform!
Leaky duelled @MuggleNet at today's #FantasticBeasts fan event, and had a slightly unfair advantage using the Elder Wand! #WandsReady pic.twitter.com/rYgwXUhpYq

— The Leaky Cauldron (@leaky) September 24, 2018
Kirk then got an enviable look at some of the costumes worn by the cast in Fantastic Beasts: The Crimes of Grindelwald, many of which will be seen in tomorrow's trailer. Follow along as she gives detailed descriptions of the costumes, beginning with Jacob Kowalski's wool suit and moving on to Queenie, Maledictus, Credence Barebone, Gellert Grindelwald, Newt Scamander, Albus Dumbledore, Tina Goldstein, Leta Lestrange and Theseus Scamander, in order, and check out the close-up images below.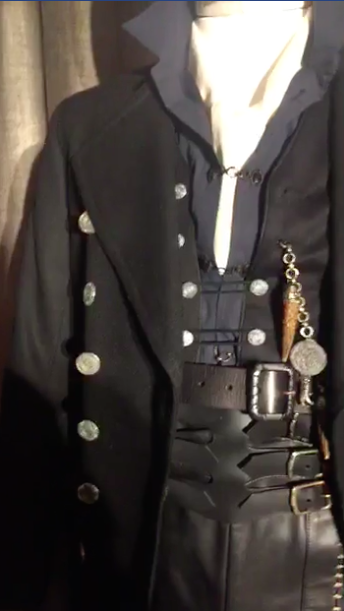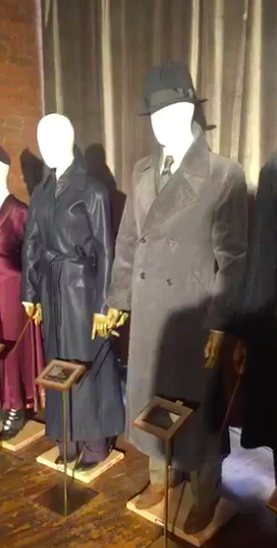 Kirk also had the honor of interviewing Colleen Atwood, the talented costume designer behind the gorgeous colors and fabrics seen above! Atwood was able to shed some light on her inspiration for the film, saying:
"You want it to be fresh, you don't want it to be the same thing again, so I changed silhouettes. Luckily I had, you know, some new people that I could add, too, like this beautiful girl Claudia Kim. And Queenie has–everyone got a little more grown up. So, and the time period pushed a little bit, so I was able to set it in Paris, where it's set, which is great for fashion."
Asked what intentional "touches" she would want viewers to notice, Atwood replied:
"There's sort of this telegraph of change in Queenie's thing, the old butterfly-moth, kind of, thing, which we put in."
Here's Queenie's! The moth pin shows a metamorphosis – changes are in store for her character. #WandsReadypic.twitter.com/8GmyMKMpgR — Pottermore (@pottermore) September 24, 2018
Watch the full discussion with Atwood below, including additional details on the costumes of Maledictus and Queenie!
And that final exclusive wrapped up a magical day leading up to tomorrow's big reveal. What are you hoping to see in the new trailer, Potter fans? What teasers from today's interviews and events have you all the more excited for its unveiling?!
Ain't no party like a #FantasticBeasts party. Join us tomorrow for the final Crimes of Grindelwald trailer! #WandsReadypic.twitter.com/RpRCPqJ2oT

— Pottermore (@pottermore) September 24, 2018
Everybody here at The Leaky Cauldron would like to say a huge thank you to Warner Bros for putting on such an unforgettable event for fans, and to Dan Fogler, Eddie Redmayne, Alison Sudol, Katherine Waterston, Ezra Miller, Callum Turner, Claudia Kim, Zoë Kravitz, Colleen Atwood, Pierre Bohanna, and – of course – J.K. Rowling, for making it such a magical day!