New Exclusive 'Fantastic Beasts' Content in Empire Magazine on Stands Tomorrow!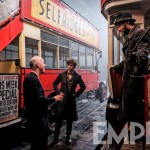 Oct 03, 2018
As the release of Fantastic Beasts: The Crimes of Grindelwald swiftly approaches, fans are eagerly waiting to see how J.K. Rowling's magical story of Newt Scamander, Albus Dumbledore and Gellert Grindelwald will play out. And for those not averse to spoilers, the new Empire magazines on stands tomorrow will include exclusive content and images that are a must-have for those anxious Potter fans!
Empire will actually release three editions of their November issue tomorrow: an exclusive Wizarding World special on the making of Fantastic Beasts: The Crimes of Grindelwald; a bonus magazine on the making of the Harry Potter saga, including interviews with all four directors; and a special subscribers' edition with a cover design by MinaLima.
Empire Online teased the exclusive content by releasing two new images from the upcoming film today, as well as snippets from some exciting new interviews.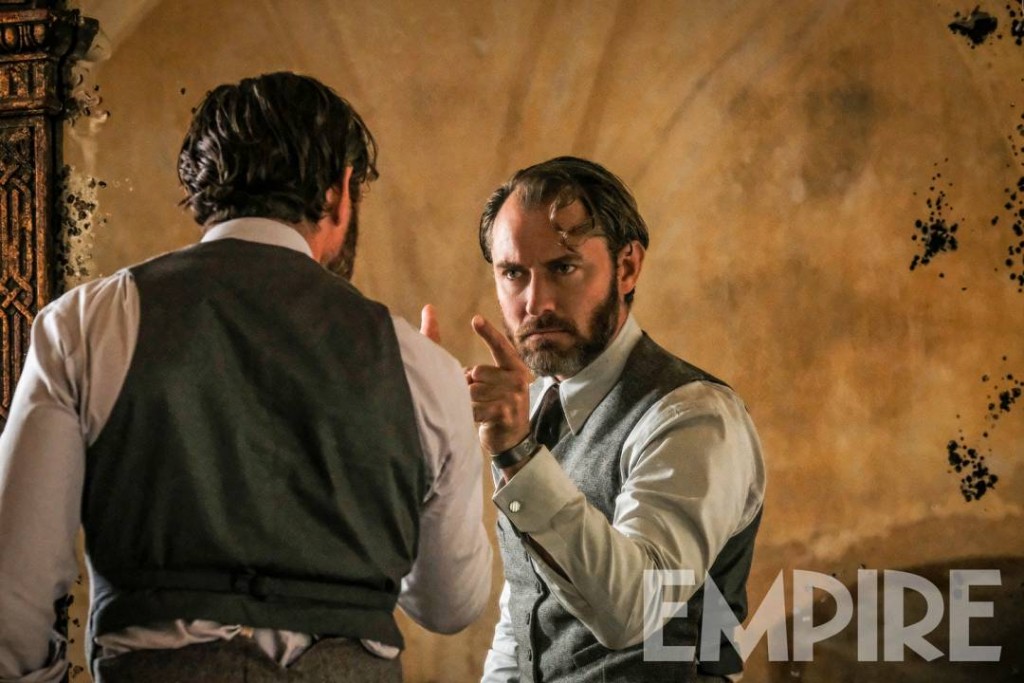 The first new image shows the young Albus Dumbledore, played by Jude Law, talking to himself in the Mirror of Erised. We can't know where this scene falls in the film, but we have seen other glimpses of Dumbledore before the enchanted mirror in the trailer, which Leaky discussed here.
In that scene, Dumbledore sees Gellert Grindelwald as he once knew him when they were close friends–young and filled with zeal for their philosophies on the wizarding world and their pursuit of the Deathly Hallows. Dumbledore touches the mirror with a look of longing and, perhaps, sadness. That look encompasses so much of Dumbledore's complicated history with Grindelwald–it may intimate the nature of their relationship; it may reveal his regret over Grindelwald's choices; it may hint at the guilt Dumbledore feels over the death of his sister after their last argument.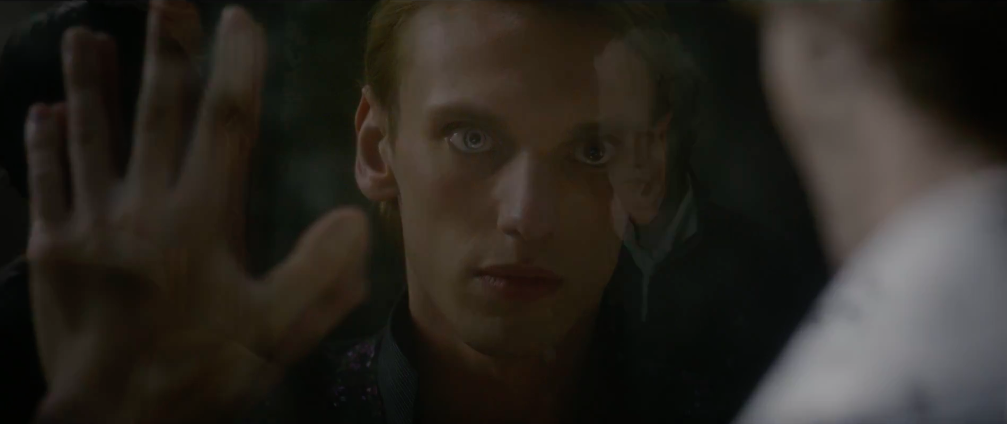 How that reflects upon the scene shown in the exclusive new image remains to be seen. It could be that Dumbledore is confronting himself over his reluctance to get involved or that he is steeling himself for what may come–and what he might be called upon to do.
We know that Dumbledore has made clear he cannot be the one to move against Grindelwald, and we increasingly suspect that there is a real reason behind that restraint, a reason which goes beyond simple reluctance. One theory, put forth by Nerdist, is that Grindelwald is, in fact, a magical beast of some kind. This would explain why Dumbledore needs Newt's expertise in magizoology. Another theory, suggested by Susan Sipal, is that Dumbledore and Grindelwald made an Unbreakable Vow in their youth which prevents Dumbledore from taking certain actions against him. Watch her unfold some of her theories below! 
Spoilers! Spoilers!! SPOILERS!!! – What is the Big Reveal at the end of #FantasticBeasts 2: The #CrimesofGrindelwald? https://t.co/iFf2ac68VL@uhp@leaky@potterish

— Susan ?ipal (@HP4Writers) September 26, 2018
Empire also teased another exclusive photo of Eddie Redmayne and Jude Law on set.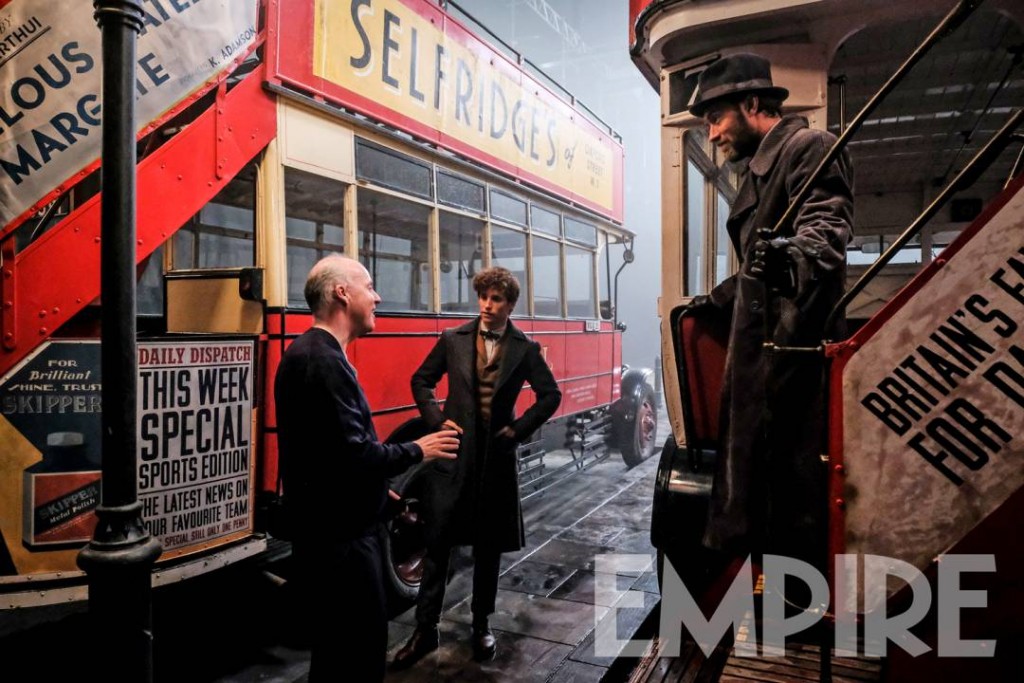 Here, they are seen in conversation with director David Yates between two classic Routemaster buses. It is likely they are discussing another scene glimpsed in the last trailer–the one in which Dumbledore hands Scamander the calling card of Nicolas Flamel, which is the key to finding his safe house in Paris, during a clandestine meeting in the bus interior.
In our original trailer breakdown, we guessed that they were meeting in a train car, but it now looks to be one of the buses shown in Empire's latest release! No doubt the November issue will include many other inside looks into the darkening epic tale. 
It's clear from the trailers and photos that that darkness, spoken of by the actors themselves, is a clear directorial choice reflected in the filmography. But it's more than that as well. The darkness is internal as well as external. In his interview with Empire, Jude Law revealed:
"Jo [Rowling] told me that in some ways Dumbledore thinks of himself as a beast because of things he's done in the past, and he knows therefore that Newt [as a beast-lover] will forgive him."
The more we learn of Dumbledore's story, the more we understand his inner turmoil and how his relationship with Grindelwald, already hinted at, plays a significant part, which will be more fully explored as the films go on. WeGotThisCovered reported that David Yates told Empire:
"Dumbledore is not out as a gay man in this film. This part of this huge narrative that Jo is creating doesn't focus on his sexuality, but we're not airbrushing or hiding it… The story [of the romantic relationship] isn't there in this particular movie but it's clear in what you see… that he is gay."

"A couple of scenes we shot are very sensual moments of him and the young Grindelwald. I think people just have to wait and see and appreciate that in movies to come to that relationship will be explored much more fully."
It sounds like the full interviews will give much more insight into the direction of the story and Rowling's development of the characters. Empire certainly knows how to tease the fans! And remember, the Fantastic Beasts edition comes bundled with a brand new bonus magazine revisiting Harry Potter's corner of the wizarding world.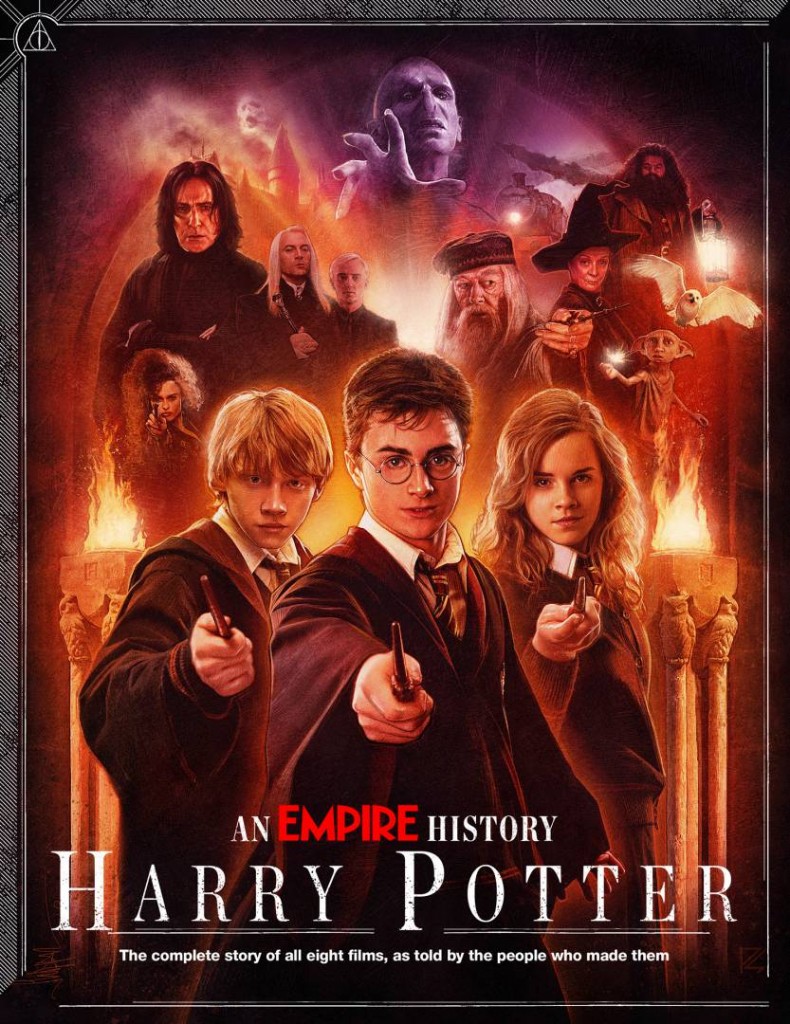 Empire Online says that it includes:
"The complete story of how the original series made it to the big screen. As well as including every classic Harry Potter Empire feature written during the films' production, we also have brand new interviews with directors Christopher Columbus, Alfonso Cuaron, Mike Newell and David Yates who tell their side of the story."
This is more than just an "extra," Potter fans. This is a collector's item in its own right! 
The subscriber's edition is enthralling as well–check out the cover design by Mina Lima below!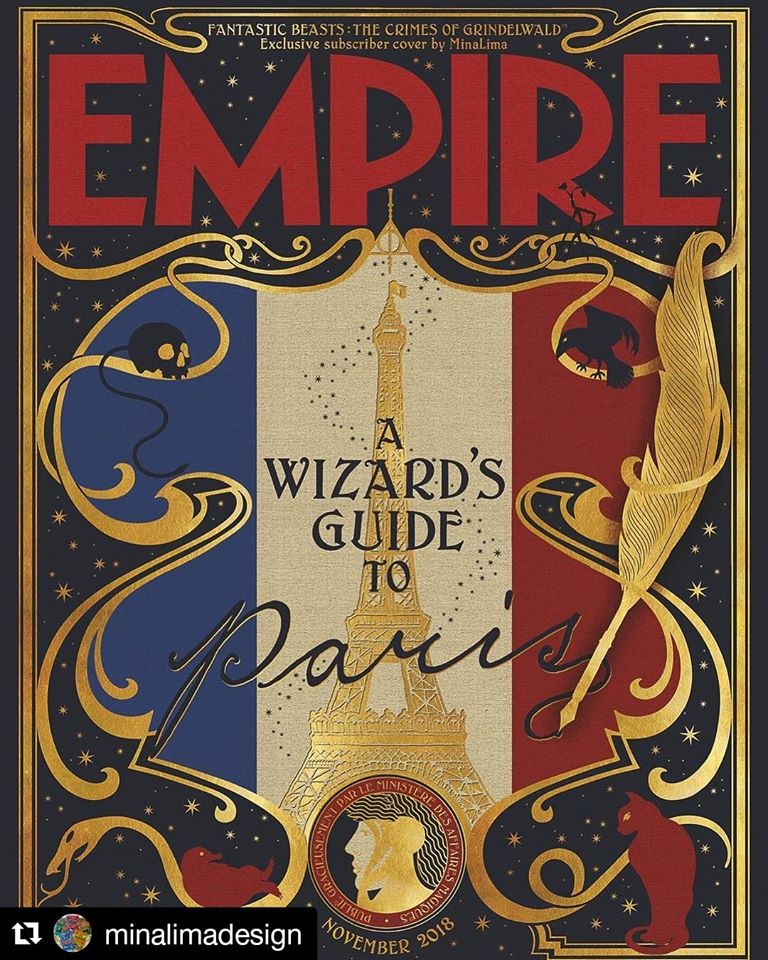 This is a true collector's item with nods to so many of the magical moments and objects significant to the film. The cover features a gold embossed Eiffel Tower and a scrolling snake, a nod to Nagini's importance, as well as the possible influence of Leta Lestrange, named as "Implicated by Prophecy" in a recent promotional poster, and is topped by the symbol of the Deathly Hallows. Framing the design is a black skull (like the one held by Grindelwald before an amphitheater of witches and wizards), a black raven (a sign of death? It's the symbol Queenie touches in the final trailer – see below), a red Niffler and a red cat. It's a beautifully-intricate design!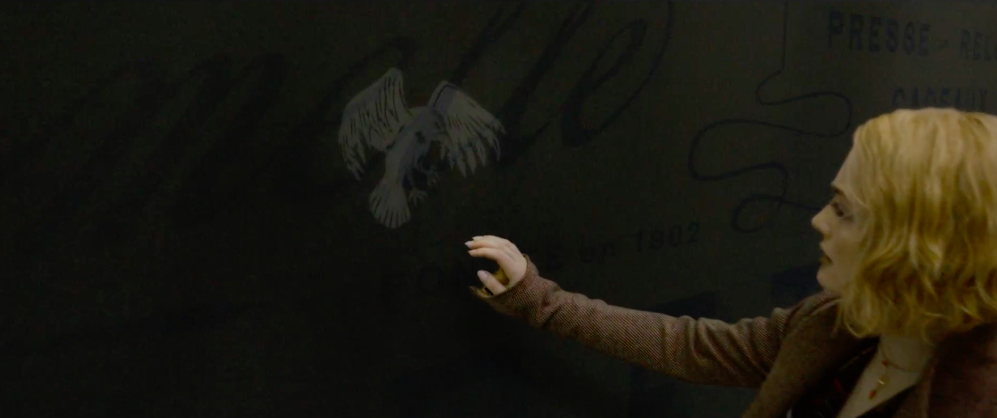 Are you planning to pick up your own copy of the Empire magazine tomorrow? Rest assured, we'll cover the details if you don't!