FINAL 'Fantastic Beasts: The Crimes of Grindelwald' Trailer & Shot-By-Shot Breakdown!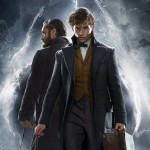 Sep 25, 2018
After a fan-tastic fan event in New York yesterday, the final trailer for Fantastic Beasts: The Crimes of Grindelwald has been released, and it contains a HUGE surprise for Harry Potter fans…
Get your #WandsReady — @jk_rowling and the cast of #FantasticBeasts: The Crimes of Grindelwald have your first look at the final trailer for the film, arriving in theaters November 16! pic.twitter.com/uEj5XBm80b

— TODAY (@TODAYshow) September 25, 2018
This final trailer is much more intense and fast-paced that previous trailers, and we're really getting to see that dark, thriller element coming into the films as promised by David Heyman and David Yates. Better yet, Potter fans FINALLY know the name J.K. Rowling was referring to yesterday – we almost can't believe it!
"When you see the trailer, don't speak to each other until the end because there's a name you're going to want to hear", @jk_rowling told us at the #FantasticBeasts fan event in NYC today – we've got chills! 😍 #WandsReady

— The Leaky Cauldron (@leaky) September 24, 2018
The trailer begins with Dumbledore and Newt in an enclosed space, which looks like a train car. Dumbledore hands Newt a card for a safe house in Paris.  When Leaky asked Ezra Miller if there was anything we should pay special attention to in the trailer, he said to make note of what's written on that card!  It's hard to make out, but it looks like the alchemist's mark, indicating Nicolas Flamel, who we know from character profiles has been enlisted by Dumbledore to help Newt in Paris.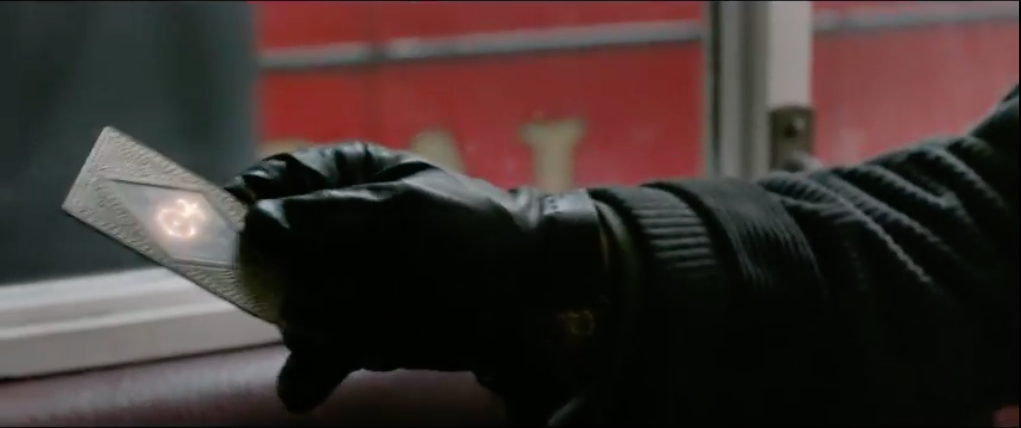 Newt asks Dumbledore why he'd need a safe house in Paris, and Dumbledore says that should things go horribly wrong, it'd be a nice place to go to "have a cup of tea."  It's a great scene.
Full quote from the livestream: "Right at the beginning [of the trailer] there's a card that's handed off… I think it's really interesting to observe what's on that card… It links into something we already know, in a cool way"

— The Leaky Cauldron (@leaky) September 24, 2018
We see an overhead shot of thestrals pulling the carriage holding Grindelwald, which takes place before Grindelwald's escape from MACUSA. Grindelwald is saying his dream is about to be realised – "We who live for truth, for love…" We're shown shots of him in the basement levels of the MACUSA prison:

Is this an enchantment designed to keep Grindelwald incarcerated as he's transported to Europe? (It didn't work)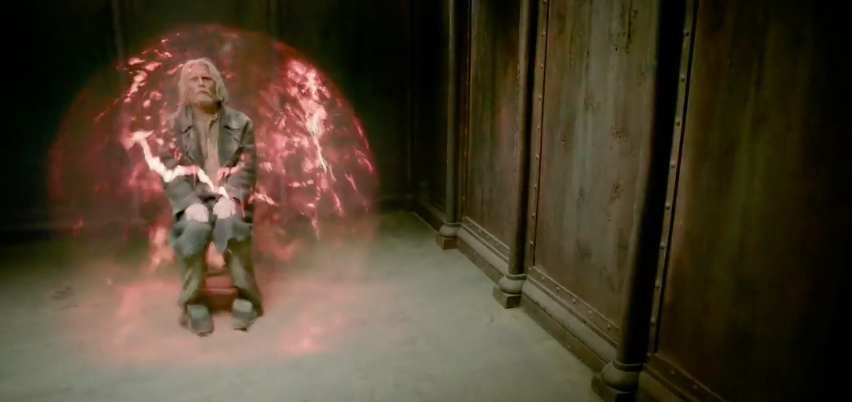 Claudia Kim's blood-cursed character – the Maledictus doomed to turn into a giant serpentine monster – is Nagini! Every time fans see a snake there's a theory about it being Nagini, but this time we were right!  We see her transform in a cage, most likely at Circus Arcanus.  People seem to be watching through the bars.  She calls herself Natalie – Nagini is a word that means something in mythology rather than her proper name. It sounds like a call to transform when Credence whispers it to her in the trailer. Grindelwald's voiceover says, "The time has come, to take our rightful place in the world."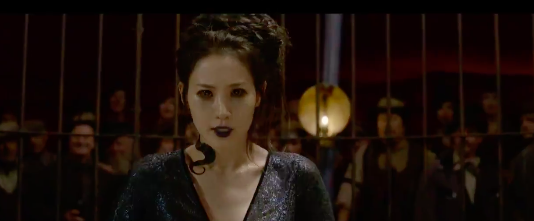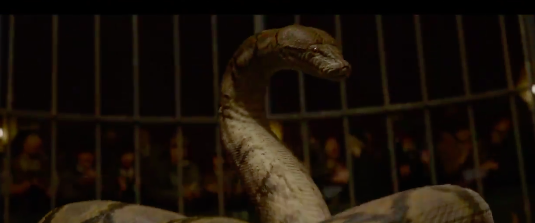 As we go back to shots of Grindelwald's escape from MACUSA, he says "Join me, or die," suggesting his rallies have gotten a lot more violent – in this shot he kills the carriage drivers, finalising his escape: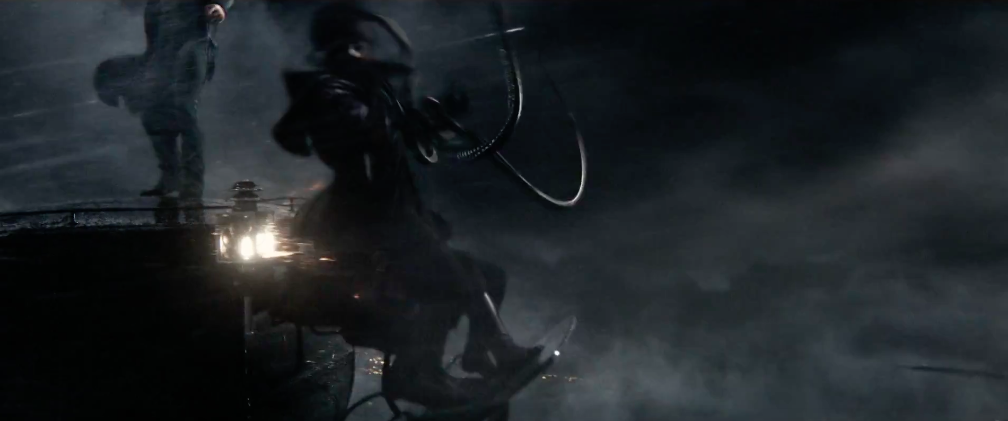 Then we see a shot of Hogwarts, with voiceover saying that there had been peace between wizards and Muggles for over a century, but Grindelwald "wants to see that peace destroyed". We've arrived in Paris: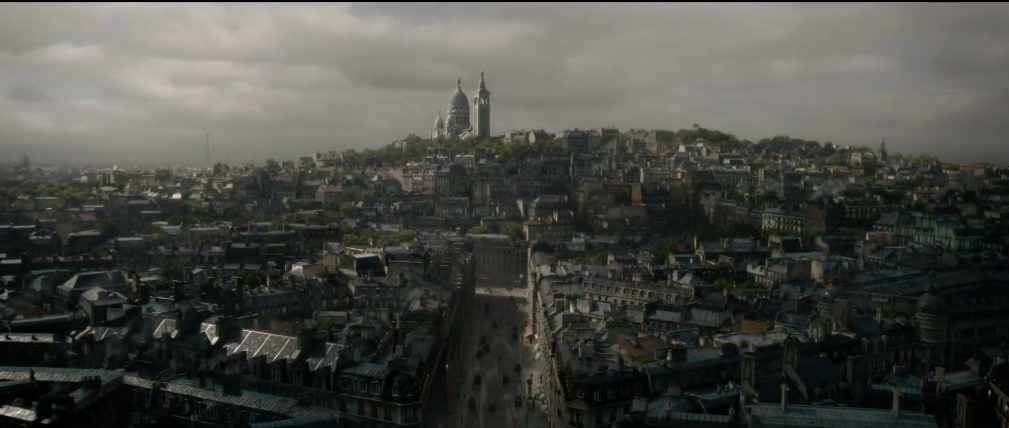 We see Grindelwald walking in Paris, holding court in the round stone amphitheatre seen in previous trailers, blue flames appear around the edges of the theater, and we see an explosion in some mountains.

At Grindelwald's rally – a black cloth covering the buildings of Paris (read more in our set visit report with Martin Foley) – is seen again, hinting at his rise to power.


We also see another new beast, in full glory: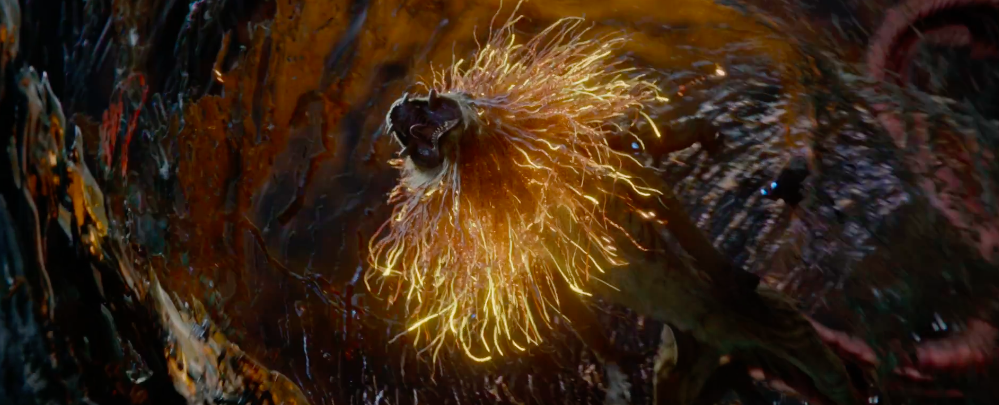 Newt says to Dumbledore "You want me to hunt him down, to kill him. Dumbledore, why can't you go?".
Here's the big moment: as Dumbledore says "I can't move against Grindelwald – it has to be you", the trailer cuts to a shot of Dumbledore uncovering the Mirror of Erised and seeing a handsome young Grindelwald (Jamie Campbell Bower, from the Harry Potter series!), who morphs into Johnny Depp's Grindelwald.  Dumbledore is touching the mirror – it's a very poignant, "lost love" type of scene – you can tell they have history together!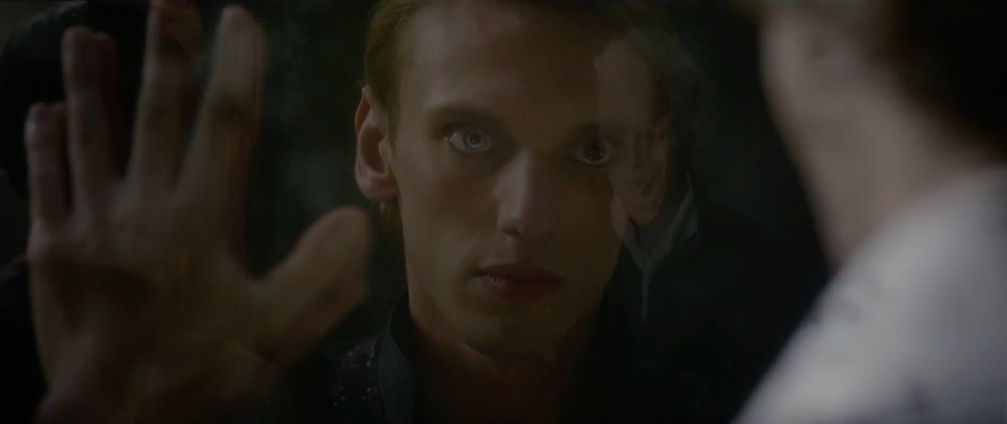 During this voiceover, Tina is seen sitting reading notes in Kama's hideout:

Queenie is only seen briefly crying – suggesting this is where we could see the outcome of her 'desperate attempts' to escape the law separating her and Jacob, and also this mysterious scene of her touching this symbol: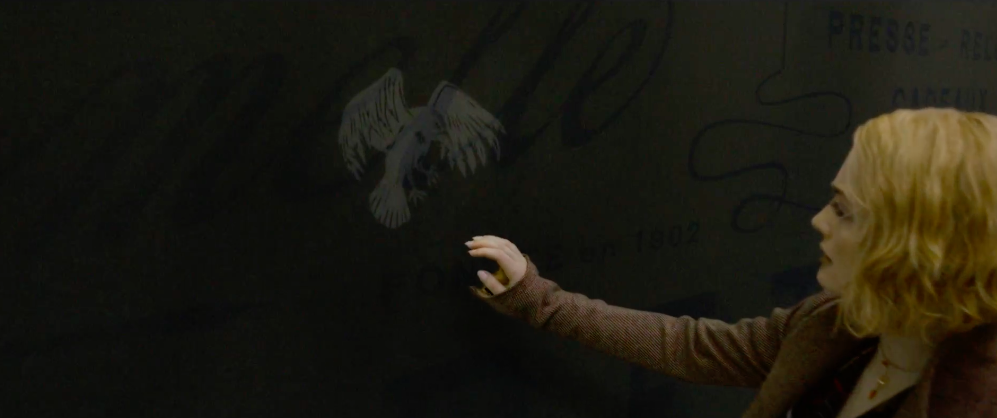 We see Flamel again, looking scared:

We see shots in the French ministry again, then the shots of the Zouwu and Kelpie enclosure in Newt's basement from the previous trailer.
Echoing the scene in the last film where Newt hands Dan a helmet, we meet the wizard and his No-Maj pal on a hillside, where Newt asks Jacob if he gets motion sickness.  Jacob says he's not good on boats, regardless, and Newt appears to pull him into a bucket Portkey.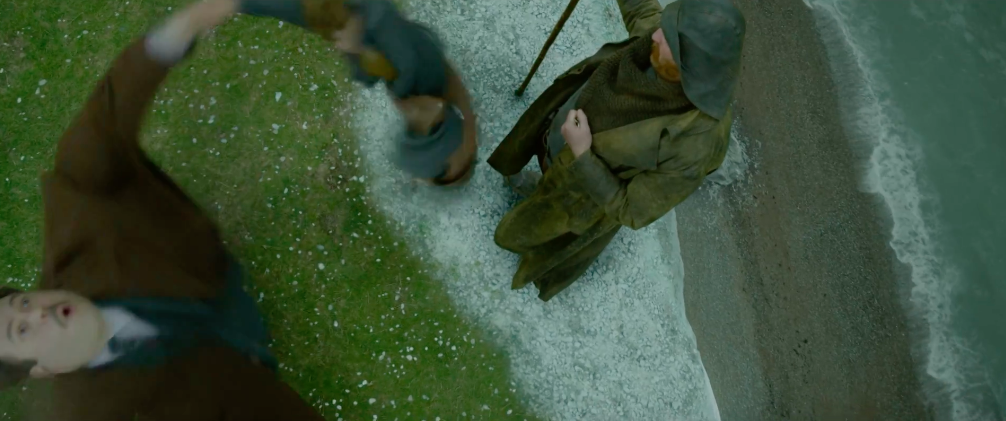 There's a strange scene with a gold shimmer, it looks like a creature similar to the Demiguise creating it, and Dumbledore tells Newt why he admires him – he "does not seek power," he simply asks "Is a thing right?"…

We appear to be inside Flamel's house in these shots – Tina is there, too!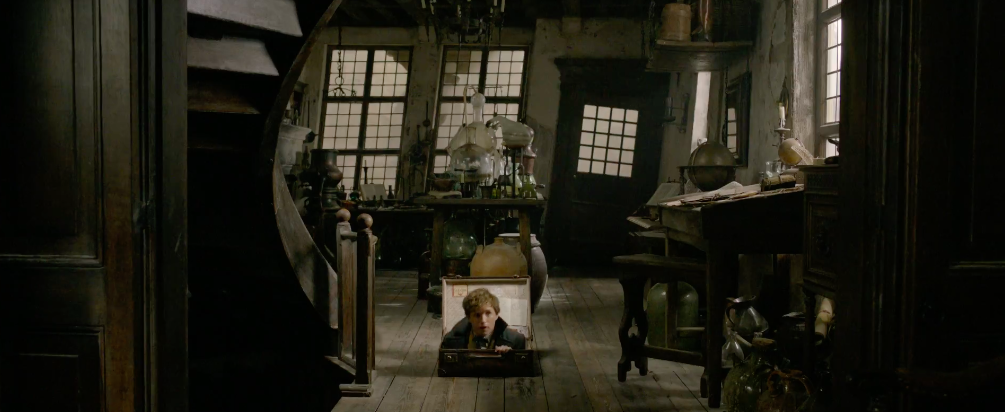 There's a scene with Newt and the Kelpie – very reminiscent of Harry and Buckbeak – whoops and all!

We also see a harrowing shot of some fighter jets – is this a flashback to the war?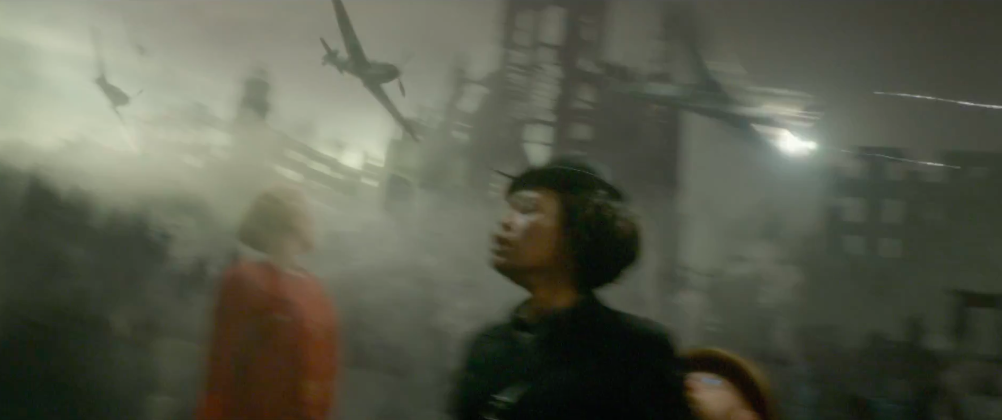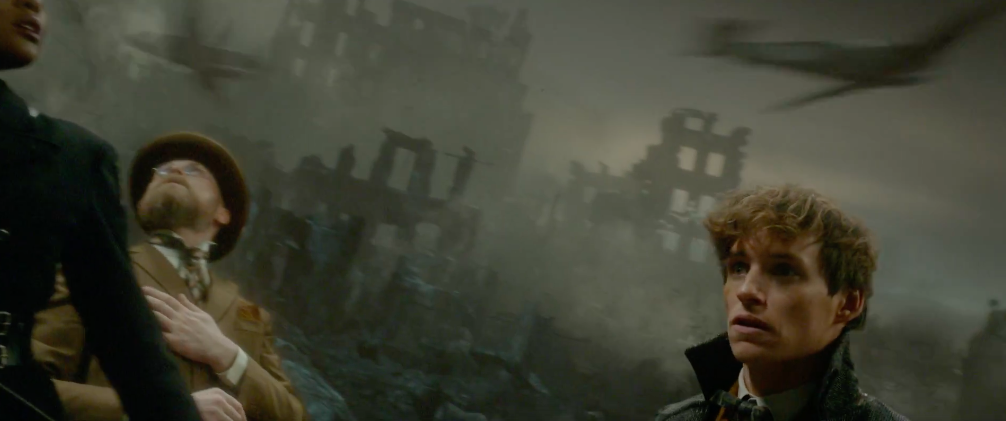 The line where Newt is told that the time will come when he has to "choose a side" by Theseus from the previous trailer is answered by Newt, with him saying "I don't do sides".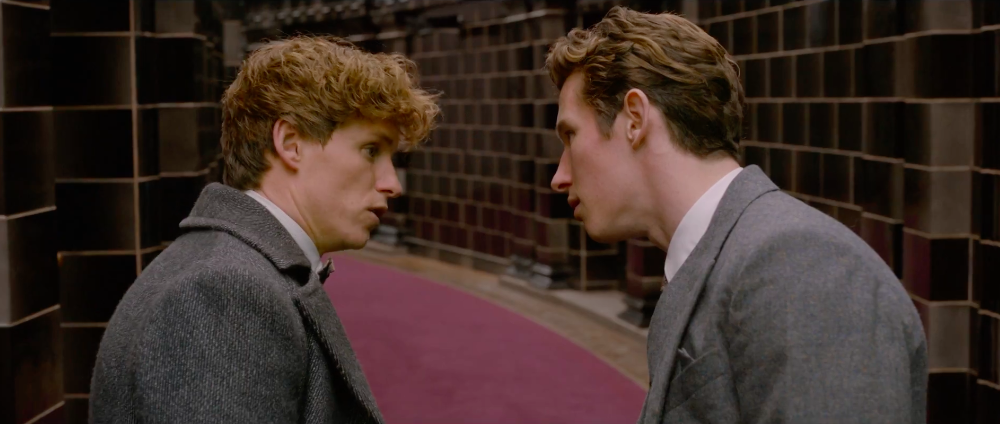 We see a glimpse of Quidditch at Hogwarts, and somebody (is that the Maledictus?) desperately reaching for something/sombody underwater: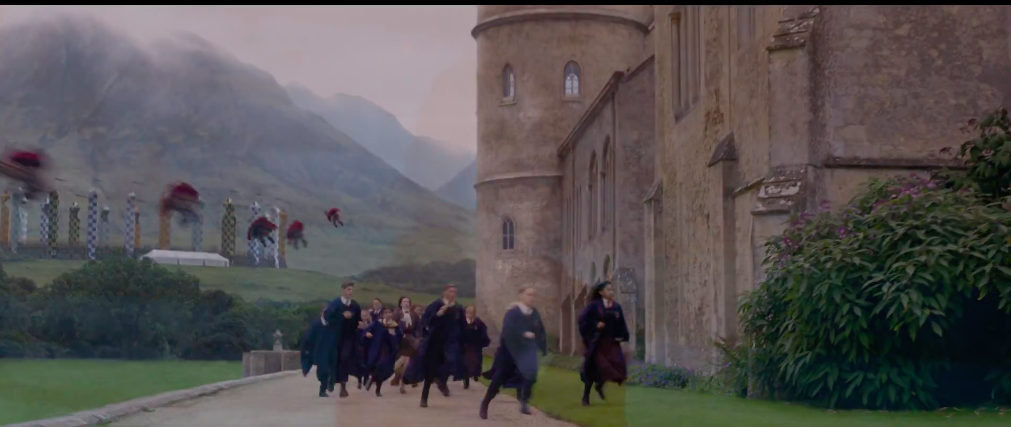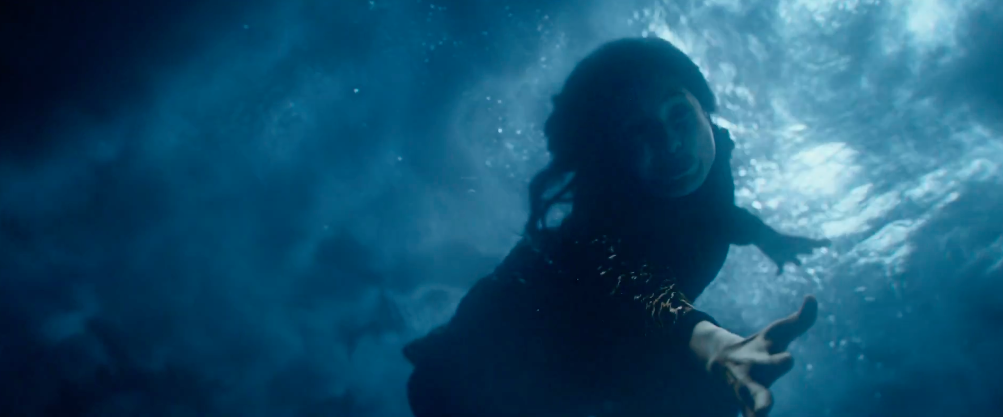 Tina worriedly asks Newt what he going to do in a scene which looks like the cemetery / amphitheatre, to which he replies"I'll think of something"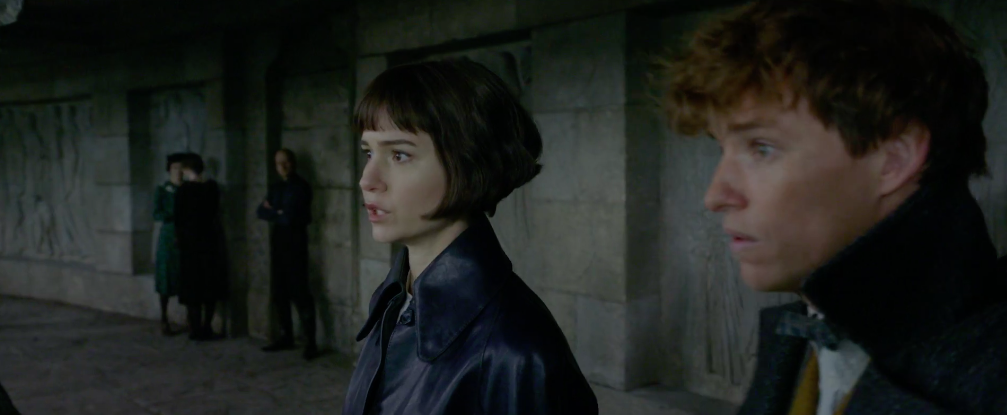 Leta repeats her line from the previous trailer about Newt never finding a beast he couldn't love.  Nagini/Maledictus appears to be looking at Credence – he's in the middle of Grindelwald's blue fire, and appears to choose Grindelwald, who smiles. Theseus attempts to move against Grindelwald, and seeing as we now know he's "Under Ministry Orders", it's likely he's been ordered to pursue Grindelwald – it doesn't look like it ends well: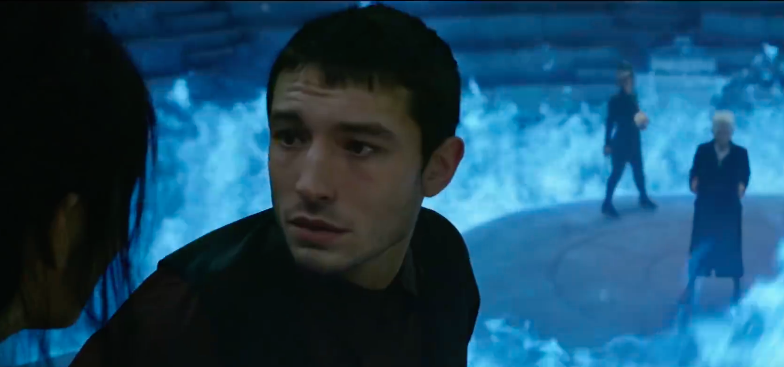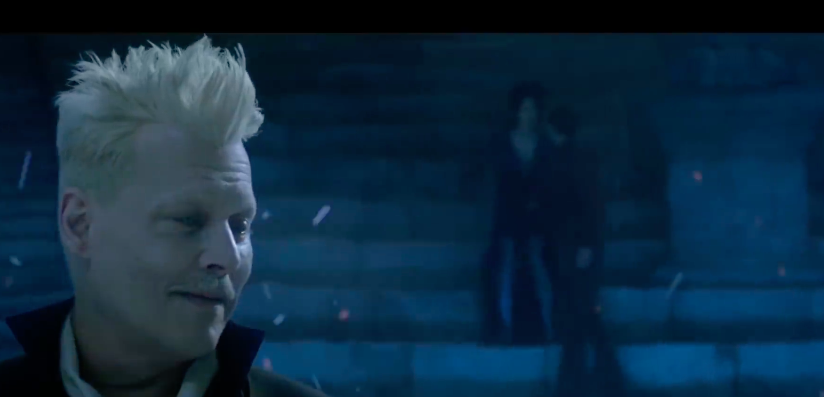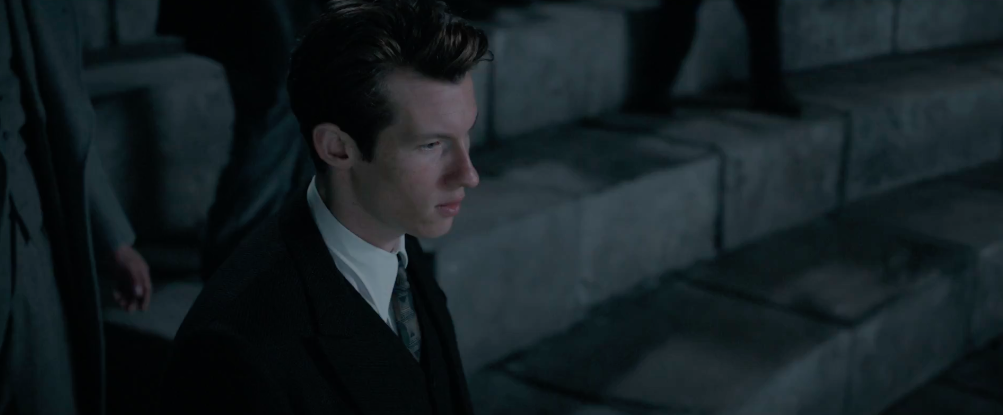 There's a shot of most of the Crimes characters, who appear to be on a bridge. Queenie isn't there, neither is Credence – perhaps they've joined Grindelwald, and the rest of the gang are there to get them back?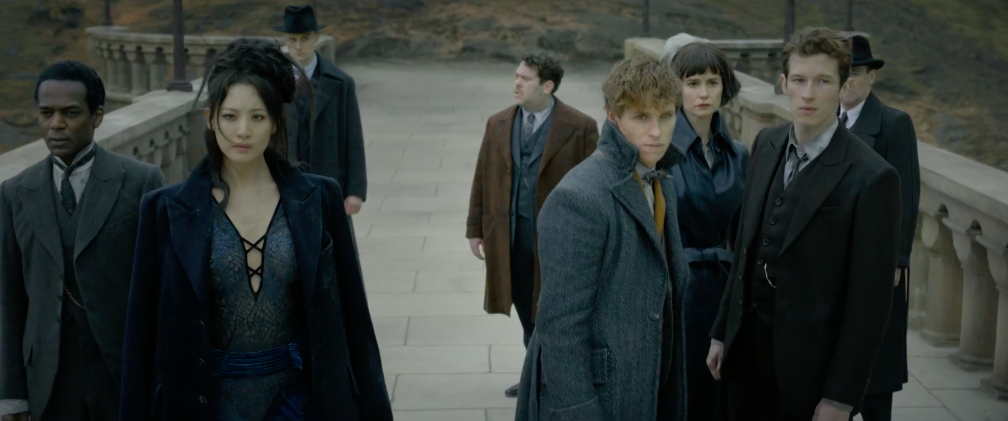 The trailer ends with Tina saying "That's your brother?!" when Theseus appears to catch them off guard at the French Ministry – Tina pins him to a chair with the lash of a powerful spell, met with Newt's ecstatic exclamation, "I think that might have been the best moment of my life!"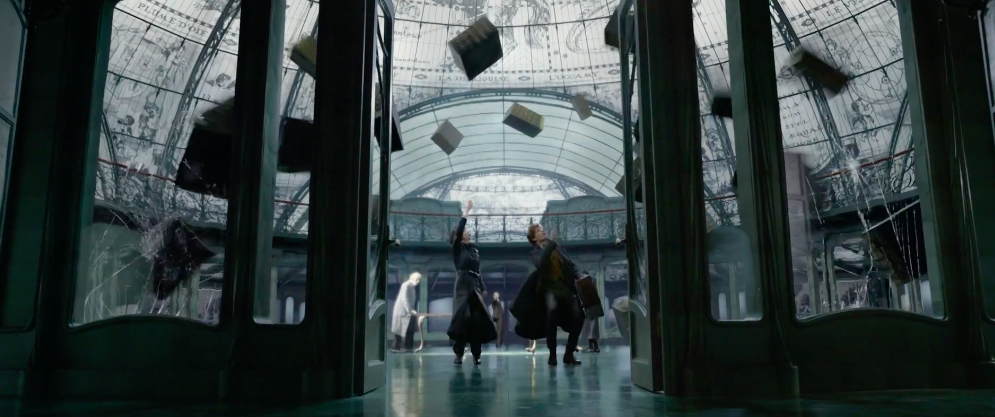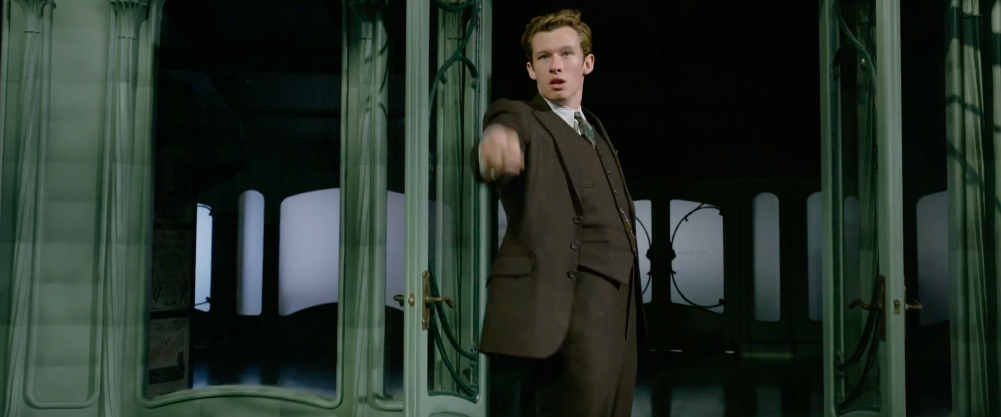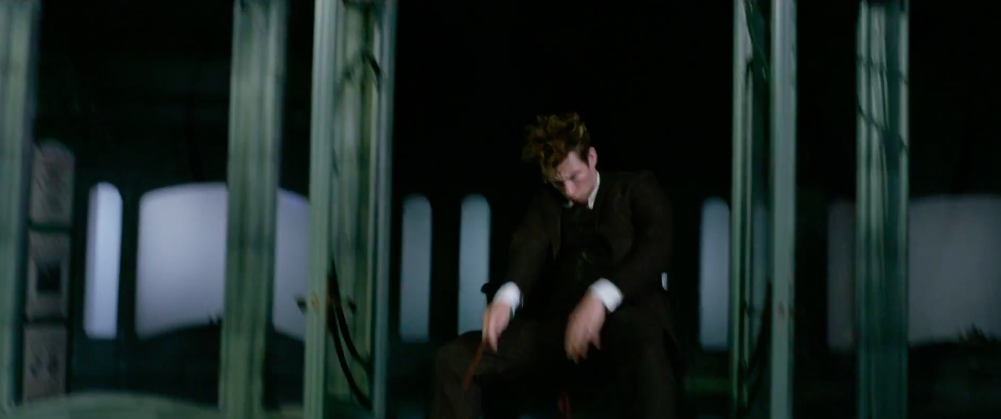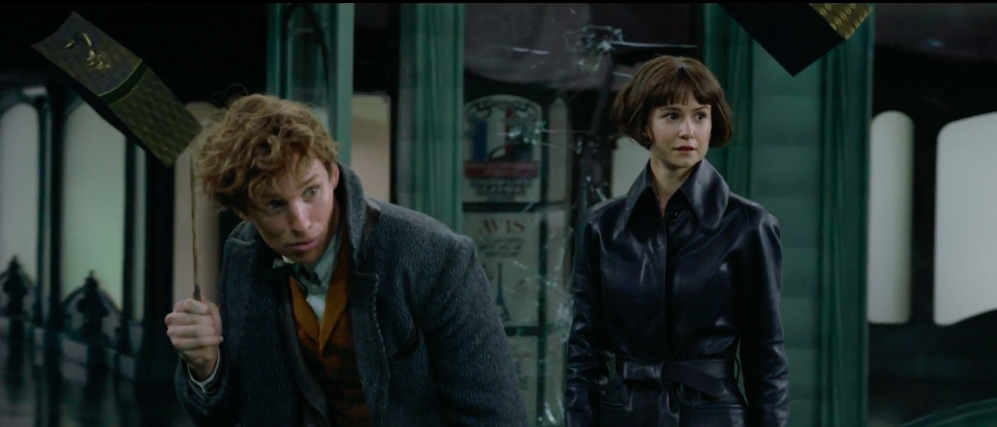 Were you surprised by the big Nagini reveal? Are you tempted to go back through the Potter stories and see how this new character fits into the grand scheme of things in wizarding world history? Us too! Read more about the film in our set reports, and in our coverage of yesterday's event, and be sure to rewatch the previous trailer from San Diego Comic Con – more exclusive interviews are coming very soon!