Tickets on sale for special early screening of "Fantastic Beasts: The Crimes of Grindelwald" + Major Spoilers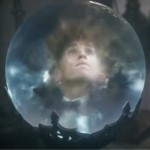 Oct 16, 2018
Cinemas across the U.S. will be hosting a special early screening of Fantastic Beasts: The Crimes of Grindelwald on Tuesday, November 13.  The official release date is Friday, November 16, and most cinemas will start showing the film on Thursday evening (let's pause and take a moment to remember the excitement of midnight premieres, now gone the way of the Diricawl).  The Tuesday screening is the earliest opportunity to see the film barring attendance at the premiere.  This Leaky reporter has already gotten a ticket for her local cinema.  Get yours via Fandango, Cinemark, or your preferred local ticket vendor.
If you are in the UK, you also get an early screening:
Fantastic Fan Screening Event is now available for booking! For more details go to https://t.co/RTt1xWXAjO

— BFI IMAX New Films (@bfiimaxnewfilms) October 16, 2018
AND for lucky UK fans, Warner Bros. Studio Tour London is holding screenings in the Studio Tour's own cinema on the 17th, 18th, and 19th of November, just after the film's official release, introduced by Head Prop Maker Pierre Bohanna, he of the fantastic character wands.  Tickets go on sale here on October 18.
But that's not the only piece of Fantastic Beasts news today.  The official announcement of the early screening came with a short video clip featuring J.K. Rowling talking about the plot, interspersed with scenes we haven't seen in the trailers. WARNING!  This little video contains MAJOR spoilers.  If you are spoiler-phobic, you should stop reading here and go buy your ticket for the early screening.
HERE BE SPOILERS!
DON'T SAY WE DIDN'T WARN YOU!
SPOILERIFIC ANALYSIS FOLLOWS THE VIDEO BELOW:
One month until #FantasticBeasts: The Crimes of Grindelwald arrives in theaters! Be part of the Fantastic Fandom Event – get tickets for a special early screening only on November 13. https://t.co/UO1w66YLsPpic.twitter.com/qKwVZnsLsX

— Fantastic Beasts (@FantasticBeasts) October 16, 2018
So what new insights have we gathered? Grindelwald makes his escape after only a few months in custody.  Well, we figured MACUSA wasn't able to hold him very long, but he certainly seemed to have aged, perhaps because the choice of white blonde for his hair resembles an older man's grey, or maybe it was the MACUSA prison food.
He's in the process of being transferred to Europe, to face charges for crimes committed there, when he "inevitably" escapes.  It wouldn't be surprising if MACUSA brokered this transfer just to be shut of such a risky prisoner.  It's even less surprising that he manages to slip from custody on the way.  So, no huge surprises so far.
We knew, by virtue of his appearance in this film, that Credence had survived the attack in the subway on his Obscurus form, and that he had gone to Paris with Circus Arcanus looking for answers about himself, so no surprise there.  But what does it say on the note he handing to Nagini? 

 And why does he appear to be in some sort of cage?  Credence says, "He's following me," which is presumably a reference to Grindelwald, who wants an Obscurial to use as a weapon.  This line of reasoning is reinforced by the scene shifting to Grindelwald, who says, "The path will lead you to me."  Grindelwald knows Credence is looking for his roots so it looks like he has some answers that he is using to lure Credence to him.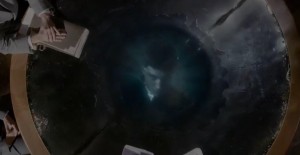 Which leads us to the next scene, where we find out that Dumbledore has sent Newt to Paris to find Credence.  We knew from previous trailers that Dumbledore was enlisting Newt to help stop Grindelwald, but now we know the specific reason for his Paris trip.  How does Dumbledore know that Grindelwald is searching for an Obscurial to weaponise?  How does Grindelwald know Credence is in Paris?  Why can't he simply find him at the circus himself?
Allison Sudol, who plays Queenie Goldstein, notes that Grindelwald is dangerous because he is manipulative.  Given Queenie's sad, irresolute countenance in the trailers, it's possible she is hinting that her character is herself in danger of being manipulated by this master manipulator.  But she must realise that a victory for Grindelwald's side would mean oppression of Muggles like her beloved Jacob Kowalski.  If magical/Muggle romances are forbidden now, they'd be even more condemned under a fascist pureblood regime.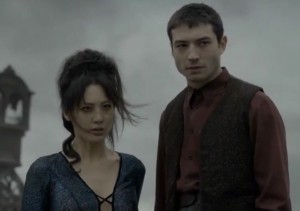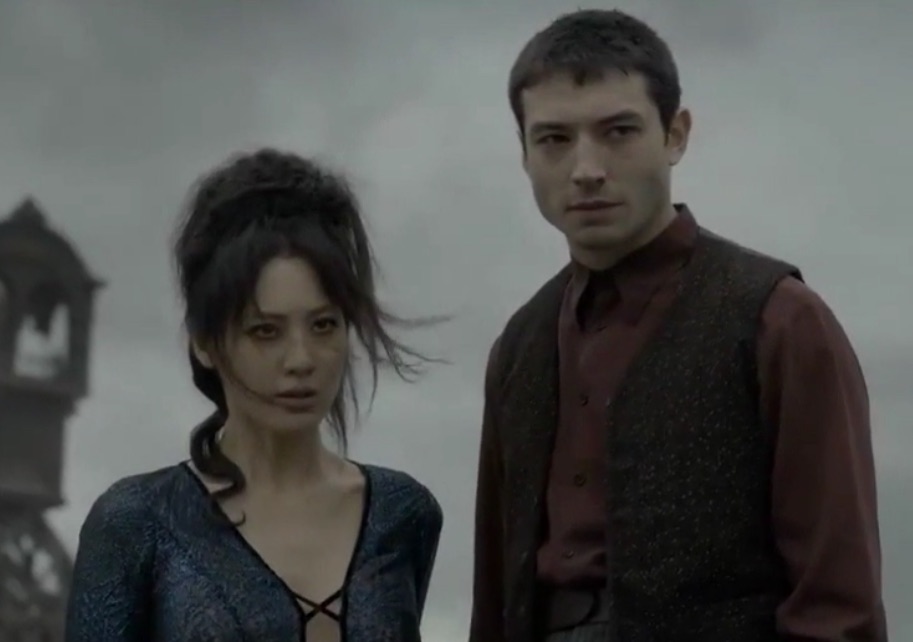 J.K. Rowling says, "Everything gets darker and more intricate.  Whatever you think you know at the end of the movie might not be the case."  So, one thing we can definitely count on is having many questions whilst we wait for the third instalment.