Two New Behind-the-Scenes Featurettes Delve Deep Into 'Crimes of Grindelwald' Characters and Plot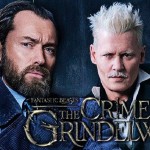 Nov 07, 2018
Exciting news, Potter fans! Film Riot shared an in-depth behind-the-scenes feature on Fantastic Beasts: The Crimes of Grindelwald courtesy of Warner Bros. The video features commentary from director David Yates, series creator J.K. Rowling and major players Jude Law and Eddie Redmayne. Warner Bros. also released a second featurette focused on the relationships between Dumbledore and Grindelwald and Dumbledore and his protégé, Newt, with commentary from Rowling, Law, Redmayne and Johnny Depp. Both provide fascinating insights into the highly-anticipated upcoming film!
The first video feature opens with a flurry of scenes we've seen before–Jacob in Nicolas Flamel's house, Dumbledore in the DADA classroom, Dumbledore strolling down the halls of Hogwarts, Grindelwald in the carriage, Grindelwald on the streets of Paris, Newt and Theseus at the cemetery, Newt and Tina confronting Theseus, Newt emerging from his case–but from the perspective of the director, with moving cameras in play. The video then fittingly cuts to Yates, who says:
"I suppose when I'm on set, and I'm in that director's chair, and I'm looking at that monitor, I'm living my life through those human beings. I am Newt Scamander, for a moment. I am Theseus in the moment. And actually I want to feel what they're feeling. I want to understand their perspective. I want to understand what it feels like to be in that hearing room, and so I try and empathize as much as possible, not just with the characters, but with the actors who are playing them. And that's my process. I want it to be as real as possible for me as it is for them."
Yates' comments are cut with shots of him in the carriage with Johnny Depp (Grindelwald) and in the cemetery with Eddie Redmayne (Newt Scamander) and Callum Turner (Theseus Scamander), demonstrating how intimately involved he is in conjuring a magic, a world, a story, that is supremely real and believable and touching for the viewer.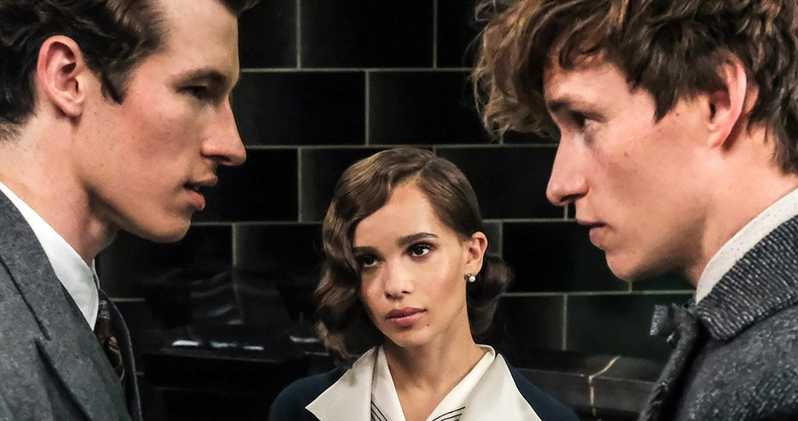 His voiceover closes on a new shot of Leta Lestrange approaching Newt deep in the halls of the Ministry of Magic–halls we've seen before because Harry traced those same steps to his own hearing in Order of the Phoenix. She's there as a ministry representative, as we suspected, and is prepared to take Newt to his hearing.
What the specific charges are, we can only guess. At the end of Fantastic Beasts and Where to Find Them, Newt was a bit of a hero, having assisted MACUSA in capturing Grindelwald. Is he now in trouble for unauthorized travels? For suspected involvement in Grindelwald's escape? For his refusal to divulge information on the obscurus Credence Barebone?
J.K. Rowling then comes on to provide some further insight into the film from the perspective of crafting the plot. She explains:
"In contrast to the first movie, which was a relatively straightforward narrative, although a lot was hidden, this is a complex story. So that was simultaneously very challenging to write and enormously satisfying to write, you know, because I like it. I do really enjoy a challenge, and it was finding the structure to make sense of all these different strands so that people understood, when we hit our climactic scene, what was a stake and why characters were reacting as they were to Grindelwald. And also, you've got this thread running through the movie which is–who is Credence?"
If there was any doubt, Rowling confirms the incredible forethought put into weaving the complex story–past, present and future–together, and we're confident that she not will not only squeeze every drop of emotional tension from that climax but also that she has a well-laid plan for all the questions and conflicts that will arise from it. Do not forget that there are three films remaining, and we cannot expect all the answers just yet! As she says, much is "hidden", and what we think we know by the end of the movie may not actually be so, as she said in a previous featurette (read more here and watch again below).
"Everything gets darker and more intricate.  Whatever you think you know at the end of the movie might not be the case." 
She proved in the Harry Potter series that the looming questions and conflicts all had their resolution in the end–it's going to be a journey and one that adventurer Newt Scamander is well-suited to guide us through!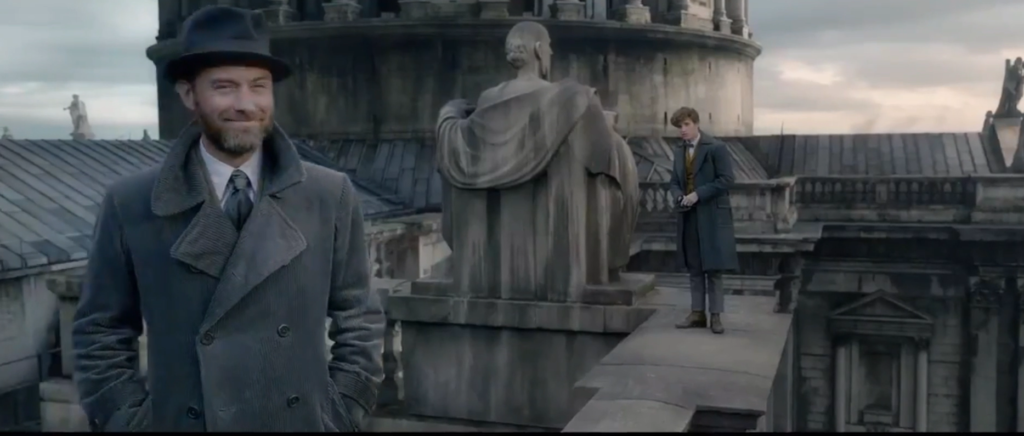 Jude Law, tapped to play the mysterious, charming and undoubtedly-skilled young Professor Dumbledore, discusses his approach to adapting the formidable character, saying:
"The preparation really started for me by talking to J. Rowling and then playing with the ideas, as I said, with David and his collaboration and skill at letting you, sort of, evolve someone freely in yourself. And I did some of my own prep on my own at home, and initially I thought I was gonna steer clear of going back and watching either Richard Harris or Michael Gambon, but I just couldn't resist. First of all, it seemed like such an obvious opportunity to watch all the films again, which was really fun, and also, you know, I just wanted to see if there was anything I could eke from them even though, as I said, it was very important to all of us that we weren't creating that Dumbledore, we were creating a man who was gonna become that Dumbledore. And that gave me, I think, freedom. That was very generous of them to give me that freedom."
After hearing these latest comments from Law, we're now even more excited to see this version of Dumbledore onscreen with an eye to catching the nuance of "already, but not yet" that he describes in the character.
Eddie Redmayne then joins the feature, which continues to play intercut with scenes from the film, to describe the differences between this installment and the last. He observes:
"The last one feels like an adventure. This is a thriller. It's taking these characters that you've met, this quartet that you've met, and the roots of them being embedded back into the folklore, the Potter-lore, that we all know and love and, really, the characteristics and histories that were hinted at in the first film really being torn back and explored. And with that comes a darkness. There is a new threat as Grindelwald mobilizes, and the stakes are just that much higher, and with that comes eternal difference, and David talks about it in terms of it being, kind of, almost like a Cold War thriller. There's a steeliness to it. And amongst that you have the creatures–you have the nifflers. You have the Jacob and Newt's, sort of, Laurel and Hardy–the likeness remains, but there is definitely a depth to them."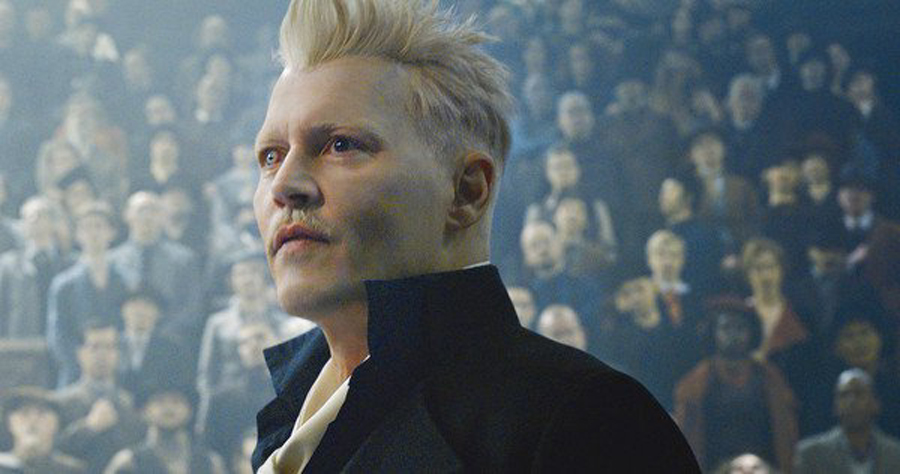 Redmayne's comments on the heightened stakes and the Cold War-era tension are reinforced by a shot of Grindelwald addressing a silent crowd. We've heard and seen pieces of this speech before, but this is a longer version, and he calmly, carefully, attempts to persuade the nervous masses, assuring:
"It is said that I hate the Mon-Magique. I do not hate them. I do not. For I do not fight out of hatred. Magic blooms only in rare souls."
The featurette then returns to director David Yates for his perspective on the dark wizard and how Grindelwald's quest for power compares to Voldemort's, showing, once again, his commitment to a keen understanding of the characters he's depicting. He observes:
"Grindelwald is a very sophisticated, a very sophisticated, villain in the sense that what he wants to do really is to win hearts and minds. He wants to convince people that his path is the right path. So Voldemort would go around killing people willy nilly and threatening people and bludgeoning people with his philosophy. So you kind of knew who the bad guy was. It was so obvious. It's that guy who wants to, sort of, rule the world. Grindelwald's much more sophisticated than that, which makes him a much more credible threat to all of our values that are so important–to people who believe in love and light and understanding and curiosity–because Grindelwald makes a case that's compelling for the path he wants to take us all down, and he pretends he's one of us. And he does it in a very sophisticated way, which makes Grindelwald, probably, the most dangerous villain ever."
Jude Law returns as well to wrap up the presentation with a recap of what fans can expect, saying:
"I think, yet again, there are a plethora of really exciting and varied personalities, fantastic new creatures and it's another chapter. It really hints, also, at more to come."
And that's a great reminder, again, from Law to bear in mind that this is a chapter in a larger story and there are more things to come! Watch the behind-the-scenes feature, including all the commentary above interspersed with incredible footage, below.
The second featurette delves more deeply into what Law touched on in the first–the film beginning to explore how "the man we all loved became who he was." Rowling also confirms what Law revealed, that the two sat down for a heart-to-heart about the character in order to help him portray that evolution, and she sets the record straight on the professor's intentions. She says:
"So when I met Jude, I basically told him everything about Dumbledore that I've ever known because, without that knowledge, Jude is playing someone who appears to be playing games with people's lives and that's not who Dumbledore is."
Rowling later adds:
"Very few people, if any, ever call Dumbledore on his Dumbledore-ishness. In other words, his withholding of information. He has this dark past in which he flirted with Grindelwald's ideology. The relationship between Grindelwald and Dumbledore is key to making Dumbledore, Dumbledore. The teenager received a wound from which Dumbledore never recovered–never recovered."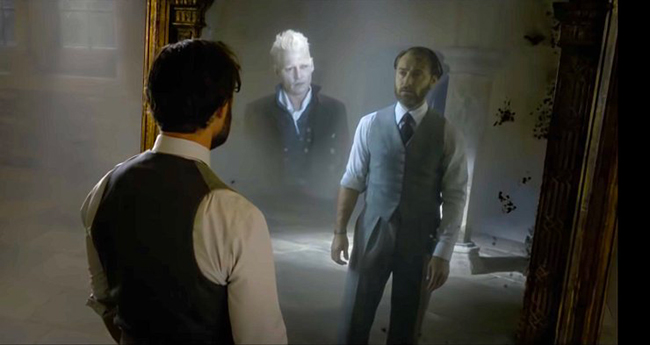 Johnny Depps weighs in on that complicated dynamic as well, noting:
"I am positive that there was a mutual respect of one another's abilities, and I'm sure, especially with Grindelwald, there is a jealousy, so maybe a bitterness, from having such love and respect."
Law feels that Dumbledore is attempting to right his past wrongs, but Rowling warns that other wizards are not going to listen to him, much like they don't listen later when he advises them on how to deal with Voldemort. But, however bleak the story gets, Rowling and Redmayne both appreciate Law's ability to bring Dumbledore's mischievous, wry humor to bear in the situations they face. She says, "I think it's gonna surprise people!" 
Watch the video below, and read Comicbook's write-up of the feature here.
Read Leaky's coverage of Harry Potter alum Evanna Lynch's take on Jude Law's Dumbledore as well–and more from MinaLima and Rowling on the wizarding world of Paris and beyond here. And remember, if you ever have any doubts along the way, Rowling knows exactly where there this journey ends and how she's going to get us there! Enjoy the ride, the theories, the debates, and be mindful to protect – and respect! – the secrets.