'Fantastic Beasts: The Crimes of Grindelwald' Roundtable Interviews: Ezra Miller and Claudia Kim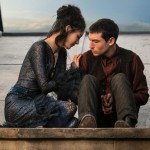 Nov 16, 2018
Leaky recently had the chance to speak to the cast of Fantastic Beasts: The Crimes of Grindelwald at roundtable interviews in L.A., and we're bringing you the interviews today – the official release date of the film – to peruse at will!
Alison Sudol and Dan Fogler | Ezra Miller and Claudia Kim | Eddie Redmayne and Katherine Waterston | David Heyman and Callum Turner  |  Review: Crimes of Grindelwald   | Paris World Premiere Report  |  London Premiere Report  |   Set Visit Reports
WARNING – MINOR SPOILERS AHEAD. You may want to return when you've seen the movie, if you're avoiding spoilers! If you have seen the film, remember: PROTECT THE SECRETS.
Ezra comes in look around each of the panel of interviewers, seemingly baffled by the format of roundtables:
"I don't even know how this works – we go in one room, come back and there's a new group of people. What did you do with the other people?!" 
He and Claudia Kim were about to discuss the ins-and-outs of Credence's return to the fray in Fantastic Beasts: The Crimes Of Grindelwald (after many thought him dead) and the huge reveal that Claudia would actually be portraying Nagini, who is much more than 'just a snake'!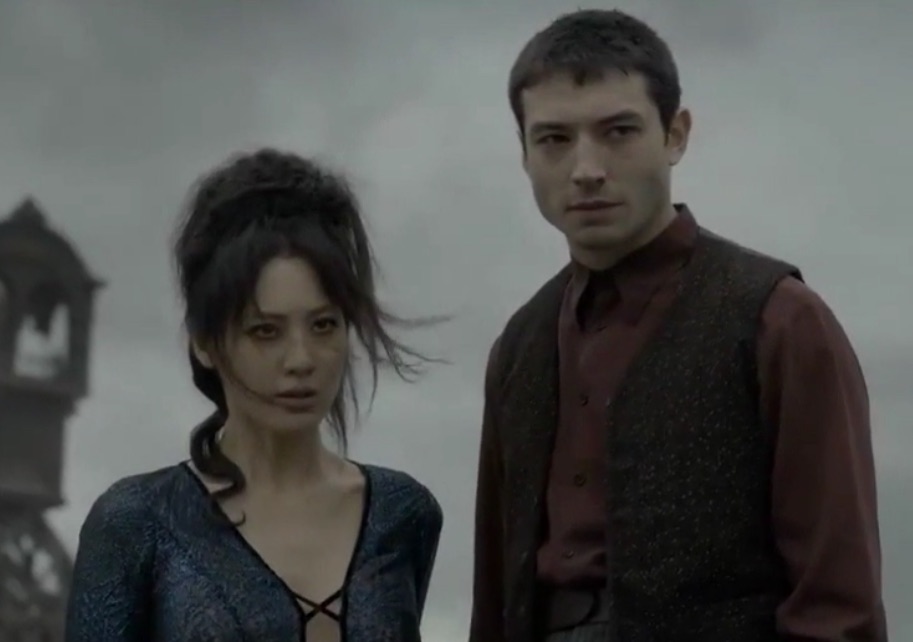 Q: "Going into the first film, you probably thought about what it would mean to become part of the Potter Universe and all the fandom that it entails. Now that you are fully a part of that world, is it as you expected, or different than how you expected it to be?"
Ezra: "Well because, I, long ago, came unstuck in time, I have this tralfamadorian view. I don't even know. I already know how it ends and everything and so I can't even pretend to speculate, cause it's just unfair, it's Dumbledore-like omnipotence… F*** – that is a joke! Yeah, for me, everything that excited me so much going into the first film and everything that I found so engaging and wonderful about working on that first project was quadrupled and massively amplified on this one. 
"The hardcore initiative taken by every single person who worked on these films, to up the ante. For this second film, everyone was on the mentality of 'but if the next one isn't 200 times better and cooler in every single way then like we're gonna hit our heads against the wall like Dobby the house elf' – before he got freed. Before. He. Got. Freed"
Ezra then made us all laugh by turning the questions on Claudia — a newcomer to the series. Of course, we're familiar with her character's serpent form from the Potter series, but Ezra was making it a little too real:
Ezra: "Claudia, how was your experience working on the first film? How was your experience on film four of Harry Potter? I loved your performance in that one, I loved your performance in seven part one, seven part two…"
Claudia: "It's like I'm your ancestor or something, it's good to be in this new age now."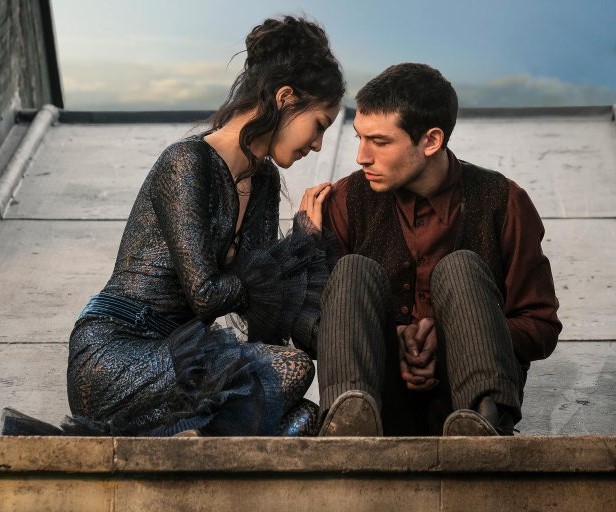 Q: "What does Harry Potter mean to you – did it loom large in your life?"
Claudia: "No, I was really into Greek mythology as a kid and then getting to read the Harry Potter books was just… It was so amazing seeing the first book, and I had to get it. You know how in Devil wears Prada she's like 'the kids want the books before they're printed', it was that excitement."
Ezra: "Yes, but without the power plays – without your Meryl Streep swag."
Claudia: "Yeah, my dad's friend travelling to the U.S., getting books for me!"
Ezra: "Well, whatever gets it done! That's what I learned from Devil Wears Prada! Whatever. It. Takes. It doesn't matter how you feel!" 
Their dynamic is great, and it's clear the duo spent a lot of time on set together preparing to show Credence and the Maledictus in a new light, and introduce Nagini in a seamless manner. Of course, being a part of Circus Arcanus, they get to be involved in some of the scenes with the most special effects, and Ezra shared some of the iconic moments from this film for him:
Q: "Both of you are in such special effect driven scenes what's sort of practical things did you have to sort of act off of onset, or did you have any sort of practical sets?"
Ezra: "Oh my gosh, yeah it's immense and immersive. The biggest CGI thing that happens to Credence on set is that arena scene you see towards the end of the film — the underground amphitheatre. The only CGI that creates a set in that way really is that we shot as one half of itself with two different groups of people, and then it was fused together to make that circular amphitheatre.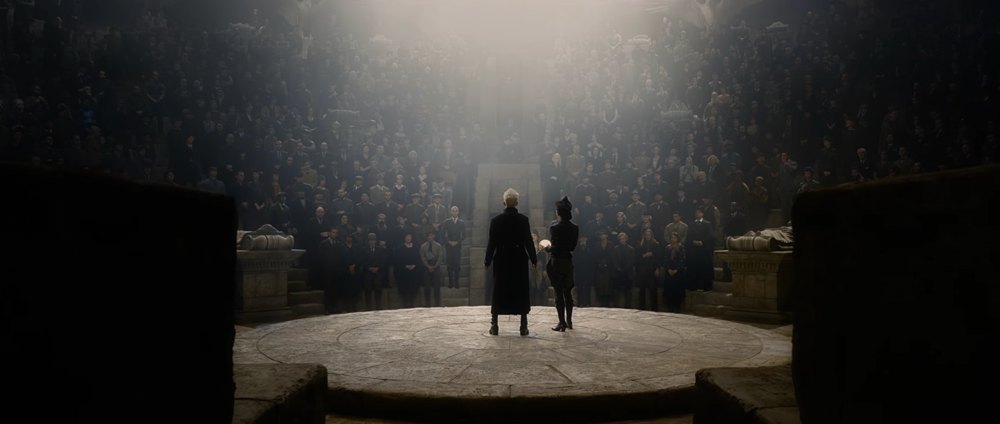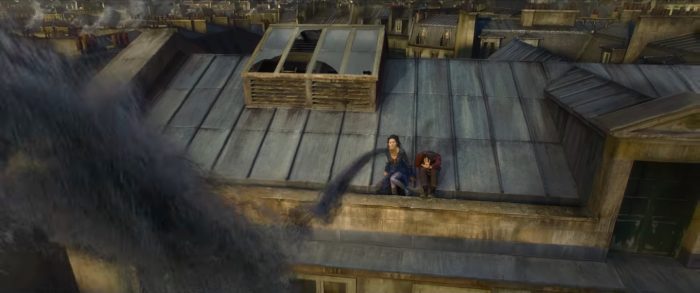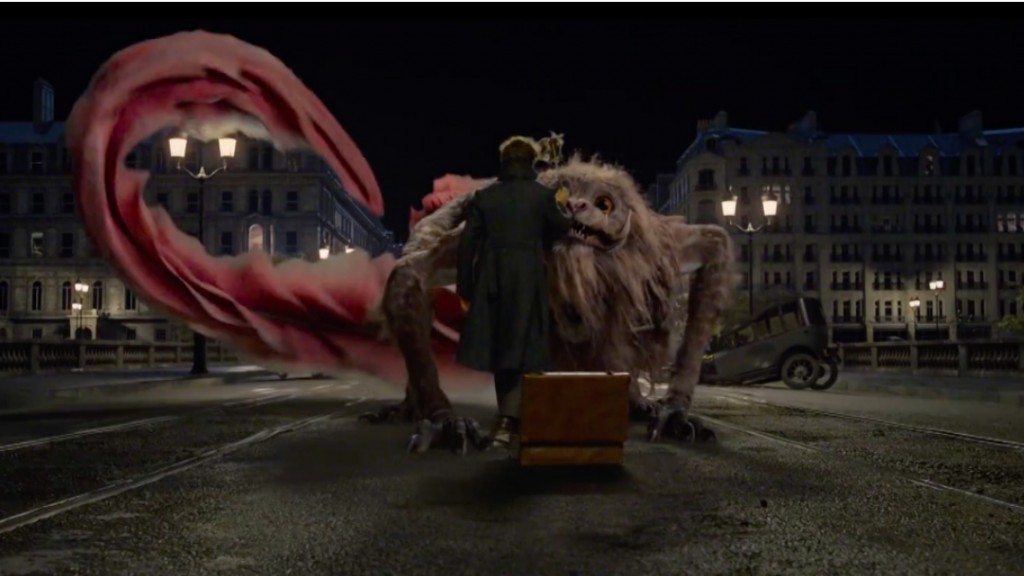 "Outside of that, Stewart is building these with the construction crew and our amazing production design teams and the incredible, you know, props department and set-dec departments, who flesh out this stuff way more than is necessary. Which they were already doing on the first film, and so  in the second film they're like, "We already flesh out all the sets way more than is necessary, but for the second film we have to do it way way way more than is even remotely necessary". But this is just unnecessary in the greatest way. I mean, it benefits only us. We go back into the back of a shop that we're never gonna shoot a scene in, but it's part of magical Paris, and so they built it completely and the cash register is filled with the appropriate magical French money and there are orders written out in the restaurants. There's like, five hundred Sneakoscopes in one corner, that you never see in any frame of the film — that you'll never see at all. It's pretty fun for us."
One interviewer got Ezra speaking about his interest in Japanese stories, namely AKIRA, an manga / anime adaptation with similar themes of war, internal battles and distrust, which the reporter said reminded them of Credence, in many ways. Ezra agreed, and turned his answer into a brilliant musing on mythology, and the importance of crediting indigenous populations for many important motifs in storytelling:
Q: "I heard you like Japanese culture"
Ezra: "And subculture. [laughs]"
Q: "I wanted to mention AKIRA"
Ezra: "I love AKIRA! Oh my gosh. Love the original, and the animated film. Yeah. Big AKIRA fan."
Q: "Credence remind me of Tetsuo"
Ezra: "Tetsuo? Yes – big time! I think this archetype repeats itself, in different forms. For me, I tried to approach this one – the Obscurial, that is – as unique, because of the way in which that destructive contained force within a person comes to exist, and what that entity is. I think that's the particular bit. Obviously there are those themes about how you relate to a destructive force within, mirrored by the story of Tetsuo. But I think when we work in fable or fairytale, in this fiction, and honestly when we work in any sort of fiction, it's important to acknowledge that the best we can do is create a reflective mirror which takes us back into Greek mythology, even further back than that to the mythologies of ancient Africa,  and the wisdom traditions that exist all over the world from ancient civilisations, and first nations, and indigenous people, who have always had the stories, and the truths about magic, about love, about war – whatever you want."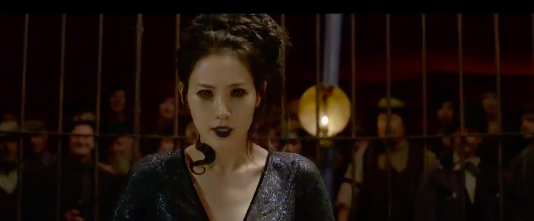 Claudia was also asked about representing Asian audiences and mythologies, and it's easy to see how much time and contemplation she's put into doing Nagini justice:
Claudia: "Of course I did my research, and tried to understand the information that was available behind Naga, and Naga women, but I think – I don't want to be arrogant when I say this-" ["Oh, please be arrogant," says Ezra], "But I embody different cultures, and I think that just comes through in my performance. The way I look, in many different aspects. I do think that part of her being vulnerable, the way she does that, there is some element of Asian cultures – the quietness, the protectiveness – that kind of feeling, but also I did put emphasis on the fact that [Nagini] is fragile, she's vulnerable, but she's not weak. Those are things that I kept in mind."
Ezra: "Definitely not weak, she could swallow you whole and just chill while she digests you for a couple of days."
One of the biggest 'cliffhangers' in the movie (or questions) is how Nagini went from a seemingly caring person to the kind of creature that would kill Snape, and how conscious her character is in snake form. Claudia says she's as clueless as the rest of us:
Claudia: "I wish I knew more, really. I wanna know does she ever learn Parseltongue, or meet Tom Riddle, or see Hogwarts"
Ezra: "That's really interesting, dude. Is she a Parselmouth already? Definitely when she's a snake, right? I mean, all snakes can speak Parseltongue."
Claudia: "Yeah – maybe she just hasn't discovered that ability yet in human form — or maybe she has."
Ezra: "Oh, or maybe she has. God, see, it's so exciting!"
Claudia: "But yeah, I'm just keeping an open mind on that!"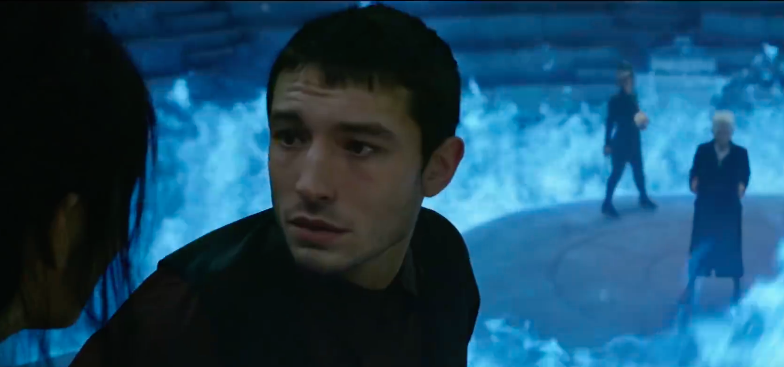 Fantastic Beasts: The Crimes of Grindelwald is officially released TODAY, November 16th! Check our interviews with David Heyman and Callum Turner, Eddie Redmayne and Katherine Waterston, and Alison Sudol and Dan Fogler, and be sure to let us know what you thought of the film! Remember to #ProtectTheSecrets!
Read more about Ezra's thoughts on Credence in our interviews with him on set, here.