SDCC 2019 Day One: Panels and Announcements From 'His Dark Materials,' 'Cursed Child' and Hero Collector!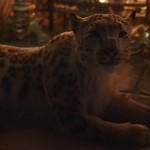 Jul 19, 2019
Welcome to day one of the con of all cons, Potter fans! San Diego Comic-Con 2019 got off to a cracking start on Thursday, July 18. And though Leaky correspondents were not yet on site, we've put together a recap of the day's events and announcements for the fandom members who couldn't make it.
The first item of interest is HBO's upcoming series His Dark Materials, based on the novels by Philip Pullman. The cast was on site and mingling with the crowd before heading toward the iconic Hall H.
"Maybe all the worlds are starting to move into one another."#HisDarkMaterials at @Comic_Con. pic.twitter.com/wqkKOImsZ3

— His Dark Materials (@darkmaterials) July 18, 2019
About to start the panel at @Comic_Con.#HisDarkMaterialspic.twitter.com/Oq7fXTa0wb

— His Dark Materials (@darkmaterials) July 18, 2019
Panel ready, Lin-Manuel Miranda, Dafne Keen, Ruth Wilson and Jane Tranter, as well as Cursed Child playwright and HDM series adapter Jack Thorne, were all smiles.
Panel ready.@jackthorne, @DafneKeen, @Lin_Manuel, Ruth Wilson and Jane Tranter are headed to Hall H. #SDCC@Comic_Conpic.twitter.com/ccnlU4Wn0I

— His Dark Materials (@daemonsanddust) July 18, 2019
To the delight of the fans, HBO unveiled an incredible new trailer with the tagline: "Who is willing to fight for truth and freedom?"
Check out the trailer for @daemonsanddust#SDCC50#HisDarkMaterialshttps://t.co/IxES3S7RXr

— San Diego Comic-Con (@Comic_Con) July 19, 2019
In addition to releasing the exciting teaser footage, the panel announced a new cast member–Harry Potter alum Helen McCrory (Narcissa Malfoy) has been tapped to voice Lord Asriel's Daemon, Stelmaria–and all the worlds begin to align!
Helen McCrory (#HarryPotter's Narcissa Malfoy) will voice Lord Asriel's Dæmon, Stelmaria! #HisDarkMaterials@darkmaterials@daemonsanddust@comic_con#SDCC2019https://t.co/jQYQAMMr7Q

— The Leaky Cauldron (@leaky) July 19, 2019
So get ready to add a new program to your line-up, it looks like His Dark Materials will be airing sometime this fall or early winter. (And keep your wands crossed that Lin-Manuel Miranda will eventually crossover into the wizarding world. That's really not too much to ask, is it?)
Though entirely unconnected, somehow this all feels one step closer to @Lin_Manuel being a part of the #WizardingWorld (which also totally needs to happen to continue the legacy of industry legends involved in the films, of course!)

— The Leaky Cauldron (@leaky) July 19, 2019
Now on to official wizarding business–Scholastic revealed plans to release a new behind-the-scenes look at the magical stage production enchanting theater communities around the globe. Titled Harry Potter and the Cursed Child–The Journey, the book will hit store shelves Nov. 5, and fans were able to get a preview of the exclusive content at the Cursed Child booth.
Just in time for Christmas, a new #CursedChild behind-the-scenes book is on its way this year! @Scholastic revealed the cover & more information today: https://t.co/jePvKitUAnpic.twitter.com/XugSxCYWA4

— The Leaky Cauldron (@leaky) July 18, 2019
Harry Potter fans get ready! We are excited to reveal the final cover for Harry Potter and the Cursed Child: The Journey. Go behind the scenes of the award-winning production currently playing in London, New York and Melbourne. #CursedChildJourney https://t.co/rLxMtp9gmF pic.twitter.com/XKqztbhj3N

— Little, Brown UK (@LittleBrownUK) July 18, 2019
Of course, that wasn't the only Cursed Child news for day one of SDCC. Nicholas Podany, Broadway's Albus Potter, was on hand to introduce San Francisco's Scorpius Malfoy. Raise your Butterbeers for Jon Steiger! 
Introducing Jon Steiger, playing Scorpius in #CursedChildSF! Jon and Nick (#CursedChildNYC's Albus) are at #SDCC50! pic.twitter.com/CFhL2dSj8y — Harry Potter and the Cursed Child SF (@HPPlaySF) July 19, 2019
The pair looked to be having a blast and invited fans to submit Harry Potter-themed challenges, which they'll answer LIVE on Twitter Friday! (We can't help but be reminded of the Weasley twins…) 
Jon and Nick are at @Comic_Con and are taking on YOUR Harry Potter themed challenges live on Twitter tomorrow! Submit your challenges below using #CursedChildChallengepic.twitter.com/AqPq0NCA6p — Harry Potter and the Cursed Child NYC (@HPPlayNYC) July 19, 2019
SDCC also hosted a Cursed Child panel, including three of the 11 illusion consultants who work on the production team. Chris Fisher, Jamie Harrison and Skylar Fox took to the stage to explain some of the magic behind the play's stagecraft. From curses to charms, the experts used exclusive footage and live demonstrations to keep the audience spellbound. 
Pottermore was in attendance to cover the panel:
Ever wondered how magical spells, curses and hexes work on stage? Were here at the Cursed Child #SDCC2019 interactive panel with a team of magic and illusions experts! — Pottermore (@pottermore) July 19, 2019
An official spoiler warning has been given! We're told to expect never-before-seen footage of the show, along with some demonstrations of magic tricks and illusions #SDCC2019

— Pottermore (@pottermore) July 19, 2019
The first trick shown is 'The French Drop' – a missing coin trick that inspires Albus Potter's 'Incendio!' scene in Cursed Child, where a Hogsmeade letter vanishes in flames #SDCC2019

— Pottermore (@pottermore) July 19, 2019
Podany and Steiger did make an appearance as well, and Nicholas discussed some of his favorite magical moments from the two-part play.
?????? https://t.co/UmwJMh6peE

— The Leaky Cauldron (@leaky) July 19, 2019
What's Nicholas' favourite moment of magic in the show? "When Albus first arrives at Hogwarts – 11 illusions in 14 minutes!" #SDCC2019

— Pottermore (@pottermore) July 19, 2019
Levitating the Time Turner in #CursedChild was both a fun and memorable project. #SDCCpic.twitter.com/NECxA1pDst — SYFY @ SDCC (@SYFY) July 19, 2019
Leaky correspondents Lauren Osborne and Sydney Dean will be arriving via Portkey (at least, that's our story) Friday and will be visiting the Cursed Child booth, so look for their live coverage on all our social media channels. Hopefully they'll have the chance to chat with some of the cast!
Finally, Leaky posted an exclusive report from Hero Collector. The collectibles company announced at SDCC Thursday that its next figure will be Fantastic Beasts' Niffler. So, hold on to your galleons–figuratively speaking, of course!
EXCLUSIVE: @HeroCollector_ will release a Niffler figure as the next in their #HarryPotter / #FantasticBeasts Wizarding World collection, announced today at @Comic_Con!https://t.co/hrVLhyz3GN#SDCC#ComicCon2019pic.twitter.com/bp6cIR0UGd

— The Leaky Cauldron (@leaky) July 18, 2019
In addition to making the rounds of the booths on day two, Leaky plans to visit as many panels of interest as possible. From Her Universe, the company which just unveiled a mini-collection of Potter-themed dresses, The Walking Dead, Netflix's The Dark Crystal: Age of Resistance and 10 Points to Slytherin: Why Good Fans Love Evil Creatures to Dan Fogler's Awesome Mixer Vol. 2 After Party, check in for our on-site coverage.
We'll also be bringing news from the Wizard's Unite immersive experience session, and don't forget to meet up with fellow players for a walking tour at 5 p.m. PT just outside the convention center at Bayfront Park!
We'll be there! ? https://t.co/XOoTIuADPP

— The Leaky Cauldron (@leaky) July 19, 2019