Weekly Round-Up: A First Look at Maggie Smith on the Downton Abbey Film Set, a New Role for Alfred Enoch, New Trailers for Julie Walters in 'Mary Poppins Returns' and Jude Law in 'Captain Marvel' and More!
Sep 22, 2018
It's been another enormous week in the Wizarding World. With the release of Crimes of Grindelwald less than two months away, we saw reveals of tie-in merch and images to go with them that prompted much speculation. Warner Bros Studio Tour London announced their second annual Hogwarts in the Snow event, we finally heard news on a release date for the Cursed Child soundtrack and images of a 15-foot Wizarding World wand installation next month in London to benefit Lumos were unveiled. On top of that, J.K. Rowling's latest Cormoran Strike novel, Lethal White, was released on Sept. 18.
This week in our Harry Potter and Fantastic Beasts Actors Round-Up we have casting news for Alfred Enoch and Ralph Fiennes, first looks at Maggie Smith and Helena Bonham Carter, new trailers for Julie Walters, Jude Law and Shirley Henderson, interviews with Ezra Miller, Warwick Davis and Natalia Tena and more!
Casting  News
Alfred Enoch Joins the Cast of BBC One's Trust Me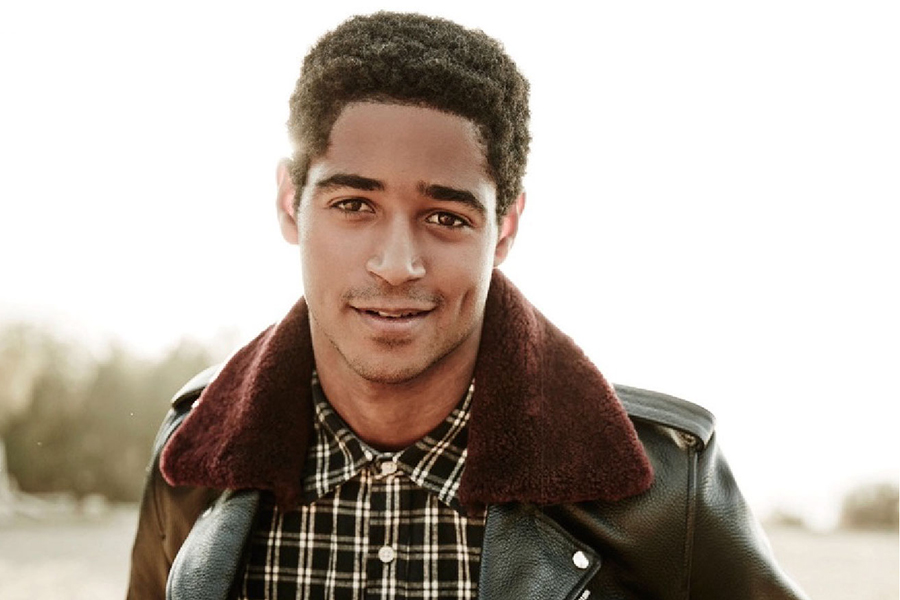 Alfred Enoch, who played Gryffindor Dean Thomas in the Harry Potter films, has joined the British medical series Trust Me for its second season. Enoch, who was last seen regularly on-screen in the legal drama How to Get Away With Murder and on the West End stage in Red, has replaced Jodie Whittaker, who has taken the baton as Doctor Who's 13th incarnation of The Doctor.
Deadline describes Enoch's role in the four-part drama as follows,
"Enoch, who also starred in Harry Potter, will play Corporal Jamie McCain, a survivor of a shock enemy attack. Recovering from a spinal injury in the neurological unit of Glasgow Hospital, which has left him temporarily paralysed, Jamie faces a new enemy as fellow patients on the ward die unexpectedly around him."
And Enoch had this to say about joining the BBC series,
"It's great to be on board, it's a cracking cast and Dan has done a great job crafting something that's really invested in the characters. It has a psychological concern that is dark and thrilling. I can't wait to get started."
Congratulation to Alfie Enoch! We'll keep you posted on an air date for season two of Trust Me.
Ralph Fiennes in Negotiations for Role in Film on Sutton Hoo Discoveries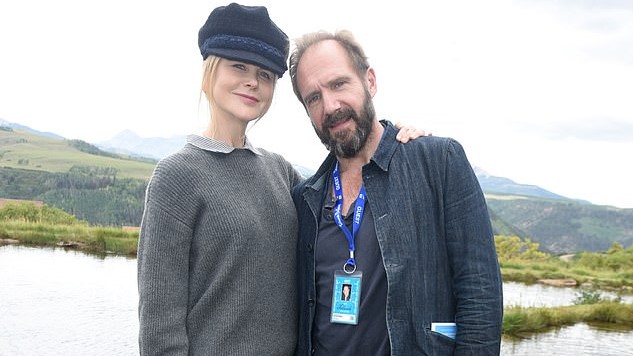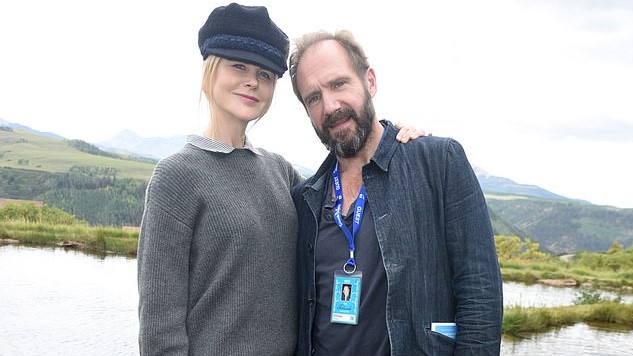 Ralph Fiennes, who's known to Potter fans as the Dark Lord himself, may be starring in an upcoming film on the archeological discoveries found at sixth and seventh-century English burial site Sutton Hoo. It looks like the project will pair him with award-winning actress Nicole Kidman, who he met up with recently at the Telluride Film Festival where his latest directorial work, The White Crow, was premiering. According to the Daily Mail, Kidman had this to say about the film's plot,
"The delicate'screenplay is 'very much about the relationship between Edith Pretty, who owned the land at Sutton Hoo, and Basil Brown, the archaeologist who found what was discovered there'."
She also had this to say about the possibility of working with Fiennes,
"I've wanted to work with him my whole life."
Kidman said she hopes production on the film will begin next summer.
Trailers/First Looks
Mary Poppins Returns Trailer Reveals a First Look at Julie Walters
Dame Julie Walters, who played beloved magical matriarch Molly Weasley in Harry Potter, will soon take the screen as another caretaker of sorts in the upcoming sequel to the Disney classic Mary Poppins, Mary Poppins Returns. Walters plays housekeeper for the now-grown Banks siblings, along with widower Michael's own children. There are no wizards in the preview for the follow-up to the iconic movie, but there is definitely magic! Get a sneak peek for the film, which opens in theaters Dec. 19, 2018, and keep your eyes peeled for Julie Walters in the credits.

The First Trailer for Captain Marvel with Jude Law
Fans will get a brief glimpse of Jude Law, Fantastic Beasts' young Albus Dumbledore, in his other mega franchise role as the yet unnamed Kree leader in the first trailer for Captain Marvel. Take a look at his mysterious, and perhaps villainous, character in this anxiously-awaited preview of the next Marvel Universe installment, but don't blink–you might miss him!
Updates from the Set of the Downton Abbey Film
Big news from the set of the Downton Abbey movie! The big screen adaptation of the wildly-popular British period drama starring Dame Maggie Smith, Harry Potter's Professor McGonagall, as matriarch Violet Crawley, Dowager Countess of Grantham, now has an official release date of Sept. 20, 2019 for North American audiences and, a week earlier, Sept. 13 for international fans. People also revealed a first look at Smith on the set of the film, which also stars Potter alum Imelda Staunton, Dolores Umbridge. Staunton's role in the film has yet to be disclosed, but we're secretly wishing for another sassy showdown!
A New Look at Helena Bonham Carter in The Crown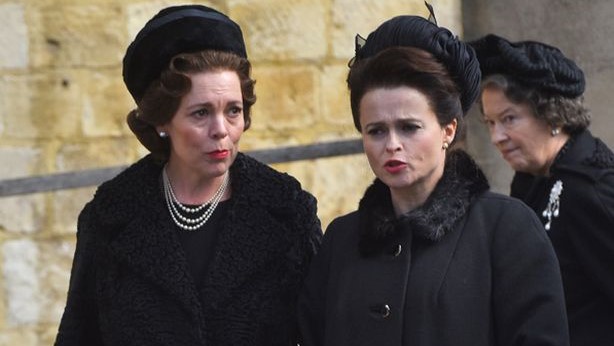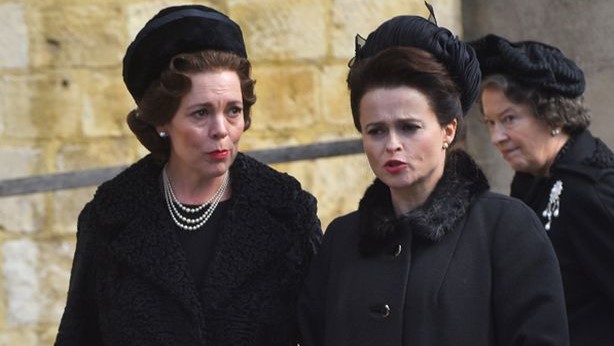 Back in July, fans got a first look at Helena Bonham Carter, best known in the Potterverse as the Dark Lord's favorite Death Eater, Bellatrix Lestrange, in her upcoming role as Princess Margaret in the Netflix period drama The Crown. Recently, The Mirror revealed new on-set shots of Bonham Carter alongside Her Majesty The Queen, played this season by Olivia Coleman. Bonham Carter takes over the role of Margaret from Vanessa Kirby, who played the Queen's controversial sister in the first two seasons of the series. And to prepare for the role, it turns out Bonham Carter has a little more in common with Professor Trelawney than we would have dreamed. According to The Sun, the actress researched the role by hiring a psychic to communicate with the deceased princess, who died in 2002. Bonham Carter's portrayal certainly has a great chance of seeming authentic as it sounds like she tapped into a generous ghost,
"She is naturally spiritual and open-minded and is delighted she's had such positive feedback from the late royal."
Season 3 of The Crown, which covers the period of 1964-1976, is likely to air on Netflix sometime in 2019.
Shirley Henderson in the First Trailer for Stan and Ollie
Shirley Henderson, the Olivier Award-winning actress who is best known to Potter fans as Moaning Myrtle, portrays the wife of Stan Laurel in the long-awaited biopic of the 1920s comedy duo Laurel and Hardy, Stan and Ollie. The first trailer for the film, which depicts the the duo on a British tour late in their careers, can be seen below. Stan and Ollie opens in UK theaters Jan. 11.
David Thewlis in Season 2 Trailer for Big Mouth
Earlier this year, David Thewlis, Harry Potter's beloved Marauder and resident werewolf Remus Lupin, joined the cast of Netflix adult animated comedy about teenage puberty, Big Mouth. Thewlis will once again step out of his usual Muggle roles to voice the Shame Wizard, the enemy of Maurice the Hormone Monster, who uses shame as a way to haunt all the kids. Thewlis joins Nick Kroll, Gina Rodriguez and such comedic talent as John Mulaney, Maya Rudolph, Jordan Peele and Fred Armisen in the show's second season, which will be available on Netflix Oct. 5. Take a listen for that voice Potter fans know so well…with a twist:

Interviews
Interviews with Ezra Miller's Sons of an Illustrious Father
When Ezra Miller, Fantastic Beasts Credence Barebone, isn't in front of the camera, he can be found making music as a member of the indie alternative trio Sons of an Illustrious Father. The band, who recently self-released their latest album Deus Sex Machina: Or, Moving Slowly Beyond Nikola Tesla and is currently on tour in the southern U.S., sat down with Them to talk giving their unique sound a name.
According to Them,
"'Genre queer' is the term the band Sons of an Illustrious Father have settled on to describe their sound, which is a little bit punk, a little bit folk, and a little bit elemental."
Miller had this to say about their music,
"We don't sit around thinking about how we can defy genre; we make the music we want to make, and base it on the ideas we want to communicate, and 'genre queer' is a result of that,"[…]"We've long since abandoned the effort to self-categorize, and that's been a huge help. It's been a wonder for our process of expression."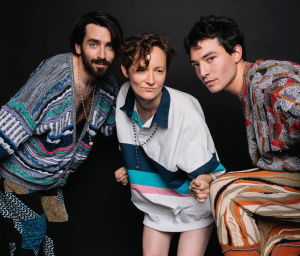 The band also did a photo shoot for The Radical and talked about their new album. Their song "U.S. Gay" has become as anthem for the LBGTQ community, and Miller had this to say about their platform,
"The goal is to speak from the honest seed of ourselves and not to speak for others, but to hopefully air a reflection of being real with ourselves and who we are."
Interested in seeing Sons of an Illustrious Father in concert, check out their schedule.
Getting to Know Domhnall Gleeson as He Talks The Little Stranger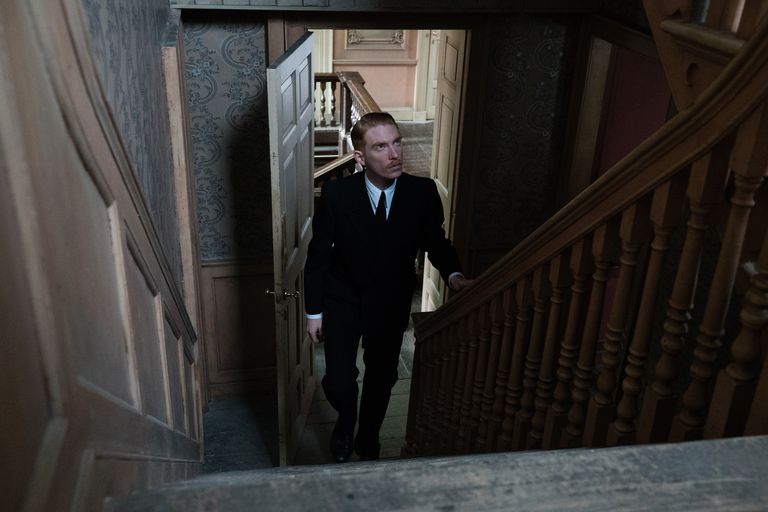 Domhnall Gleeson, Harry Potter's Bill Weasley, has been on a promotional tour for the upcoming supernatural thriller The Little Stranger, a period film in which Gleeson plays Dr. Faraday, a physician who comes to treat a patient at a haunted estate, one he visited as a young boy. One of the outlets who had the chance to talk with the film's star was Esquire, who delivered some interesting rapid-fire questions Gleeson's way.
His description of The Little Stranger,
"If you put a ghost into The Remains of the Day, you wouldn't be too far off it. Hopefully, The Little Stranger is a love story – a twisted love story which becomes something different."
One was about his experience early on with the Star Wars franchise,
"My first 'Oh my God I'm in Star Wars' moment was being in one of the corridors – one of the famous corridors on the Star Destroyer in the first one – and the doors going shhhhwoop. That was a little thrill, trying not to stare at it and smile every time the door went shhhhwoop. That was pretty great. And seeing Adam Driver in costume. I thought "Holy s**t, we're in Star Wars. This is amazing".
Another about the best advice he's ever been given involved a couple of other Potter alums, Bill Nighy, Rufus Scrimgeour and his father, Brendan Gleeson, Mad-Eye Moody,
My dad said, "Don't wait for the phone to ring," when it comes to acting. And Bill Nighy said, "Don't smoke".
He also told Esquire that the role model men needed now was someone like his dad. He added that Barack Obama was "alright" as well, and we wonder if he didn't have to answer so spontaneously if he would have added Mr. Weasley to the list!
The Little Stranger opens in theaters Sept. 21.
Warwick Davis on the Possibility of a Willow Sequel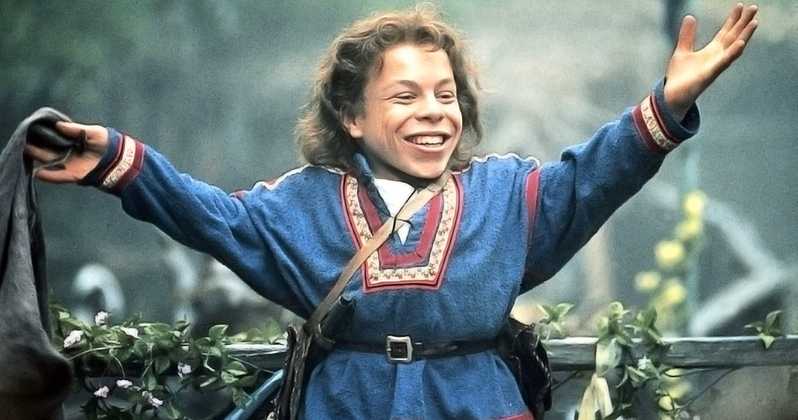 Warwick Davis is best known to Harry Potter fans as Charms Professor Filius Flitwick and Gringotts Goblin Griphook, and maybe for his roles in the Star Wars films, but 30 years ago he also starred in the popular fantasy film Willow directed by Ron Howard. Davis reunited with Howard on the set of Solo: A Star Wars Story, and the subject of a possible sequel was a topic of conversation. Davis talked to CinemaBlend recently  and shared his thoughts on the follow-up,
"That would be hugely exciting….revisiting Willow as a character, now he's older and wiser and perhaps even a better sorcerer, who knows by now, would be brilliant fun. I would absolutely love to do that. Ron and I we chatted about Willow quite a lot. Jon Kasdan who was obviously the screenwriter on Solo, he's a pretty big fan of Willow, it's one of the reasons he got into screenwriting and filmmaking. He and I talked a lot about where we could take Willow in the future".
And it sounds like Davis may not need to work any magic to see a sequel come to fruition,
"I remember a particular day which was very special on Solo. I was working with the second unit and Ron, and I got a message through saying "oh George [Lucas] is here today, he'd like to see you.' So I went on set, it was the day they were on the Falcon. I remember myself, George, Jon Kasdan, Kathy Kennedy all chatting about Willow. I would think 'this is like the stars have aligned right here. If anybody's going to get a sequel or something else made in regard to Willow, this is it and this is the time to do it.' Who knows, kind of watch this space, I guess."
We'll keep you posted on the status of a Willow sequel and, in the meantime, Davis can be seen as host of the British game show Tenable, which recently began a new season on ITV.
Natalia Tena Talks Anchor and Hope and Tours with Molotov Jukebox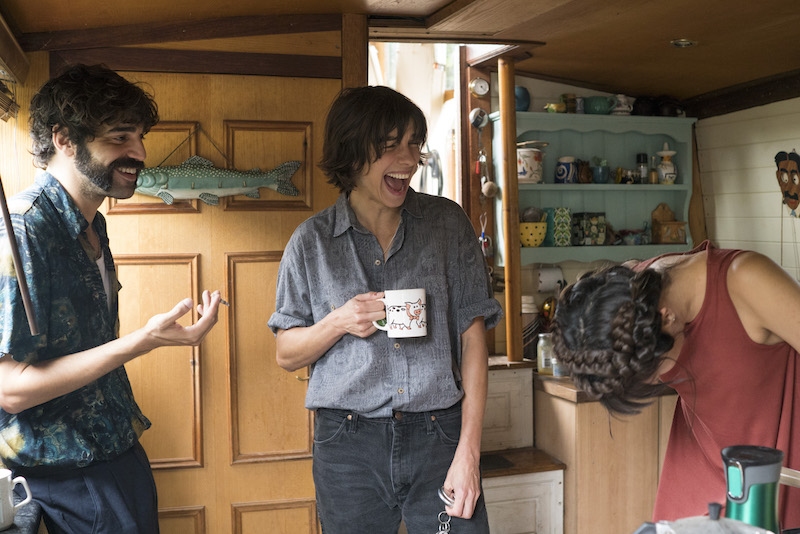 Surrogacy drama Anchor and Hope ,starring Harry Potter's polychromatic-haired auror Nymphadora Tonks, has received critical acclaim since festival season last fall. Recently Tena talked with Diva Magazine about two topics featured in the film–alternative families and London canal boat living. Not only do she and her on-screen partner live on a canal boat, Tena does in real life as well. She told Diva this about how her lifestyle translated to the film,
"I think the film was really inspired by canal life, and also by the film's director, Carlos Marques, living on a really good friend of mine's boat. Through that, he really got a sense of what it's like to live in an alternative London."
Tena is also hoping that the film will give insight on LGBTQ families,
"Stories are there to make people feel connected to other humans, and it's great for people to see that,"[…..]"Two heterosexual white people living in a house, having a few kids and a f****g dog — that's not all there is."[…] "When you're a heterosexual couple, you don't have to make that big decision of having a kid, where as with same-sex couples, there's so much involved in starting a family.
Anchor and Hope opens in UK theaters Sept. 28.
Fans can also currently find Tena on the accordion and as lead vocalist on tour with her band, Molotov Jukebox:
BANGING Asian grub @SatayYoBeer perfect face food pre @Molotov_Jukebox sound check @Leadmill pic.twitter.com/OBL8aQ6WAv

— FATNAT (@FATNATEATING) September 21, 2018
Awards and Announcements
Team Starkid Founder Darren Criss Wins an Emmy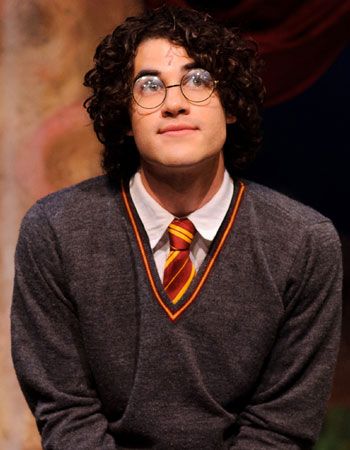 Darren Criss has come along way from his days at the University of Michigan as co-founder of Starkid Productions, the musical theater company that created the Harry Potter parody A Very Potter Musical. Criss, who himself played The Boy Who Lived back when the production was conceived through the premiere of its third installment at LeakyCon in 2011, earned a Primetime Emmy at this year's ceremony earlier this week for Outstanding Lead Actor in a Limited Series or Movie for his role as serial killer Andrew Cunanan in FX's The Assassination of Gianni Versace: American Crime Story. Congratulations to Darren Criss!
Disney Gives Feathers Up for a Third Season of DuckTales with David Tennant
Just ahead of season two of the animated reboot DuckTales with David Tennant, Potter's Barty Crouch, Jr, as the voice of Scrooge McDuck, Disney announced the series has been greenlighted for a third season. Watch Tennant and his co-stars do a little quacking about the big news! Season 2 of DuckTales begins Oct. 20 on the Disney Channel.
That's all the news for this week from the Harry Potter and Fantastic Beasts actors. Take a look at our Theater Round-Up for all the magical news from the stage, and join us back here again next week for all the best coverage of your favorite wizards!