Happy Birthday to Bonnie Wright!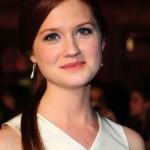 Feb 17, 2017
Happy 26th birthday to Bonnie Wright, best known to Harry Potter fans as their favorite ginger sister Ginny Weasley Potter.
Leaky has kept close tabs on the busy Ms. Wright in the past few months. As reported here in January, fans will be able to catch up with her in person at the Salt Lake City, Utah Comic Con next month. In the past year, Wright has been busy writing and spending time on the other side of the camera from her Potter days. As owner of the production company, BonBonLumiere, Wright directed the upcoming film adaption of S.A. Byatt's short story Medusa's Ankles starring Harry Potter's Lucius Malfoy, Jason Issacs  covered here by Leaky.
Wright was on hand last year for the opening of the Fantastic Beasts exhibit at the Warner Bros Studio Tour in Hollywood, as well as in Haiti with Potter alum Evanna Lynch, doing some work for J.K Rowlings' charity Lumos as reported here and here by Leaky
In honor of her birthday, we've included this Pottermore interview with Wright from last summer. Take a look here if you're interested to know if she was sorted into the same house as her character!
Here's to wishing Bonnie Wright (one of our favorite Gryffindors) the happiest of birthdays from the Leaky Cauldron!