Who's Excited for Another 'Harry Potter' Cast Round-Up?!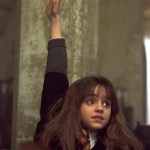 Feb 25, 2017
Harry Potter news abounds this week, including an update on the Love Actually reunion, coverage of the upcoming Leaky Con event, a look at the splendid Emma Watson's premiere of Beauty and the Beast, an honor for Timothy Spall, more from David Tennant, and a potential new project for Gary Oldman.
Leaky recently reported on the buzz surrounding the sequel to the hit film, Love Actually. Appropriately, love for the movie has only grown over the years since its release in 2003, and as soon as whispers of a reunion began to circulate, fans were clamoring to find out which cast members would be returning–most notably, Emma Thompson.
Thompson played Karen in the original, wife to Alan Rickman's Harry. The relationship was wrought with tension and conflict as he pursued a dalliance with another woman, and there has been much speculation over the years as to what would happen in their marriage going forward.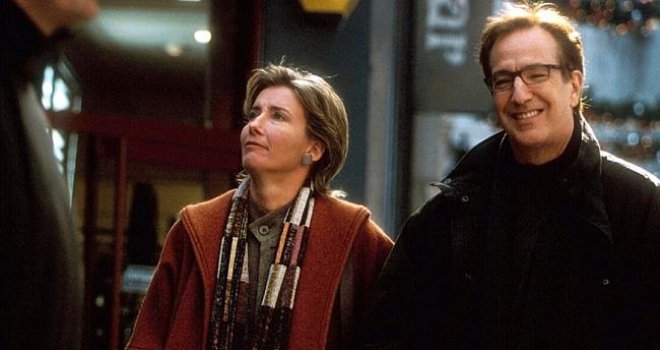 In 2015 fans were somewhat appeased with this revelation:
@JPerlstrom they stay together but home isn't as happy as it once was.

— emma freud (@emmafreud) December 13, 2015
And though the incomparable Rickman, forever known to Harry Potter fans as Severus Snape, sadly passed away in January of 2016, fans were still hopeful Thompson, also a Potter alum, would be induced to make an appearance in the new mini-movie for the Comic Relief charity.
However, E Online reported that Thompson will not, in fact, be part of the sequel, gracefully giving the following explanation to the Press Association:
"Richard [Curtis] wrote to me and said, 'Darling, we can't write anything for you because of Alan,' and I said, 'No of course, it would be sad, too sad…It's too soon. It's absolutely right because it's supposed to be for Comic Relief but there isn't much comic relief in the loss of our dear friend really only just over a year ago…We thought and thought but it just seemed wrong…"
Her reasoning is entirely understandable, and we will have to take comfort in looking forward to another upcoming reunion–a fandom reunion! Breaking News is reporting on the Leaky Con event to be held in Dublin, Ireland August 31st to September 3rd.
Leaky Con sent out a series of promotional tweets in January to conjure hype over the event details and encourage ticket sales.
Nice work! Ticket information has been unveiled! To reveal the day tickets go on sale, share this post on Facebook! https://t.co/UviqpIo5d3 pic.twitter.com/GzLlsth9Au

— LeakyCon (@LeakyCon) January 24, 2017
The convention is billed as an immersive Harry Potter experience and has been held in different locations annually since 2009. According to Leaky, tickets are available now and fans can look forward to these exciting activities:
"Enjoy hours of panels, programs, performances, and exciting themed events as we journey back to Hogwarts "19 years later" for the start of a magical new term. Discuss age-old Potter fan theories as well as new, burning Fantastic Beasts questions."
There is no shortage of fan fervor these days as we also anxiously await further news on the long-running, popular series, Doctor Who. David Tennant, the slithering Barty Crouch Jr. to Potter fans, is also the favorite Doctor of many, and he has made numerous comments of late on the future of the show.
Since no new Doctor has been announced for the next season, Leaky shared Tennant's thoughts on a replacement as some suggested his Broadchurch co-star, Olivia Coleman, for the role. He said:
"If the two of them [Colman and Chibnall] have been having top secret discussions behind my back, I will be furious! Olivia would clearly be a magnificent choice."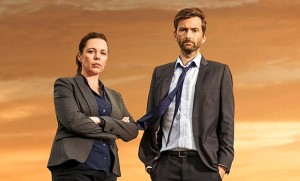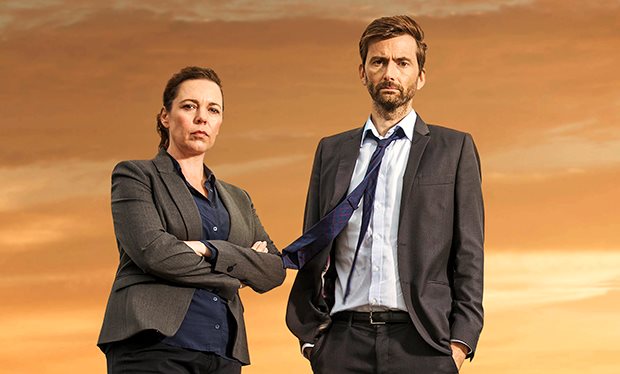 Tennant mentions Chibnall because the Broadchurch showrunner has now taken the reigns for season 11 of Doctor Who from Steven Moffat. Movie Pilot reports that Tennant spoke to Digital Spy about this changing of the guard. Tennant commented:
"I think it was an inevitability that the world would turn to Chris. It's a big, massive, difficult job and it needs someone who is as enthusiastic and talented as Chris. It'll go from strength to strength. It's nice to know it's in safe hands, because it's such a prized property."
His confidence ought to be an encouragement to fans, particularly since Tennant has a history with both. It sounds like there's much to look forward to for the next time-traveling Doctor!
Speaking of time-travel, we were transported this week to another world and time, one of enchanted fairy tales. Disney's live-action remake of the 1991 classic, Beauty and the Beast, premiered in Paris Thursday, and Emma Watson, our beloved Hermione Granger, looked every bit the 'belle' of the ball!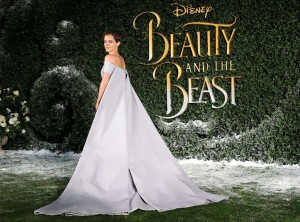 The cast, including Emma Thompson (Mrs. Potts), gathered to introduce the film at the gala screening, and all appeared exceptionally proud and pleased to be there.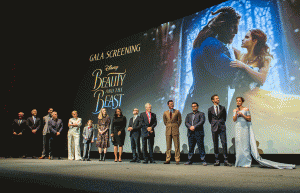 In its coverage of the event, E News pointed to Watson's recent Entertainment Weekly interview to explain why this film, and Watson's take on Belle, will be so compelling to fans–old and new. She said:
"What's so beautiful about this story as a whole is this idea that Belle is able to see past these extraneous, external, superficial qualities of Beast…She is able to see deeper, and that's one of her special powers. It's her superpower: empathy."
With this film, due in theaters March 17th, Watson is well on her way to cementing her status with a new generation, adding to the legend of this classic character and her own emergence as a role model. She'll be in good company, however, considering the number of highly-revered Harry Potter alums, including the excellent Timothy Spall.
We know him as the smarmy, simpering Peter Pettigrew, but he's taken on many roles over the course of his storied career, including one in which he portrays 16 different parts for the intriguing Stanley–A Man of Variety. Leaky previously reported that Spall won the Edgeware Outstanding Achievement Award at the UK Film Festival in London for the film.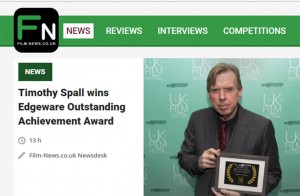 Now Film News has announced that Spall will be honored as a special guest at MANIFF17 where he will participate in a Q&A with director Stephen Cookson at a screening of the film. The article describes it as follows:
"Timothy Spall is outstanding in this amusing and often moving story of Stanley, a middle-aged man who enjoys watching classic British films and TV shows from the 1960/70's. He finds himself in prison for a crime that he believes that he didn't commit and after many years in solitary confinement his quest to see his daughter for her 16th birthday becomes his obsession. He begins to talk to his comedy heroes from the past as each one tries to help him remember what he has done."
Not to be out-done, his onscreen nemesis, Sirius Black, has some news to share, as well!  The Evening Standard reports that Gary Oldman has written a film, tentatively titled Flying Horse, about the Victorian photographer, Eadweard Muybridge. Muybridge was famous for his images of moving figures and is most well-known for capturing a galloping horse in mid-air with all four hooves off the ground.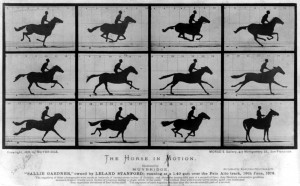 Oldman hopes to direct the film, so we'll be on the lookout for developments on that front. In the meantime, if you're interested in learning more about Muybridge's technique, you can visit a show by Paul Mowatt at the Kingston Museum which recreates Muybridge's trademark effect and includes two videos on his work.
As per usual, the Harry Potter cast never fails to entertain and, often, enlighten! While they are all exceptionally talented, we're always impressed by their thoughtfulness and commitment, too, both to their craft and to other causes and interests. As Albus Dumbledore wisely said, "It is our choices that show who we are, not our abilities."