Rupert Grint Discusses Life and Career After 'Harry Potter'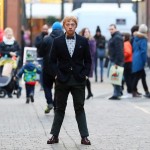 Mar 14, 2017
Rupert Grint is best known for playing Ron Weasley in all eight films of the Harry Potter series. But, after inhabiting one character for so long, and at such a relatively young age, he struggled with whether to continue pursuing a career he grew into, rather than chose.
In an interview featured in the new issue of Entertainment Weekly, Grint reflected on the unique experience he had with Dan Radcliffe (Harry Potter) and Emma Watson (Hermione Granger) and how he felt about acting when the series was over. He said:
"We had such an intimate and intense few years in this bubble…When I started, [acting] was never something that I aspired to do. I did acting with school plays and stuff like that. But it was never something that I actively dreamed of. I mean, I fell in love with it while I was doing it. But I definitely did think, 'Is this really what I want to do?' I wanted to live a little bit. I felt like I'd missed out on a lot. Being in that adult environment from such an early age, it was nice to just be away from it and not have any kind of commitments at all, and just be a bit free."
Grint's desire to set his own schedule and career path in the aftermath is understandable, but we're glad he returned to the craft that won him over. "Snatched" back to work by the acting bug, if you will, Grint has worked in film and television on and off in the years since Deathly Hallows brought JK Rowling's adaptation to a close.
EW.com reports that he wrapped the British television show Sick Note, also starring Nick Frost and Don Johnson, and he'll be seen later this month in Snatch when it premieres on Sony's streaming service, Crackle.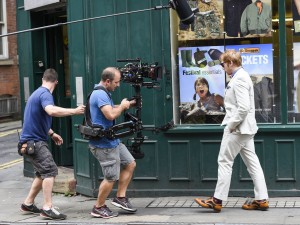 A recent Leaky article described his role in the series as follows:
"Grint's character Charlie Cavendish has been described as a 'dynamic, frustratingly chaotic, and utterly posh con man' who is set up to be carrying out a heist against one of London's crime bosses (played by Ed Westwick) with his criminal pals. Grint is painted as the comic relief of the series."
He was spotted three days ago at the LA launch party for Snatch with fellow Potter alum Bonnie Wright, who played his sister, Ginny Weasley. Leaky celebrated the "family" reunion and shared an Instagram photo of Grint with his #proudsis.
Pick up the latest Entertainment Weekly issue for the full interview with Rupert Grint and read the rest of the teaser coverage at EW.com here.