A Musical Collaboration for Cursed Child Playwright Jack Thorne and La La Land Director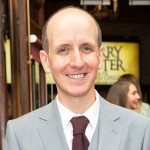 Apr 29, 2017
It doesn't look like playwright Jack Thorne has any intention of slowing down since Broadway-bound Harry Potter and the Cursed Child's, record-breaking achievements at the Olivier Awards earlier this month. Thorne's got an excellent collaboration coming up with one academy award-winning director, and we can't wait to see the outcome!
In addition to the best play trophy he took home for the wizarding stage production he penned, Thorne, who is also a BAFTA-winning screenwriter, is responsible for an upcoming episode of Philip K. Dick's Electric Dreams starring Harry Potter's Peter Pettigrew, Timothy Spall, as well as co-writing Warner Bros DC movie The Sandman due out in 2018.
If that weren't enough, Thorne has also made his mark on television recently, winning the Royal Television Society's best miniseries award for Hulu's courtroom drama National Treasure starring Harry Potter alumni Robbie Coltrane (Hagrid) and Julie Walters (Molly Weasley) as well as scribing the highly anticipated adaption of Philip Pullman's His Dark Materials for BBC One  as covered  recently by Leaky. On top of these acclaimed projects, Thorne continues his stage work with Woyzeck currently playing at the Old Vic Theatre, starring John Boyega and his first musical, Junkyard, which have both received glowing accolades, including this exclusive review of Junkyard from Leaky and even from the Cursed Child cast:
.@jackthorne #potterfamily night out at the amazing uplifting #Junkyard . Brilliant show. Brilliant cast. pic.twitter.com/YhbG8CXUuk

— Poppy Miller (@Popski_emski) April 25, 2017
It appears his recent foray into musical theater has lead him down a path towards an intriguing new project. Two of the most currently celebrated creative minds in the entertainment industry are teaming up to conceive a TV musical according to The Hollywood Reporter. Damien Chazelle, Oscar-winning director of the critically and commercially successful movie musical La La Land, who is now the youngest winner in history of the Academy Award for best director, has joined forces with Thorne to conceive The Eddy.
(Image by Dale Robinette/Lionsgate via AP)
The Eddy, a musical drama is set in a contemporary Paris nightclub, has yet to become attached to any specific network or streaming service, but sounds like a concept that won't take long to get picked up.
Considering the number of awards connected to these two visionaries, our bet is there may be at least a handful of viewers that tune in to find out what this melodious project is all about, including a plethora of fans of the Wizarding World.
Stay tuned to Leaky for more information on The Eddy. To read Leaky's exclusive interview with Jack Thorne and learn more about his recent work click here.