Theater Round-Up: Evanna Lynch and Eddie Redmayne Attend Magical Productions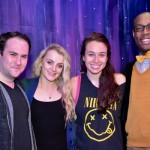 Jan 25, 2018
In this week's theater round-up, Evanna Lynch not only saw continued success for her current project, Disco Pigs, but she also visited another Off-Broadway stage for a return to the magical world. Eddie Redmayne found himself in the theater as well, charmed back to Hogwarts–perhaps missing J.K. Rowling's enchanting story now that shooting on his latest Fantastic Beasts film has wrapped. Last, but by no means least, the Cursed Child production in New York continued to make headway as it finally nears its March opening!
Evanna Lynch's Disco Pigs Gets Extended Run
Leaky recently covered the exciting news that Evanna Lynch's Disco Pigs made the move to the Off-Broadway Irish Repertory Theatre. Enda Walsh's play, celebrating its 20th anniversary, opened Jan. 9 and was originally scheduled for a limited run ending Feb. 18.  Now, Theater Mania has announced the run has been extended, giving fans more opportunities to see Lynch and costar Colin Campbell on stage with Irish Rep specifying through twitter that the production will go through Sunday, March 4!
.@IrishRep extends Enda Walsh's DISCO PIGS, starring Harry Potter's @Evy_Lynch ? https://t.co/zxBin2k2xPpic.twitter.com/guZNLubTqx

— TheaterMania (@theatermania) January 18, 2018
And when she's not performing, Lynch found time to stop by a performance Puffs, also known as "Seven Increasingly Eventful Years at a Certain School of Magic & Magic".
According to Broadway World's synopsis:
"[It is] a Potter inspired comedy for anyone who has ever felt like a secondary character in someone else's story. The play gives you a new look at a familiar adventure from the perspective of three new heroes just trying to make it through magic school."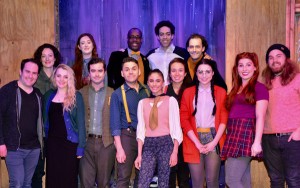 Lynch happily posed with the cast and creative team afterwards and looked like she had a magical time! Though she may have been one of the larger players later in a certain Potter story, she no doubt enjoyed the new comedic approach immensely.
She also appeared on Backstage Live earlier this week to discuss her current and upcoming projects–and more!
Heads up, actors! The one and only @Evy_Lynch from #HarryPotter fame is joining us on Backstage Live TODAY (1/22) at 1pm ET to chat about her new #OffBroadway show, #DiscoPigs! Join the conversation at https://t.co/AhoMpuugIZ! pic.twitter.com/8doNx3Ks8O

— Backstage (@Backstage) January 22, 2018
View the full interview below.
Eddie Redmayne Attends Cursed Child in London
While Evanna Lynch, known for portraying Luna Lovegood in the Harry Potter series, was attending an alternate version of her school days at the most prestigious School of Witchcraft and Wizardry, Eddie Redmayne, our humble and beloved Magizoologist Newt Scamander, made a visit to another wizarding production–Harry Potter and the Cursed Child in London.
Redmayne also hung out with members of the cast after the show and by all appearances had a delightful time! Tom Aldridge, who plays Ron Weasley, was effusive in his praise. 
Eddie Redmayne is quite literally one of the nicest guys I've ever spoken to!! How can you be an Oscar winning actor and be THAT humble, genuine & generous in praise. What a joy it was to meet him! https://t.co/f2tl9XNMgy — Tom Aldridge (@Thomas_Aldridge) January 24, 2018
Perhaps they even swapped tips on portraying famous wizards to ensure Jude Law, as recounted in Leaky's coverage of Redmayne's recent Radio Times interview, isn't the only one upping his game in Fantastic Beasts: The Crimes of Grindelwald!
In addition to Eddie Redmayne, another special guest visited the Palace Theatre to experience the magic of Harry Potter on stage this week. Renowned mouth painter and author Henry Fraser, whose 2017 book, The Little Big Things, includes a foreword by J.K. Rowling, had the opportunity to see Harry Potter and Cursed Child accompanied by his brothers:
A night out at the theatre with my brothers.

They like being around me as it makes them feel tall. pic.twitter.com/7U5uOJncE7

— Henry Fraser (@henryfraser0) January 24, 2018
The award-winning London production of Cursed Child is up for Best West End Show and Best Show Poster for the WhatsOnStage Awards. Don't forget to vote by January 31!
Vote for #CursedChild to win Best West End Show and Best Show Poster in the #WOSAwards. Voting closes next week on 31 Jan: https://t.co/SrTwwLN4PB pic.twitter.com/SQbS9B7ma1

— Cursed Child Play (@HPPlayLDN) January 25, 2018
Cursed Child NYC Continues to Prep for March Opening
Leaky reported earlier this month that Broadway rehearsals for Harry Potter and the Cursed Child had finally begun for the seven transferring cast members and their new American costars. They, too, returned to Hogwarts with great enthusiasm, determined to work hard and savor every moment on the way to the opening of previews March 16. 
Rehearsals have started for the Broadway production of #CursedChildNYC! Previews begin March 16. More tickets released Feb 7 through registration only – for info visit https://t.co/JSGZm2k3Nepic.twitter.com/BJkCntpBa6 — Cursed Child NYC (@HPPlayNYC) January 11, 2018
Pictures surfaced of further preparations for that magical day as the now-iconic Cursed Child art began to take shape on the exterior of the Lyric Theater!
Exterior display for @HPPlayNYC coming together on the 43rd Street side of the Lyric Theatre. pic.twitter.com/Ydu3Id3Yo1

— Howard Sherman (@HESherman) January 24, 2018
The opening cannot come soon enough for eager fans, and those hopeful of obtaining tickets can look forward to the next batch, available through registration only starting Feb. 7!