Weekly Actors Round-Up: Dan Fogler Talks Fantastic Beasts with Collider, Eddie Redmayne at Stephen Hawking's Funeral, Potter Alum at Comic Cons and More!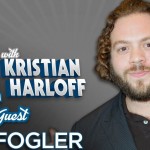 Apr 07, 2018
As always, it's been a busy week in the world of Potter. Leaky covered interviews with Anthony Boyle and Sam Clemmett as they near the Broadway premiere for Harry Potter and the Cursed Child, rumors began circulating of an expansion of Universal Orlando's Wizarding World of Harry Potter and a release date was announced for the Harry Potter mobile roleplay game from Jam City and Portkey Games, Hogwarts Mystery. It's been no less busy a week for Potter alumni, including Michael Gambon, Maggie Smith, Warwick Davis and others who will be revisiting their film roles voicing characters for the game.
In addition to the big Mystery news, Dan Fogler reveals his latest podcast and talks Fantastic Beasts with Collider, Sir Kenneth Branagh has a new project for television, Eddie Redmayne gives a reading at Stephen Hawking's funeral, Killing Eve with Fiona Shaw premieres this weekend, and five Wizarding World actors make appearances at a comic con.
Podcast Host and Guest Dan Fogler
Dan Fogler who plays Fantastic Beasts favorite Muggle Jacob Kowalski, is a prince of pop culture outside his role in the Wizarding World. In addition to his soon to be released graphic novel Brooklyn Gladiator, Fogler helms his own podcast, DAN FOGLER'S 4D EXPERIENCE on iTunes. The title of his show is the perfect description for his latest episode which delves into the Oasis, the virtual world of Steven Spielberg's sci-fi action adventure and fandom behemoth Ready Player One, adapted from the bestselling novel by Ernest Cline.
Fogler recently spent time on the other side of the mic discussing Fantastic Beasts and more as the inaugural guest of Collider.com's new podcast. 1×1 host Kristian Harloff started off the interview asking about Fogler's audition process for Fantastic Beasts and how he found out about the role in the middle of the 2015 San Diego Comic Con. He said that once he got the role, he had the chance to meet with J.K. Rowling, and that there was a "rockstar energy" in the room when she was on set.
At the time, Rowling shared Jacob's story arc for the next three movies which he thought was so cool, but when he returned for filming the sequel and met with her again, she told him the whole storyline had changed! Hmmm, we wonder how that bit of information fits into our Crimes speculation?? 
Harloff asked what it was like to meet Rowling, and his response was something most Potterheads should be delighted to hear,
"The main thing I got from her was she's as excited to share with you what has been percolating all these years, as you are to hear it. She's as much a kid in a candy store as we are."
Take look below for Fogler's full interview with Kristian Harloff for Collider: Fans in New York can find Fogler signing copies of his book at Comic Bookstore Forbidden Planet NYC from 12-1:30p and 5-6p Wednesday, April 11.
Eddie Redmayne Speaks at Stephen Hawking's Funeral
Fantastic Beasts star Eddie Redmayne, who won an Oscar for his portrayal of Stephen Hawking in The Theory of Everything, was invited to speak at the renowned physicist's funeral last weekend at Great St. Mary's Church near Cambridge University's Gonville & Caius College where Hawking was a research fellow for over 50 years. Redmayne, who paid tribute to Hawking shortly after his death, gave a reading from Ecclesiastes 3.1-11 for friends and family assembled to honor the scientific genius.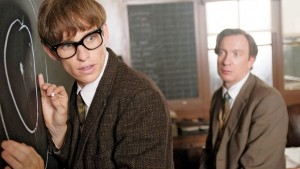 Kenneth Branagh to Star in A Gentleman in Moscow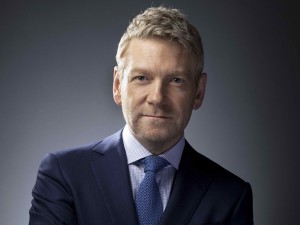 Sir Kenneth Branagh, the award-winning actor, best known to Potter fans as Professor Gilderoy Lockhart, is confirmed for his next project. Branagh will have the lead role, as well as produce the TV adaptation of Amor Towles' 2016 novel A Gentleman in Moscow for Canadian entertainment company Entertainment One. Branagh will play "unrepentant aristocrat" Count Alexander Rostov, who has never worked a day in his life and is ordered by a Bolshevik tribunal to live the rest of his life under house arrest in the Metropol hotel across the street from the Kremlin during the turbulent 1920's and 30's in Russian. Keep your eyes on Leaky for more news on when and where to see Kenneth Branagh in A Gentleman in Moscow.
Fiona Shaw in Killing Eve
Acclaimed actress of stage and screen Fiona Shaw, known to the Potterdom as Harry's Muggle Aunt Petunia Dursley, co-stars in the upcoming spy series "Killing Eve". Shaw plays boss Carolyn Martens to lead Sandra Oh's Eve in the program described this way by Variety:
"Killing Eve" joins "Barry" and "Patriot" in the small but thriving subgenre of TV shows that mix espionage, assassin games and deadpan humor."
Variety also had high praise for Shaw's contribution specifically,
"Shaw is one of those fantastically talented U.K. character actors who can make mixing comedy and drama look easy…"
The eight-episode series begins this Sunday, April 8 at 8pm ET on BBC America.
Wizarding World Actors at Comic Cons Worldwide
David Tennant at Silicon Valley Comic Con
Doctor Who's Tenth Doctor, David Tennant, known in the Potterverse as Goblet of Fire's despicable Barty Crouch Jr., is part of the line up this weekend at the 3rd annual Silicon Valley Comic Con in San Jose, CA. Tennant will appear alongside his co-star Krysten Ritter from Jessica Jones, where he played another villain for the ages, Marvel's purple man, Kilgrave.
As reported exclusively by EW, Tennant's Doctor Who persona joins the Eleventh and Twelfth Doctors on The Road to the Thirteenth Doctor, a new three-part comic from Titan Comics and BBC Studios which will be released this summer prior to the fall premiere of Jodie Whittaker as the Thirteenth Doctor and new ongoing comic series by the same name. This week we also get a first look at Tennant, who plays obedient husband Walt, in Lena Dunham's upcoming HBO comedy series Camping:
Bonnie Wright at Wizard World Portland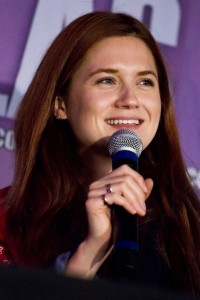 Harry Potter's Ginny Weasley, actress, director and activist Bonnie Wright, is scheduled to appear at Wizard World Portland, being held April 13-15 at the Oregon Convention Center. Fans will have the opportunity to hear Wright's stories from the sets of the Harry Potter films, as Leaky did this year at Celebration of Harry Potter, as well as some of her recent support of Greenpeace and interview with wellness and lifestyle site Mindbodygreen.
Ezra Miller at Wizard World Portland
Ezra Miller, whose Fantastic Beasts character Credence Barebone has been the source of much speculation since the release of the first Crimes of Grindelwald trailer, will be joining Wright at Wizard World Portland April 13-15. Miller, who dons the red suit in DC's upcoming movie The Flash, will be doing duel fandom duty, appearing with other cast members from last year's Justice League at a panel on Saturday. Since the convention bears the name Wizard World, he will undoubtedly field some questions about his mysterious reappearance and role in the Fantastic Beasts sequel.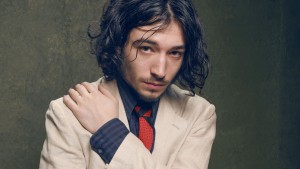 Matthew Lewis at Tampa Bay Comic Con
Tampa Bay Comic Con has announced that Matthew Lewis, the actor known to Potter fans as the beloved Gryffindor, Neville Longbottom, will be headlining their event  scheduled for August 3-5 at the Tampa Convention Center. If Leaky's experience seeing Lewis at Planet Comicon is any indication, Tampa Con attendees are in for a treat listening to his stories from making the films, the cast's off set shenanigans, and growing up with the other actors.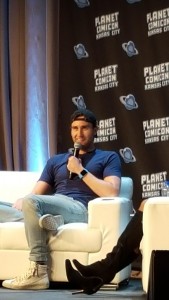 Josh Herdman at Portsmouth Comic Con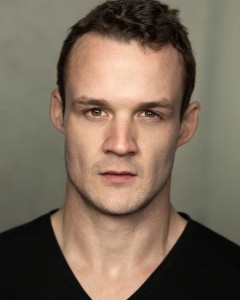 Actor and mixed martial artist John Herdman, who played Slytherin bully Gregory Goyle in the Potter films, is appearing at the Portsmouth Comic Con May 5-6, in South England. Fans will get to hear tales of Herdman's days as Vincent Crabbe's cohort and sidekick of Potter nemesis Draco Malfoy.
That's it for this week, but stay tuned to Leaky for all the up to the minute magic from the Wizarding World!