Theater Round-Up: Olivier Wins for Shirley Henderson and Sonia Friedman's 'The Ferryman!'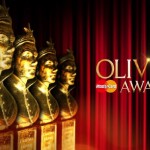 Apr 09, 2018
Last week in theater, we covered a wealth of Harry Potter and the Cursed Child news, including interviews from Anthony Boyle (Scorpious Malfoy) and Sam Clemmett (Albus Potter) and current figures confirming the success of the Broadway opening. New Harry Potter-themed merchandise was released at The Palace Theatre in London, and we reported that Cherrelle Skeete (Rose Granger-Weasley) and Jack Thorne's A Christmas Carol will come to the Old Vic in the second half of the 2018 year.
Now read on for the latest developments in the theater world–most notably, the results of the prestigious Olivier Awards!
2018 Olivier Awards
Nominees for the 2018 Olivier Awards were announced last month, and we waited eagerly to see which of the venerable Harry Potter alums receiving nods would come away with wins. Competition was fierce with many excellent actors, and their performances, pitted against each other.
Imelda Staunton (Dolores Umbridge) and Shirley Henderson (Moaning Myrtle) were both nominated for Best Actress in a Musical– Staunton for her role in Follies and Henderson for Girl From the North Country. Staunton was also nominated for Best Actress for her performance in Who's Afraid of Virginia Woolf?, while Henderson's costar Ciarán Hinds (Aberforth Dumbledore) picked up a nomination for Girl From the North Country as well. To cap off the incredible showing, Sonia Friedman productions and co-productions snagged a total 18 nominations, including one for The Ferryman in the Best New Play category!
Finally, the day of the ceremony arrived, and stars began to show up on the red carpet. Double-nominee Imelda Staunton shared her inspiration for getting into the performing arts.
Alfred Enoch (Dean Thomas) also made an appearance and spoke later of the great privilege of being on stage.
Sonia Friedman also looked stunning in the lead-up to the ceremony.
When the announcements were made at last, Shirley Henderson beat out her most worthy foe, Imelda Staunton, for the title of Best Actress in a Musical!
BEST ACTRESS IN A MUSICAL goes to Shirley Henderson for Girl From The North Country at The Old Vic and the Noël Coward Theatre #OlivierAwards — WhatsOnStage (@WhatsOnStage) April 8, 2018
The Olivier Award for Best Actress in a Musical goes to… Shirley Henderson! #OlivierAwards pic.twitter.com/uzvqlhnIP0

— Olivier Awards (@OlivierAwards) April 8, 2018
Another winner! Shirley Henderson just moments after winning Best Actress in a Musical #OlivierAwards pic.twitter.com/7OvvDAyYRv

— Olivier Awards (@OlivierAwards) April 8, 2018
After the exciting win, she shared her elation, caught up in how "lovely" and "wonderful" was the great honor.
We're live with Shirley Henderson who won Best Actress in a Musical for @dylanmusical https://t.co/RDPN7I293w — Olivier Awards (@OlivierAwards) April 8, 2018
Sonia Friedman's The Ferryman came away with a win for Best New Play, and Sam Mendes was recognized as Best Director.
Official London Theatre reported the full list of winners, noting that Lin-Manuel Miranda's Hamilton came away with seven wins out of 13 nominations. With the duel success of Hamilton and Sonia Friedman Productions at this year's Oliviers, it was a mash-up for the ages!
Two inspiraitional minds at the 2018 @OlivierAwards – Sonia Friedman and @HamiltonWestEnd director #ThomasKail #TimesUp pic.twitter.com/LiFyENJIuX

— Sonia Friedman Productions (@SFP_London) April 8, 2018
Among the many other renowned winners, Laura Donnelly took home the Best Actress award over Imelda Staunton, and Giles Terera won for Best Actor in a Musical over Ciarán Hinds.
In addition to the awards, the ceremony was filled out with a number of special performances and recognitions, according to the Official London Theatre, including:
"Performances on the night included a moment to celebrate the 60th anniversary of the premiere London production of West Side Story – musical theatre legend Chita Rivera performed iconic track Somewhere with previous Olivier Award winners Andy Karl and Adam J. Bernard – while there was also a unique moment to honour of the 50th anniversary of Andrew Lloyd Webber and Tim Rice's iconic musical Joseph And The Amazing Technicolor Dreamcoat, with past stars including Jason Donovan, Linzi Hateley, Lee Mead, Preeya Kalidas, Joe McElderry and Danielle Hope performing."
It was a magical end to another stellar season in theater, and we congratulate Shirley Henderson and Sonia Friedman Productions on their well-deserved honors. For Imelda Staunton and Ciarán Hinds, we have no doubt they will continue to charm on the stage, and we fully expect more nominations for their remarkable work in the future. As always, Harry Potter alums make us proud!
Puffs Comes to Theaters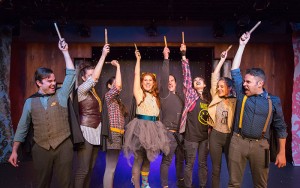 In other theater news, the popular Harry Potter comedy Puffs will come to U.S. movie theaters on May 9 and 12. Theater mania reported that over 600 theaters will show Puffs: Filmed Live Off Broadway, which will include exclusive content from behind the scenes of the production.
The magical spin-off is described as follows:
"Some people are born with the capacity to do great things. Some people change the world. Some people rise from humble beginnings to defeat the forces of darkness in the face of insurmountable odds. Puffs is the story of the people who sit in class next to those people. Meet Wayne, a very average boy from New Mexico, who finds out he is a wizard…also, wizards are real. Join him and his new friends as they try to keep their heads down and get a basic wizarding education while a certain other famous boy with a very peculiarly shaped scar on his forehead sets out to make life at school increasingly…eventful."
Tickets will be available for purchase beginning April 6!