'Fantastic Beasts' Dan Fogler Coming to LeakyCon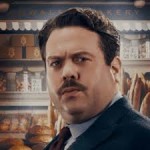 Jul 27, 2018
Big news for those Potterheads lucky enough to be heading to Dallas, Texas next month for LeakyCon. Dan Fogler, Fantastic Beasts resident No-Maj Jacob Kowalski, will be joining an already Grawp-sized line up at the 9th annual celebration of the Boy Who Lived. Fogler, who's just off a spellbinding San Diego Comic Con appearance with the rest of the Crimes of Grindelwald cast, revealing the sequel's second trailer and promoting his graphic novel Brooklyn Gladiator, was officially welcomed earlier today by LeakyCon:
We're thrilled to announce that our favorite No-Maj will be joining us for #LeakyCon 2018! Reserve your autograph and photograph sessions with Dan Fogler NOW at https://t.co/tBqQj6ql1B! pic.twitter.com/WwrY6O7Ma9

— LeakyCon (@LeakyCon) July 27, 2018
Fogler joins the recently added Christian Coulson, Tom Riddle from Chamber of Secrets, Louis Cordice who played Blaise Zabini, Scarlett Byrne, Draco Malfoy gal pal, Pansy Parkinson as well as three former Gryffindors, Devon Murray who played Seamus Finnigan, Chris Rankin who played Percy Weasley and Ellie Darcey-Alden, young Lily Potter in Deathly Hallows Part 2. 
In addition to his role as one of the big four in Fantastic Beasts, Fogler hosts his very own podcast Dan Fogler's 4D Experience which held a bash over Comic Con weekend and was just announced as a a new addition to the cast of the AMC hit drama The Walking Dead  
After selling out in a matter of hours for this year's event, LeakyCon recently announced a dual celebration for its ten year anniversary in 2019. Next year's first event will reapparate to Dallas August 9-11 then head to Boston where it all began for LeakyCon 10 October 11-13, 2019! Tickets go on sale August 1, 2018 for the first, followed by September 4, 2018 for the tenth anniversary celebration at Leakycon.com.
Who can't wait to see what Dan Fogler, verified Dark Wizard hunter, Beast chaser and Zombie slayer has to say at LeakyCon 2018? We know we can't!!