LeakyCon 2019 Venues Announced!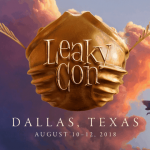 Jul 17, 2018
That's right, not venue, but venueS! LeakyCon 2019 will take place once again in Dallas, Texas, and Boston, Massachusetts, to celebrate 10 years of the biggest Harry Potter fan convention in the world!
— LeakyCon (@LeakyCon) July 17, 2018
You asked, we answered! To celebrate 10 years of LeakyCon we will be celebrating TWICE in 2019. Join us in either Dallas or Boston next year!! Learn more at https://t.co/OffwlkM0C0. ⚡ pic.twitter.com/StdW4erGk2

— LeakyCon (@LeakyCon) July 17, 2018
This year, LeakyCon will take place in Dallas from 10th-12th August at the the Kay Bailey Hutchinson Convention Center, which will also host LeakyCon as it returns to the state for its 10 year celebration next year:
"Join Harry Potter fans from across the globe as we reunite in Dallas, TX for the largest-ever celebration of "The Boy Who Lived" and the magic we find in his story each time we return.
Enjoy hours of panels, programs, and performances created with the biggest Harry Potter fans in mind. Discuss age-old Potter fan theories and the newest discoveries that have just been revealed. Cosplay as your favorite character, wear your House pride on your sleeves, or sport your best Mugglewear.
Hear from stars and creators of the Harry Potter films about their experiences bringing the magic to life on-screen, explore the LeakyCon Marketplace to find must-have merch and amazing fan treasures, and rock out with some of your favorite Wizard Rock bands, all during one unforgettable weekend."
Tickets will be available at LeakyCon.com from August 1st 2018, so you'd better get ready!
However, one 10 year celebration is NOT enough. To celebrate 10 years of bringing together fans from all across the globe, LeakyCon will return to its roots in Boston, tickets for which will be available on September 4th 2018 at LeakyCon.com. Whether you're a new fan or you read the very first book in its first month of publication, you're bound to find your home at LeakyCon—hosting fans worldwide, House pride panels, theory panels, PotterCast, LGBTQ+ meet-ups, Wrock concerts and much more, LeakyCon is THE biggest and best fandom celebration in the world, so don't miss it!
The latest announcements for LeakyCon 2018 (10th-12th August in Dallas) include the official programming schedule, Lit Track authors, Team Starkid, and much more! (See below):
The #LeakyCon Dallas schedule is officially LIVE!! Over 200 hours of programming. Sessions with Harry Potter cast members. Hogwarts House meet ups and so much more. Check out the full schedule at https://t.co/RHPIv1GKT3 pic.twitter.com/khFdE2RnJj

— LeakyCon (@LeakyCon) July 11, 2018
We are thrilled to have a super talented group of authors for our Lit Track at #LeakyCon this year!! @RobinBenway @getnicced @kheryncasey @MarkDoesStuff @pengshepherd @LaAnnaMarie @MindyMcGinnis @themackenzilee @andimJULIE pic.twitter.com/LJuX26booo

— LeakyCon (@LeakyCon) July 16, 2018
Help us welcome @TeamStarKid BACK to LeakyCon this year!! See them perform songs from their shows and get autographs and photos: https://t.co/e7UumFJ3lx pic.twitter.com/TRo8q4X9Vm

— LeakyCon (@LeakyCon) July 10, 2018
Read up on our exclusive INTERVIEW with Quidditch legend Stan Yanevski (@StanYanevski) before he comes to @LeakyCon! Find out what Triwizard challenge he'd create, what Hogwarts house Krum would be sorted into, and more! (by @lcwildcat94) #harrypotter
https://t.co/Cz7Mba4MQP pic.twitter.com/tJ0YTkSaAi

— iliveindallas (@iliveindallas) July 9, 2018
INTERVIEW: Dallas welcomes Gryffindor alumni Luke Youngblood (@luke_youngblood), aka Lee Jordan, to @LeakyCon

Be among the first to know what Lee's patronous is in our exclusive interview below! (by @lcwildcat94)
https://t.co/zGDnB6CYbQ pic.twitter.com/oDVrcKY1fL

— iliveindallas (@iliveindallas) July 14, 2018
Scarlett Byrne (Pansy Parkinson) Louis Cordice (Blaise Zabini),  Devon Murray (Seamus Finnigan),  Chris Rankin (Percy Weasley), Stan Yanevski (Viktor Krum), Ellie Darcey-Alden (Young Lily Potter),  Luke Youngblood (Lee Jordan) are confirmed for LeakyCon 2019 in Dallas, along with Harry Potter podcasts PotterCast, MuggleCast and Harry Potter and the Sacred Text, and Wizard Rock Bands  The Mudbloods, Tonks and the Aurors, Draco and the Malfoys, Lauren Fairweather, and The Whomping Willows as well as headlining act Harry and the Potters.
LeakyCon will take place from August 10th – August 12th 2018 at Kay Bailey Hutchison Convention Center in Dallas, Texas. Autograph and photograph sessions are now available to book here.
Are you planning on attending in 2019? Let us know in the comments!