Scarlett Byrne and Louis Cordice Confirmed for LeakyCon 2018!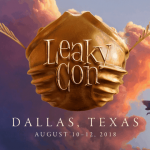 Jun 19, 2018
The latest in a long list of special guests confirmed for LeakyCon 2018 are Harry Potter's Scarlett Byrne and Louis Cordice, who portrayed Slytherin's Pansy Parkinson and Blaise Zabini in the film series!
Pansy Parkinson will be joining us at #LeakyCon 2018! We are thrilled to welcome Slytherin's @ScarleyByrne to LeakyCon this August. Tickets for her autograph and photograph sessions are available here: https://t.co/tBqQj6ql1B pic.twitter.com/EZnQr5hmAd

— LeakyCon (@LeakyCon) June 18, 2018
We are thrilled to welcome @louiscordice (AKA Blaise Zabini) BACK to #LeakyCon again this year! If you missed him in Dublin, you can catch him in Dallas during photograph and autograph sessions. Buy yours before it's too late! https://t.co/tBqQj6ql1B pic.twitter.com/qGlQZGWGRk

— LeakyCon (@LeakyCon) June 7, 2018
Byrne also appeared in The Vampire Diaries as witch-vampire Nora Hildegard, and Cordice joined us for LeakyCon 2017 in Dublin – we can't wait to see him again!
🇮🇪 #leakycon has been unreal so far, it's great to be back involved with the @LeakyCon team and an honour to be part of the convention pic.twitter.com/qiahxWTjnL

— louis cordice (@louiscordice) September 3, 2017
Other announcements include Devon Murray (Seamus Finnigan),  Chris Rankin (Percy Weasley), Stan Yanevski (Viktor Krum), Ellie Darcey-Alden (Young Lily Potter) and Luke Youngblood (Lee Jordan).
The lineup also includes Harry Potter podcasts PotterCast, MuggleCast and Harry Potter and the Sacred Text, and Wizard Rock Bands  The Mudbloods,  Tonks and the Aurors, Draco and the Malfoys, Lauren Fairweather, and The Whomping Willows as well as headlining act Harry and the Potters.
LeakyCon will take place from August 10th – August 12th 2018 at Kay Bailey Hutchison Convention Center in Dallas, Texas. Autograph and photograph sessions are now available to book here.