Dan Fogler's 'Fantastic Beasts' Panel at LeakyCon 2018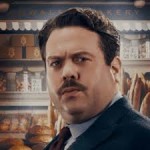 Aug 18, 2018
Dan Fogler joined LeakyCon's Josh Wittge on the MainStage last weekend, and discussed everything from Crimes of Grindelwald to performing on Broadway and meeting Back to the Future's Michael J Fox! Leaky's correspondent Kathy Paz was on the ground making sure our readers didn't miss out on his fantastic panel, and be sure to check our other coverage from the weekend, too!
Devon Murray Panel + Exclusive Interview    |    Alison Sudol Panel   |  Acting As A Young Wizard & Antagonists Panels  |  Chris Rankin Panel
---
Dan starts by saying that Crimes of Grindelwald is going to be even better than the first Fantastic Beasts movie, and that it feels like it's going to hit that Empire Strikes Back sequel hype. He also let the audience know that he was recording the Q&A session for his 4D Experience Podcast!
On getting the role of Jacob, Dan walked the audience through the entire process of getting cast. He shared that the time between Balls of Fury and Fantastic Beasts was a low point in his career, and pressure to ace an audition and get some stability was high as his second daughter was due:
"I need an absolute miracle. And a month before the audition, I literally wished upon a star … I wished on a star for basically this audition, the audition came."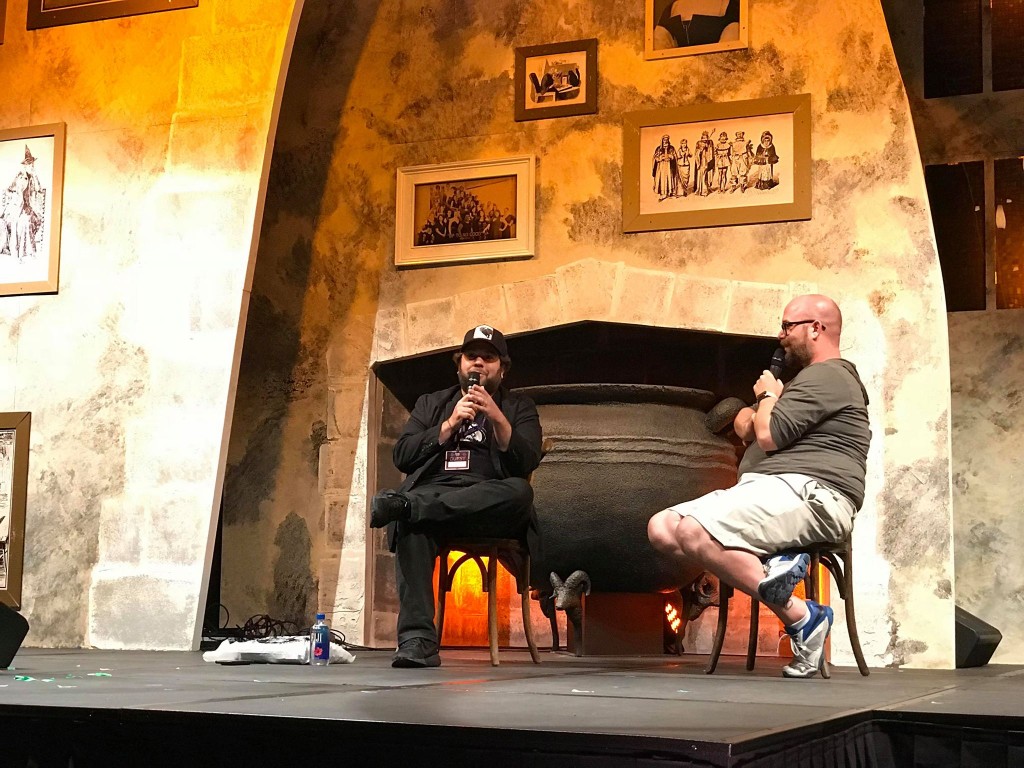 To complete "the early Jacob look" for his audition, Dan bought a hat in a bodega in Chinatown, along with cut-off gloves and suspenders, which he thought had a newsboy look: "I was in the zone." He put everything into making his Jacob audition as good as it could be, and quoted Phillip Seymour Hoffman on the importance of nailing auditions: "You're not gonna get every job, so you have to treat every audition like it's the last performance."
After getting callbacks and a screen test with Alison Sudol and Eddie Redmayne in costume, David Yates told him to lose the hat… Dan says he's really grateful to David Yates' wife, who would see the daily audition tapes, and kept saying, "That's the guy" about him.
Dan got the call that he'd got the part while he was at Comic-Con sharing his comic, and says that his manager opened the call by saying, "Comic-Con is gonna be a lot different next year." That year in San Diego "went from being the s*******t Con ever to being the best Con ever."
Originally, the cast thought they were going to be making four movies, but when J.K. Rowling walked out at the Global Fan Event last year and said five, they were all super excited. Remembering his first day on set, Dan said the overall feel was "intense, because they were in the middle of building New York." The New York sets were all built outside in Leavesden, and Dan said that seeing the bakery was a huge moment for him:
"I saw the bakery and it was like an out of body experience. My great grandfather was a baker on the lower east side… I basically got to jump back in time and be in a relative's body. That's what it feels like playing Jacob. It feels so close to me."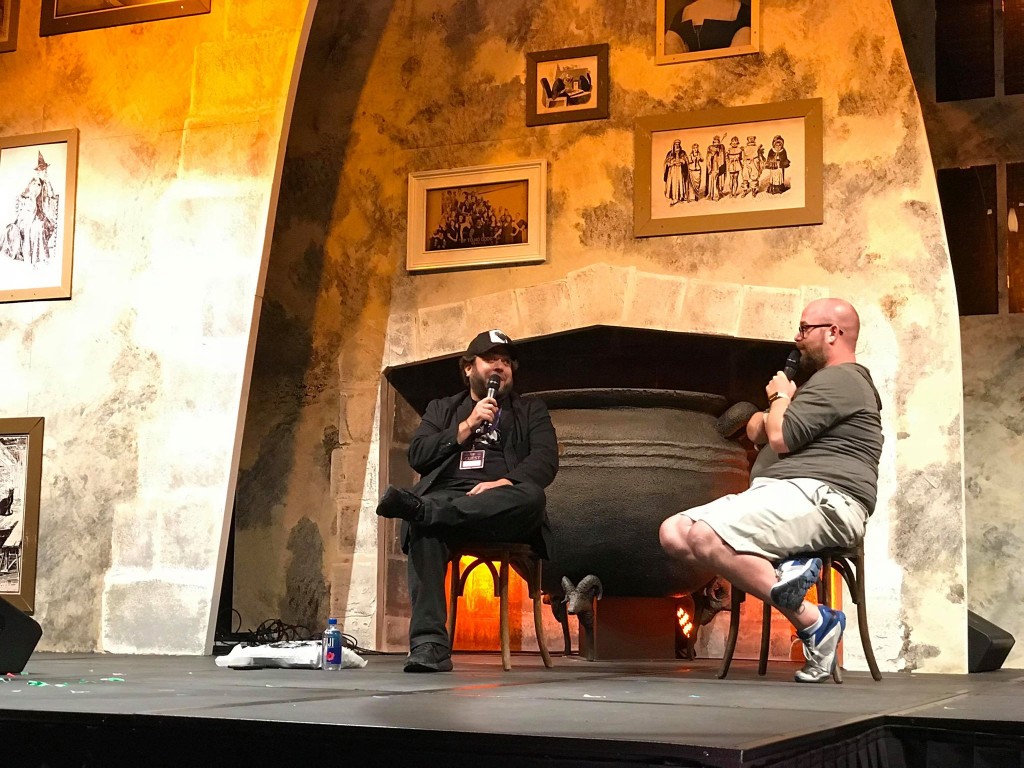 Everything on set is real, according to Dan –  in the scene where Tina brings the cocoa, it's a real book from start to finish: "They immerse you in it. They're doing everything they can to keep you in character."
Crimes of Grindelwald filming apparently felt more relaxed that Fantastic Beasts and Where to Find Them, mainly because Dan says he felt a lot of pressure on the first film because he "had to create a character that fits into this universe and they accept" and also get the dynamic right between Jacob and the quartet:
"With Eddie, I'm the Watson to his Sherlock. But with Queenie, it reminded me of Guys and Dolls … You look at them at you're like, what the hell is she doing with him. Because she's like an angel."
"For Jacob, it's love at first sight. You can tell when he tasted the strudel. He's like, I'm gonna marry this woman." He compares the relationship to Bottom and  Shakespeare's A Midsummer Night's Dream, and says on his involvement in the film:
"This is such a classy, awesome franchise. It's just an honor to be a part of it all."
He shared a story about meeting J.K. Rowling, who told him that Jacob reminded her of Ron Weasley – ever the comic relief! Speaking on J.K. Rowling's power to craft worlds, Dan says that he's constantly amazed by the details she writes into the scripts, but the freedom they're given as actors at the same time:
"The beauty about J.K. is she's like a modern Shakespeare. She's written some iconic heroes journeys."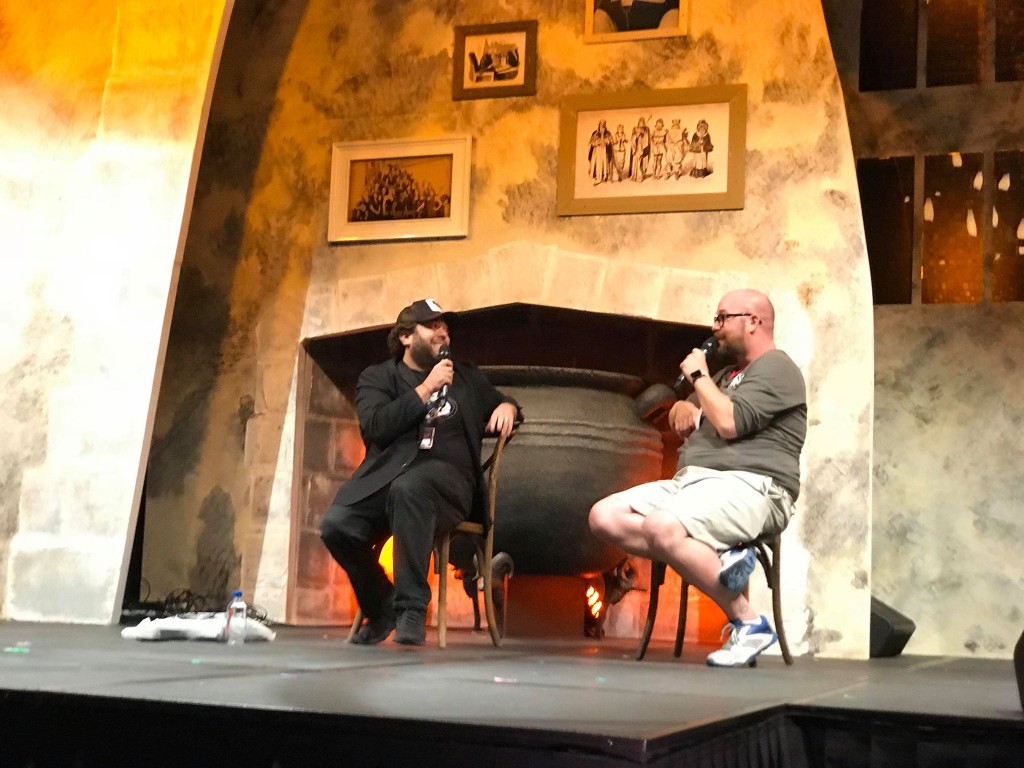 On working from a script as oppose from the books, as with Potter, Dan says Jo is "setting up the world and playground, and sprinkling little details, so you have that as a guide, but it's actually really freeing because you don't have a novel as a guide."
Sharing his thoughts on the freedom the scripts grant actors, Dan says that his "my uncle is a half elf" line was ad libbed, and that "To me able to take what she set up and add your own to it, that's the alchemy."
On the special effects behind the films, he said that behind the scenes, it's just as much about fooling the actors as it is fooling the audience: "You have to find a way to fool the audience into believe what your looking at. And what you do is you try to add as many sensory things to it. So like a Thunderbird is loud. A Graphorn is like a rhino running, so the reaction to that is like, I don't want to get hit." Dimensions were important when describing the beasts to actors, as well as recreations (the Thunderbird, for example, was a ceramic puppet!):  "You have these elaborate sets built for each little creature … All these talented people come in and really help you the actor feel like they're there."
When asked what creature he'd like to have as a pet, Dan says he would want a Bowtruckle as a pet: "A little Pickett for your pocket."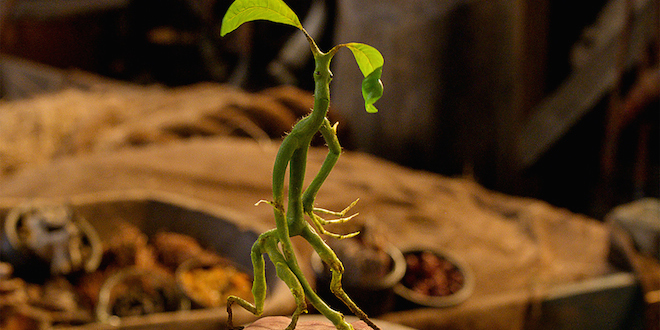 On going back to Broadway, Dan would love to play Nathan Detroit in Guys and Dolls: "I saw Nathan Lane in that as a kid, and that was so impressive."
Finally, Dan shares that his craziest fan experience was when he was in Spelling Bee and it won the Tony. He was told that Michael J. Fox (who plays the leading role of Marty McFly in Back to the Future) wanted to meet him. Dan tells a hilarious story of how Fox made him do his impression of him: "Theater gives you confidence."
Thanks to Dan and Josh for a great panel, and to Kathy for being on the ground at Leaky to get us this coverage! Check out last year's panel with Dan here, and stay tuned for our final LeakyCon piece on Alison Sudol and Dan Fogler's Fantastic Beasts panel, coming very soon, and to find out more about LeakyCon 2019 head to the official website to book tickets to Dallas (August 9-11 2019 – now available), and Boston (October 11-13 – available September 4).